STYLE
❤ ❤ ❤ ❤ ❤ ❤ ❤ ❤ ❤ ❤ ❤ ❤ ❤ ❤ ❤ ❤ ❤ ❤ ❤ ❤ ❤ ❤ ❤ ❤ ❤ ❤ ❤ ❤ ❤ ❤ ❤ ❤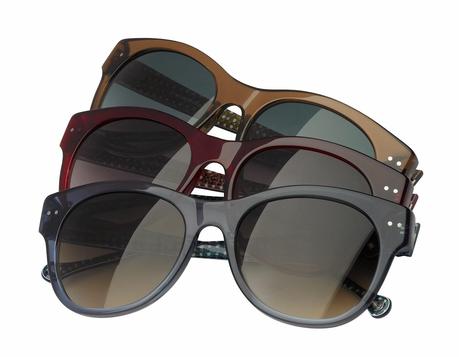 T
he Ermenegildo Zegna brand has always been associated with a refined and understated elegance, perfectly reflected in the
2014 Spring-Summer
eyewear collection. Its style results from the combination of first-rate tailoring and the pursuit of excellence. The new eyewear collection has been designed for men who seek elegance at all times, also in their leisure time, combined with attention to detail and high-quality, latest-generation materials; but above all, men who take care of their appearance and their spirit.
Quality and tradition give rise to a modern and sophisticated line of eyewear. Nature, interpreted according to the aesthetic codes of the Ermenegildo Zegna brand, plays an important role and provides inspiration for shapes and materials, with wood and leather featuring prominently in many of the new models.
Silver and gold metals, paired with copper- and mercury-coloured lenses, complete the new collection, along with finely worked acetates. The shapes are classic, inspired by the sixties and eighties, while the colours range from neutral hues to bright shades of red and navy blue.
In the pursuit of the highest quality, the Ermenegildo Zegna eyewear collection is marked by
Carl Zeiss polarised lenses
, which provide absolute
protection against UV rays and eye strain
, thus heightening the perception of every color and nuance.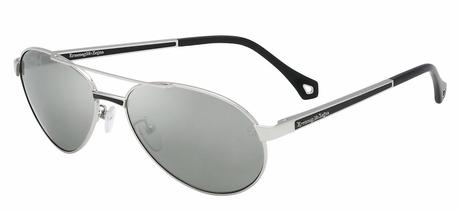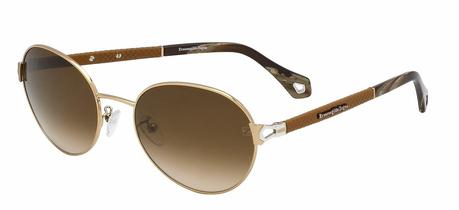 WOOD & METAL SZ3652 col. Z55P
Research and dedication come together to combine the fineness of wood and the clean lines of metal. The squared front piece is contemporary and elegant in style, while the temples feature an unusual mixture of materials: a metal base with solid wood inserts and acetate temple tips, for a perfect fit.
BACK TO BACK SZ3350 col. 589
The iconic rounded frame, a key style of the last season, has been reinvented for the 2014 Spring-Summer collection. The silvery metal front piece fastens to the temples by means of a hinge echoing the shoe and belt buckles of the latest Ermenegildo Zegna collection. The temples come with a leather insert, and the tips are in horn-effect acetate.
TECHNO CHIC SZ3347 col. 8FCX
This model plays on a striking squared shape, softened with elegance and modernity for a unique effect. The gold metal frame combines with the copper-coloured lenses to create an ultra modern, techno-chic look. The temples, also in metal, feature a fine laser-processed herringbone design and an enamelled EZ logo.
METAL DOUBLE BRIDGE SZ3654 col. T90
The eighties have made a comeback in this model featuring an acetate and metal double bridge and pins embellishing the front piece. The acetate sports a "scratched" laser design, echoing the spinning of woollen yarns.
AVAILABILITY 
Zegna Stores
The Oberoi,
Dr. Zakir Hussain Marg,
110055, 
New Delhi, 
India, +91-11-4357-3970
DLF Emporio,
135/136, Ground Floor,
Nelson Mandela Marg,
Vasant Kunj,
110070,
New Dlehi,
India, +91-11-4606-0999