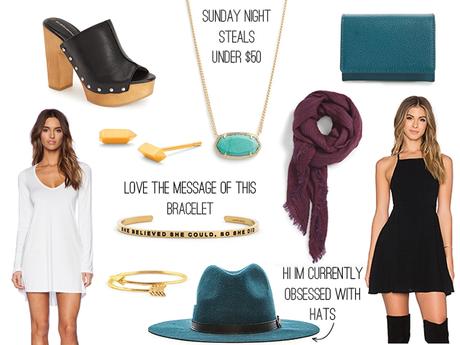 Black Mules // White Dress // Stud Earrings // Bracelet // Arrow Ring // Hat // Necklace // Scarf // Wallet // Black Dress
This week's Sunday Night Steals is in celebration of my current color crushes bordeaux, gold & turquoise (or teal). And black isn't a color. It's a neutral so that doesn't count. But that's a topic for another day.
But really though, I love this color palette and I chose some great transitional pieces to get you through this weird weather time frame between Winter and Spring where it can literally be 30 on the way to work but by lunch it's already 73. 
Also, I am totally obsessed with hats right now and that little teal beauty is SO CUTE and SO CHEAP. Come to mama! 
Oh and did I mention everything is under $50? Happy Sunday to YOU!