Sunday came and I cooked once again! After 2 snow days, a lot do work, and feeling a little under the weather, healthy comfort food beckoned.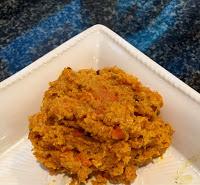 I made three different vegan dishes, not to be eaten together, but as a way to prep for the week.  Two were made from harvest/root vegetables, which just seem appropriate for the cold (I am so ready for spring...) and one with a vibrant madras curry.
The first was a chickpea-free, roasted carrot hummus recipe I found on goop.com. It's delicious! 
You will need:6 small to medium carrots, washed, scrubbed and cut into thirds3 TBSP avocado oil, divided Salt and pepper 1/2 tsp za'atar seasoning + some for garnish1 TBSP tahini1 small garlic clove, very finely minced or grated1 TBSP lemon juiceAssorted crudités and/or toasted pita for servingPreheat oven to 425 degreesToss carrots with 1 TBSP avocado oil, salt, pepper and 1/2 tsp za'atarTransfer to parchment-lined baking sheet and roast for 25 minutes or until tender and starts to brownRemove from oven and let cool to room temperatureUse an immersions blender or food processor to blend carrots with the remaining ingredients.  Season to taste with salt or more lemon juice as needed.Garnish with a drizzle of oil and a good sprinkling of za'atar. Serve with pita chips or crudités.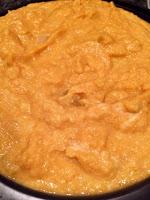 The second was a twist on my usual butternut squash soup.  I've been getting back into running so I wanted to add some protein to my traditional recipe.  Vegan or not, I think this is a dish anyone would enjoy.
The day before you want to make the soup, cover one cup of unsalted, raw cashews with water (a half inch above the cashews) in an airtight container and soak overnight. The next day, drain half the water and purée until smooth (imagine the texture of ricotta cheese.)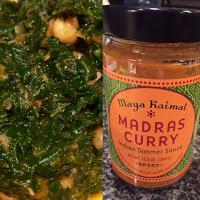 In a large pot, on medium-high heat, sautee 1/2 medium onion in a little salted extra virgin olive oil.  Once it starts to wilt add one chopped Granny Smith apple, skin on.Once that starts to cook down, add 3 c. vegetable stock, 1 large yam, chopped and 1/2 small butternut squash, chopped.Simmer, covered, on low heat until fork tender.Remove from heat and add 1/4 brown sugar and a generous pinch of salt and purée with an immersion blender until smooth.Stir in the puréed cashews to thicken and you're all set!The last was the easiest, and quickest to make, but full of fabulous flavor.  In a non-stick oil sprayed medium sized stock pot, on high heat, add one package of chopped, frozen spinach. As it starts to thaw, add one can of drained, chick peas and half a jar of Maya Kaimal Madras Curry Indian Simmer Sauce.  Stir until it is thoroughly heated and serve immediately. It may take you all of 5 minutes from prep to table!