*This post was great fun to write last year on the day of the Academy Awards, and is applicable today. Hence, an Operatoonity Encore Post.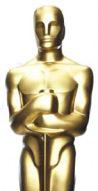 Psssst. Wanna know a secret? Oscar's in love with opera. Operatic music is widely and well used in many excellent films:
The Godfather, Life of David Gale
,
Fantasia, Black Hawk Down
, and the list goes on and on.
Here are some of the Oscar-winning movies I've seen (and some of my favorite also-rans) with the classical music they incorporated into their soundtracks. Maybe that's why Oscar adores opera.
1997: Life Is Beautiful – Best Actor (Robert Benigni) – "Barcarolle" from Les Contes d'Hoffmann – Offenbach (This is one of my all-time favorite movies, so it gets the first YouTube clip.
1993: Philadelphia – Best Actor in a Leading Role (Tom Hanks), and Best Music, Song (Bruce Springsteen for "Streets of Philadelphia") – "La Mamma Morta" from Andrea Chénier – Giordano
1987: Moonstruck – Best Original Screenplay, Best Actress (Cher), and Best Supporting Actress – La Bohème – Puccini
1987: The Untouchables – Best Actor in a Supporting Role (Sean Connery, always have to give a nod to Sean Connery, wherever and however possible) – "Vesti la giubba" from Paliacci – Leoncavallo; also featured in a Seinfeld episode.
1987:  Wall Street – Best Actor (Michael Douglas) – "Questa O Quella" from Rigoletto – Verdi
1984 Amadeus – Eight Oscars, most notably Best Picture,  Best Actor in a Leading Role (F. Murray Abraham), Best Director (Miloš Forman), and Best Adapted Screenplay (Peter Shaffer) –  Don Giovanni  and "Sull' Aria" from The Marriage of Figaro – by whom else by Wolfgang Amadeus Mozart
1980 Raging Bull – Best Actor (De Niro) and Best Editing (Schoonmaker) – "Cavalleria rusticana" – Mascagni
1979 Apocalypse Now – Best Cinematography and Best Sound – "Ride of the Valkyries" from Die Walkure – Wagner
Three of my favorite also nominated-but-didn't-win movies with opera. (Hey! It's my blog!) 
1994: The Shawshank Redemption – "Sull' Aria" from The Marriage of Figaro – Mozart. Here is the scene where Andy plays the aria for inmates (It is one of my favorite scenes ever–thank you, Mozart):
1987: Fatal Attraction – "Un Bel di Vedremo" from Madama Butterfly  – Puccini
1990: Pretty Woman – Best Actress (Julia Roberts) La Traviata – Verdi