Hi there my peeps, after the mayhem of the past few weeks, due to an overloaded personal/professional life, I am back on track, so its about time I get my butt into gear and finish off what I started here. :-w  I am referring to my personalised skin care products, which coincides with my
Serious Skin Care
program, giving y'all a rundown on the secret weapons I use regularly, to maintain my ultimate anti-ageing skin care regime.  So far, I have covered  the basic three-step skin care routine of
Cleansing
, Toning and Moisturising, followed by Vitamin Therapy – Topical Vitamin A and C, so now I am moving onto a subject that I have developed a love/hate relationship with over the years,
Sun Protection
.  Yep, finding an effective sunscreen has always been a challenge, because most formulations are too rich and heavy, causing a greasy, shiny mess, which is that oily in fact, you could fry and egg on it,
EEK!
  :-S  That much excess oil causes sunscreen to pretty much slide straight off, rather than staying put to perfect the job at hand.  Not to mention, mismatched sunscreens also lead to congestion, generating breakouts or even worse provoking irritations and unsightly rashes.  :|  Trying to attempt wearing makeup in conjunction with the unsuitable sunscreens was an even bigger nightmare, because after a couple of hours (
if that
) not only would I lose the sunscreen, I also had to kiss my makeup goodbye as well. ~X(  
Arghhh
, Not Happy Jan!
LOL
;)
These days, though, I have finally nailed my ideal sun protection products that compliment and support my oily complexion, instead of always enduring the former disappearing act that defeated the purpose of using sunscreen the first place.  I thought those side effects would always be part and parcel of safeguarding my oily skin. :-<  Wrong, after deciding that enough was enough and I didn't want to persevere with looking like I belong in the deep fryer any longer, research led me to a greater knowledge of products that might accommodate my oily skin; what a relief I was finally on the right track. 
#:-S
   Naturally, like with any skin care product, it all comes down to trial and error and I have tried my fair share of sunscreens that claim to be fitting for oily skin, yet within hours an onset of the ghastly slick would surface,
noooooo
!  :(  Still to this day, I can count on less than 10 fingers, the number of sunscreen products I have tried that actually work and work well, minus the grungy onslaught I use to dread.  Here are the progressive products I am referring to, the ones that work, which I regularly use, as well as those that perform unchallenged and unrivaled, beyond conviction; I know I can rely on any of these SPF products to satisfy my oily skin needs.
(*)
Alpha-H Daily Essential Moisturiser SPF30+

This is different to any other SPF moisturiser I have tried,
EVER
!  So, what is different about this one?  Lots, it's lightweight, non-whitening, water resistant, touch dry and ultra sweat resistant. With the extreme humidity, here in
Far North Qld
, I always battle with sunscreens sweating off, well not anymore!
Phew
#:-S
  This one actually stays put and I love that it comes in a low irritant, non-greasy formula that doesn't seem to clog my pores or contribute to any breakouts.  While my sun protection preference is usually zinc, with its physical barrier, unfortunately the options are limited when it comes to finding a decent, formula, developed into a light enough cream for daily use underneath makeup.  I normally avoid chemical sunscreens, because they bring back memories of nothing but grief; however, I was surprised to find this chemical version is so complimentary and kind to my skin, that all reservations aside, I have instead, embraced its efficacy. 
>:D<
This multi-tasking trifecta combines a moisturiser, antioxidant and sunscreen, boasting five, non-nano, broad-spectrum protection filters that absorb both UVA and UVB rays like a force field, before they can cause any damage.  The skin preserving antioxidants are beneficial in the fight against skin aging and may reduce the risk of certain sun cancers. What's more, it is water resistant for up to four hours, so I can enjoy water activities, like swimming, without worrying that my skin is exposed.
\:D/
  If you have an oily or combination skin type this is an ideal daily moisturiser for you, provided you don't have any issues using chemical sunscreen filters.
I have been using the Alpha-H Daily Essential Moisturiser SPF30+ since it was first released, on a regular basis and I am impressed with its incredible staying power. My face is indefinitely matte after application and remains like that for the duration of the day, without any sign of that pesky shine.  Presented in a handy pump bottle, just two small squirts, delivers enough weightless, creamy fluid to evenly cover my entire face and neck. It blends well and melts away to nothing within seconds, leaving my face prepped, adequately protected and ready for my makeup application.  Overall, this is one of the best sun protection products I have tried that addresses oily skin, in addition to
ALL
of my regular skin concerns as well, without any notable cons.
=D>
  (
Other than my own conscience reminding me that it's still a chemical sunscreen,
@-)
  LOL
).

Before and after applying to skin.
I even find the title is very fitting too, as it has become a '
Daily Essential
' step in my skincare regime.  When
Alpha-H
developed this SPF moisturiser, I am sure they specifically knew all about my skin care woes,
haha
  :)) It targets each of my individual sunscreen dilemmas, whilst it also represents and acknowledges an awareness of our humid weather conditions, conformed with its unique '
Australian friendly
' formulation.  I have never found an SPF moisturiser with the unsurpassed qualities of the Alpha-H Daily Essential Moisturiser SPF30+, which literally runs rings around its competitors with performance capabilities alone.  I rate it as a 4 ½ star creation out of 5, which only loses the ½ star because it's not a physical sunscreen (See there I go again, damned integrity, =)) ROFL).  Maybe I might drop a hint to
Alpha-H
, claiming I would love them forever if they could possibly unite the superior advantages of a physical. zinc-based sunscreen, with the competence of the Alpha-H Daily Essential Moisturiser SPF30+'s unique, breakthrough formula, to cater for us chemical sunscreen snobs,
haha
. >:/   Honestly though, at the end of the day, I am thankful for such an awesome SPF moisturiser that is a pleasure to use, which exceeded my expectations, ten fold, despite my initial reluctance and scepticism.  :)>-
Invisible Zinc Tinted Daywear SPF30+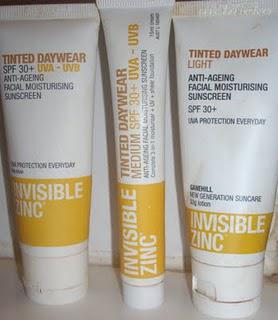 Until about 12 months ago, this
WAS
my '
Holy Grail
' sun protection product.  What's changed? Well as I pointed out in my Top 10 Award post, I found out that my '
be all and end all
' was in fact somewhat of a fraud. :-O  Initially, I was extremely disappointed and as a consumer, I felt deceived and misled, no thanks to the deluding information available on the brand website and product packaging, giving the impression that it's an all natural blend, with 18% zinc oxide minerals, along with two preservatives. :-L  There is nothing
ANYWHERE
on the packaging or website suggesting that it has any other ingredients infused in the formulation, whereas other declarations presented in capital letters, stating 'No Chemical Absorbers' for example, are blatantly obvious for all to see.  I would imaging that to the average '
Jo Blow
', a statement of that nature would have them assuming, it's a natural product without harmful ingredients, like chemicals etc on board, just mineral zinc and a pair of preservatives, that is it. 
:-??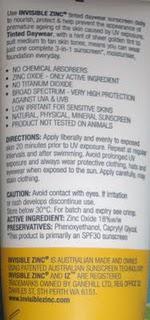 The packaging details.
It bugs the life out of me, when I come across, company after company, resorting to the clever use of crafty wording and purposely withholding the factual product details when advertising their brands.  This kind of marketing, always gives me a hunch that they are intentionally misrepresenting the truth. [-X  Due to such loose labelling regulations, here in
Australia
, it's not a requirement for certain products, such as sunscreens, to disclose ALL of their ingredients.  Therefore, as consumers, we are often none the wiser. :-/  In other countries, these regulations are much tighter, so if the companies in question wish to sell their products abroad they
DO
have to comply with those particular countries laws.  In this case, after a bit of online probing I soon found the entire list of Invisible Zinc Tinted Daywear SPF30+ ingredients, confirming the earlier allegations that I had learned about.  Considering there is over a dozen
OTHER
ingredients, most of those I can't even pronounce, certainly validates their marketing tactics are not aimed at raising consumer awareness. [-(  It's just the opposite, the joke is on us, the oblivious consumers who are frequently sucked in, time and time again, being wrongfully fooled by this untoward, yet common form of deception.  L-)
This discovery was the pits to be honest and for a while, I actually boycotted the product all together, refusing to touch it. :-t  Mostly because I felt used, abused and feeling the fool. :">  Over the following month or so, I conducted numerous internet searches, trying to find an alternative, void of nasties, but had little success; much to my dismay, there are very few unsuspecting, trustworthy, zinc-based sunscreens around.  Anyhow, in time I eventually returned to my '
old faithful
' after coming to terms with the reality that I had never actually experienced any complaints at all, when I used the product. *-:)  One would think that a 3-year period would be sufficient to determine any problems, which would have surely reared their ugly head, if that were the case.  However, I didn't experience anything even remotely negative, in terms of side effects.  Additionally, if I were none the wiser to the information uncovered, I would have continued on my merry way, singing its praise, as I always did.  With that said, an old saying came to mind, '
If it ain't broke, don't fix it!
'  Well, bearing in mind that I was impressed with the results I had previously achieved using Invisible Zinc Tinted Daywear SPF30+ and without a worthwhile replacement in sight, I had to take it or leave it.  I opted for the latter.  [-O<  Due to it's physical zinc-based properties, it still remains my sunscreen of choice.  Because it sits on top of my skin reflecting any harmful rays before they cause any damage, which unlike chemical sunscreens, that enter into your skin, there is less chance of developing any conflicts like allergies and irritations that are sometimes associated with chemical penetration.  It is also a known fact that Zinc Oxide offers the best of both UVA and UVB protection, so it made sense to stick with it, especially for occasions where I was exposed to direct sunlight, i.e. a day at the beach.  B-)

Before and after applying to skin.
Invisible Zinc Tinted Daywear SPF30+ has remarkable coverage for a tinted moisturiser and it doesn't cause my oily skin to develop into a grease ball after a few hours.  It's a multi-tasker, combination tinted moisturiser/sunscreen providing a natural tint with a matte-like finish with additional anti-ageing benefits. Despite claims that it contains pore-clogging ingredients, I have never suffered from congestion and like how it keeps my skin nourished with increased hydration.  Finding such a decent tinted moisturiser that harmonised with my skin, empowered me, for the first time in my life, to scrap my full coverage foundation during the day (
something I would have never dreamed of doing before, it's like being naked
:-O
LOL
).  I can instead, apply the Invisible Zinc Tinted Daywear SPF30+ with a bit of concealer and a light dusting of translucent powder and be confident that my imperfections are disguised, without the need for loads of makeup.  Furthermore, the frequent application of topical zinc to my skin, has over time, improved the overall condition of my skin, preventing the onset of pimples and breakouts, leaving my complexion healthy and clear. :)
The formula, while very thick, takes some getting use to, but its actually rather lightweight, non-greasy and is easy to spread and blend, remembering that you don't need much.  Begin with a small pea-sized amount, adding more as required until you achieve your desired, natural-looking effect.  The thick texture contributes to a slightly tacky feel for the first couple of minutes, but setting it with a powder helps to accomplish a flawless, shine-free finish, minus the ghostly white cast often left by certain sunscreens.  It's a perfect solution to contend the conditions of our humid, tropical climate and even on the hottest summer days I can use it of a morning and know it's not going to budge at all. ;)  Because of the impeccable staying power, it can often be difficult to remove with a normal cleanser, so based on my own experience I have determined that either an oil-based cleanser to break it down or a deep pore cleanser, such as an AHA formulation will dispel the normally stubborn remnants with ease.  The most important acknowledgement though, is that I have never sustained even a touch of sunburn, since introducing the Invisible Zinc Tinted Daywear SPF30+, to my daytime routine.  It really does impart the ultimate barrier between my skin and the sun to safeguard against its damaging UV rays.  =D>  I am the first to admit I am not thrilled about the realisation of the included hidden nasties, after I already had developed a love affair with the product. =((  For now though, I am comfortable enough to keep plugging on with it until a better option comes along. :)  If anyone can suggest a decent zinc-based sunscreen, I would love to hear about it.
My other Staunch SPF Products
-
Tried, Tested and Deemed Suitable for Oily Complexions (by yours truly)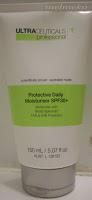 Ultraceuticals Protective Daily Moisturiser SPF30+ - This is a creamy, lightweight, non-greasy, age defying moisturiser with the bonus of antioxidant goodies to combat free radical damage and a high SPF rating, consisting of both chemical and physical sunscreens. It combats dehydration and delivers a superb matte finish.

Before and after applying to skin.
Kosmea Moisturising Lotion SPF30+ - This lightly textured, delicately scented, oil-free moisturiser has excellent sun protection properties incorporating both physical and chemical technology, targeting prematurely aging skin to promote a healthy, youthful complexion.  Featuring some super beneficial all natural ingredients, and no nasties, it's everything like a gorgeous nourishing lotion and nothing like a sunscreen.

Before and after applying to skin.

Burts Bees Radiance Day Lotion SPF30+  - Infused with a subtle, sweet fruity fragrance the lightweight, ultra delicate, cream absorbs super fast with no greasy residue. The airy texture provides a matte finish and it remains shine-free all day, while the natural ingredients enhance the skins radiance and rejuvenate the complexion. It offers an adequate chemical and physical combination sun protection in a non-typical sunscreen formula that doesn't leave a white cast on the skin.

Before and after applying to skin.

Laura Mercier Oil Free Tinted Moisturiser SPF20 – This is a tinted moisturiser with a difference, providing super staying power and a fresh, dewy finish in a non-greasy formulation. It has a thick foundation-like texture, but blends with ease to achieve a the fullest sheer coverage tinted moisturiser I've ever seen, which is also buildable for extra concealment of any stubborn imperfections, ensuring an evenly toned, healthy, natural looking complexion. The one downfall is that I wouldn't be inclined to reply it as my sole sun protection product because the chemical sunscreens, unfortunately don't offer broad spectrum protection, so I like to use it in conjunction with another form of protection.

Before and after applying to skin.

Mukti Botanicals Tinted Moisturiser SPF15 – This non-nano, chemical-free, zinc-based tinted moisturiser offers decent physical protection, in an all-natural formula, that instantly sparked my attention.  It has a slightly herbal aroma and the texture, whilst thin and lightweight, is probably slightly too rich for my oily skin, due to the enticing blend of nourishing ingredients, which tends to get a bit shiny during the day. My other dilemma is the coverage is basically nada, it's so sheer it's invisible, therefore makes for a great base, preferably under a dusting of mineral powder foundation. Unfortunately, it doesn't hide my flaws or even out my skin tone, so I dare not use it alone without the security of at least some extra cover.  10/10 for coming real close to the physical protection solution I am looking for.  ;)

Before and after applying to skin.

Philosophy Supernatural Oil-Free Tinted Foundation PrimerSPF 15 – This primer literally blew me away, it totally exceeded my expectations, as never have I tried a tinted primer, much less one that also has the benefits of broad spectrum chemical and physical sun protection properties.  It's silky smooth in texture with added silicones that magically transform my complexion, evening the tone and hiding the imperfections for a flawless finish. My skin looks amazing
BEFORE
I have even applied any foundation. It keeps my makeup in place and looking matte all day, definitely the best primer I have tried to date. :x  I am sceptical on the effectiveness of the SPF, however, so if heading outdoors I just apply additional sun protection to be certain.

Before and after applying to skin.
Whoa
, :-" that was one heck of a mouthful if I do say so myself,
LOL
. :)) Nevertheless, if you think about it, that is only eight sun protection products that I highly regard as worthy of recommendation to my fellow oily skinned sisters.  Over the duration of my thirty odd years, I constantly searched for a pertinent safeguard, in alliance with the ongoing Aussie health campaign I evolved with, '
Slip, Slop, Slap
'.  Yet pinpointing the right sunscreen was never an easy feat, for someone with oily skin.  I learned quick smart that oily skin and sunscreen do not readily unite.  One fail would usually lead to another and then another and so forth, so having established eight amazing sun protectors that DO synthesise in accordance with my oily complexion is quite an achievement for me,
hehe
.  ;)) Seriously, you probably won't believe this, but it has only been during the past four years or so that I have established every one of my SPF staples, when I finally got my skin professionally analysed and was educated about products and ingredients that compliment my skin type.  Prior to that, I was constantly at war with my skin, due to misuse of incompatible skin care products, so slapping on any old sunscreen didn't do me any justice, and needless to say none of the products from the past three decades are still with me today,
haha
.  :))  Do you have problems finding a sunscreen product, which is compatible with your skin type?  Do you have any favourites you might care to share?  Hit me with your suggestions, I'm all ears.  :)
All images in this post are my own.