Hi everyone,
I hope you've been having a great day! :D
So while you're reading this, I'm out holidaying in Chicago & I cannot wait to get back & share the snaps. Apart from the city tour, I'll actually be attending a big, fat family event & I'm so excited for that. :)
So while all of that unfolds, I thought I'd share a few styles & trends that I'm totally loving this season. Before I buy anything, I always like to imagine the various ways possible to style that piece, so here I've included my ideas as well. Keep scrolling to check out my selections.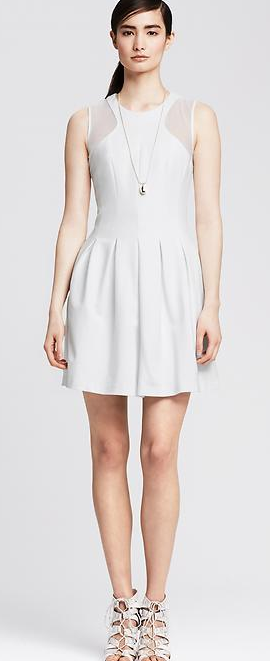 Sports Luxe has been 'the' thing this season & this dress hits all the right spots. In fact, it's almost a replica of the white dress showcased in the Alexander Wang's S/S 2015 collection. Looks very luxurious & expensive as well. :roll: Plus, its available on a 60% off at Banana Republic. What more can you ask for? :D
# Gingham Asymmetrical Hem Skirt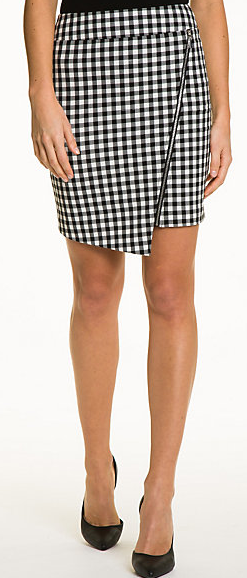 -Gingham has been another absolute favourite this season, and while gingham dresses may feel too much for some- this asymmetrical skirt will definitely not disappoint you. Pair it with a fitted black crop top or with a button-down chambray shirt, for an effortlessly, stylish vibe. <3
# Pastel Frilly Top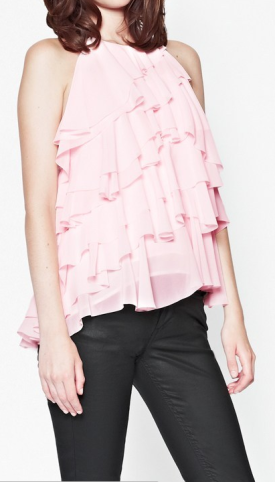 Oh my God- isn't that the prettiest top ever! It's just beautiful with those soft, frothy layers of frill. Plus pastel shades have been totally on-trend this season. You can choose to dress it up or down with a pair of denims or fitted pencil skirts. Or you may layer printed bottoms as well, if you'd like. Sigh! So much dreaminess in one top which will ensure that every combination will have an ethereal vibe to it! <3
# Off-the-shoulder Striped Crop Top
-Now before you get apprehensive, let me just say that this can easily be one of the most versatile pieces in your closet. For formal occasions, pair this with a full-length black tulle skirt, some classic pearl jewellery & all eyes are going to be on you. Otherwise, get your fave pair of denims on, plus a long vest and you can even throw in a Fedora if you'd like-voila! Who knew casual could get so much fun! Plus, this is just $13. :shock:
# Printed Jersey Trousers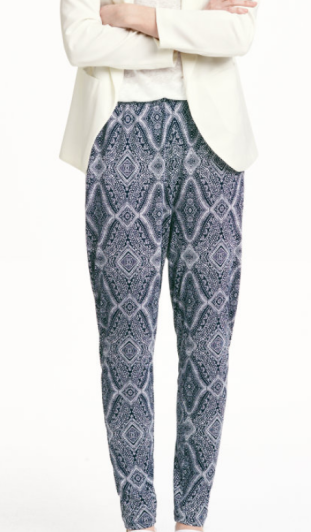 -Wear this dressed up with a white tank & a blazer, or throw on a casual T-shirt, or get flirty with a frilly crop top- the possibilities are endless with these Jersey trousers. Plus at $20, you definitely cannot go wrong. Oh, and H&M has like a million other prints, so you can choose another if you'd like. :wink:
# Front-zip Skater Dress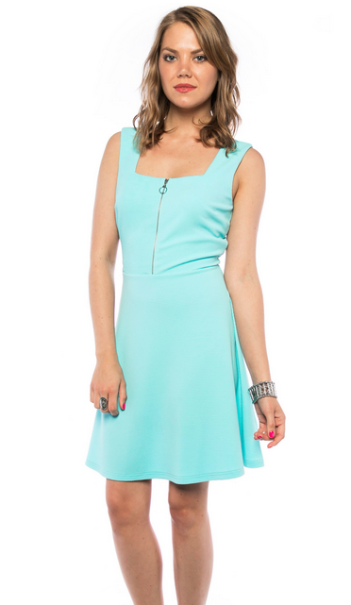 -Ohk, I may be a little biased towards this one because this is one of my latest purchases, & I <3 it sooo much! I feel this can easily be dressed up or down depending on the outwear that you choose. Plus, the colour is so summer-appropriate! ^^' Oh and this wasn't available online earlier, but it is NOW, so get it right now. (because they have their Canada Day Sale going on)
I hope you had fun checking these out. Please do let me know what are your favourites this Summer. :*
Love,
[Picture Credits: Cover page from hercampus.com]