So today I'm talking about something, which every woman on this planet ponders about. And I certainly can't put it better than Rebecca Bloomwood from 'Confessions of a Shopaholic'. Remember those golden words- "You know that thing when you see someone cute and he smiles and your heart kind of goes like warm butter sliding down hot toast? Well, that's what it's like when I see a Store. Only, it's better! "
I know, right? Even more, when the Store proudly displays the four-lettered word- SALE on its windows. That's pure love, and nothing comes between my <3 & me. And can you blame me? There're just so many options to choose from & I literally NEED all of it in my life. I swear, I REALLY REALLY do.
But lately I've started realising that wallet constraints can be a big bummer, especially when your heart pines for all high-end brands. :oops: Versace, why you gotta be so expensive!! So you know that moment, when your best friend throws an impromptu party, and you have nothing new to wear & an empty wallet at the end of the month! I do not like repeating clothes, so I would try my best to make the old ones work at such times. But, trust me, you & I both know that swapping the belt, or shoes, do not make that old dress look new. It still looks timeworn and faded, and I do not feel as confident as I want to, when I enter the party. :(
Aaaaand that's why I have been on cloud nine, since I found Blinge! In plain, simple words- it's my fashion genie & it grants me all my wishes. What else could I ask for! :P
-I get as many new clothes as I want,
-All from premium brands,
-At my whims and fancies, within 3 hours!
Yes, can you believe that something like this is even REAL? Even going to a Mall, hunting for a dress from all the chaotic madness and actually purchasing it takes way more time! ( And definitely costs me way more moolah :P ) Oh, and you know what the best part is; once I'm bored- I get new ones! Plus, I do not have to wash them or send them back. The Blinge delivery guy picks up my worn clothes, and takes them back. And I get to have new, shining clothes waiting in my closet to be explored. Yes! Finally all my prayers have been answered. :D
Piqued your interest? Of course, this did. All you have to do is choose your fave clothes, from the exhaustive wardrobe offered by their website, and decide if you want to BOOK it for later, or get it NOW. Blinge BOOK allows you to reserve the dress to be delivered on a later date, and Blinge NOW lets you have the dress within 3 hours!
Imagine if you have a friend's Cocktail function to attend, & you do not wish to actually purchase an glamorous outfit, for you're worried about how much wear it would actually get. Simply get it from Blinge. Like this one here!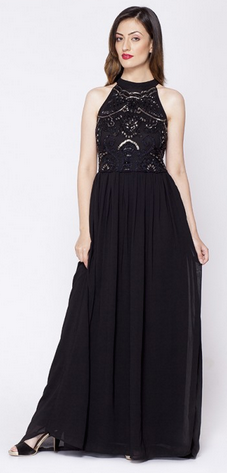 <3"><3" title="The Fashion Genie is FINALLY here- BLINGE <3">
This KAZO Evening Gown retails for INR 5999, but you can have it for just INR 698.
Or there's an impromptu Brunch on Sunday? Get this beaded shift dress from LABEL, RITU KUMAR. Retails for INR 2990, but you shall get this goodness for INR 448. :D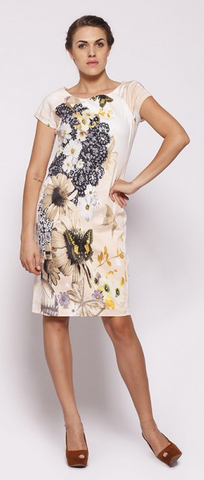 <3"><3" title="The Fashion Genie is FINALLY here- BLINGE <3">
Or, there's a late-night party and you don't really want to spend- simply ask Blinge. Check out this option! :)

<3"><3" title="The Fashion Genie is FINALLY here- BLINGE <3">
Pretty Pastel Dress by GUESS, which could set you back with a good INR 7999, but Blinge gives this to you for just INR 1199. :D
Same goes for formal wear for that one, big interview because let's face it- formals don't come cheap & you don't really wear them a lot. ( Until you're probably a lawyer, like me, which is a totally different scenario)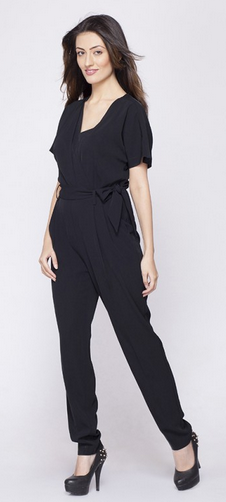 <3"><3" title="The Fashion Genie is FINALLY here- BLINGE <3">
This Black Belted Jumpsuit from Marks & Spencer, retails for INR 4999 and is available for INR 749! Throw on a textured blazer, or not; anyway you shall definitely stand part from the usual corporate crowd. :)
So explore your options, have fun flaunting them, and once you're done- send them back & choose more options to be delivered. Simple enough right? And all of this is available for just a minute fraction of the actual retail price! That has to be super-duper affordable for everyone out there. See what I meant when I said that Blinge is my Fashion Genie? ;)
The Blinge Website is here- http://www.blinge.in/
Their Facebook Page is here- https://www.facebook.com/blinge.in
You get the drift, right? Come, get your style fix with Blinge. It's ahh-maaazing!
Love,