Hi everyone,
Happy Happy Tuesday!
To all my fellow Canadian residents, how was the long weekend? The weather was absolutely perfect all the 3 days, and I'm so bummed that we didn't get to hit the beach. :\
But, but but... this weekend I finally went to watch 'Jurassic World'. I wasn't expecting much out of it, but I actually enjoyed every bit of it. Quite different from the previous ones, and a really, good movie- I would say. Oh, but contrary to my previous statement regarding the weather- it started pouring cats & dogs once the movie got over. We were planning to eat at 'Shoeless Joes' because I wanted to try it out, so we had to dig out the umbrellas cause it was literally 20 steps away from the Hall. Oh, and funny story- the waitress actually asked for my ID when I ordered my cocktail. I mean, can you believe that- I'm so sick of being asked for my ID ALL the time! :mad:
Anyhoo, what inspired this post is the super cooling AC in the Movie-hall. Seriously, somebody should tell them to turn it down. I was wearing a dress, and I did carry my Cardi, but my legs were getting super-duper chilly. And all I could think was- Culottes! That's what I NEED next time! Hahaha. :P
Wouldn't you guys agree? If there's one trend that's definitely here to stay- then that has to be 'Culottes'. They have been all over the runways and are available in myriad variety everywhere. What with Olivia Palermo and Alexa Chung advocating them, how could these not be termed as the 'it ' thing, this season. :P
However, before I begin, I would say that it's easy to get drowned in these pants, quite easy in fact if you're petite, (like me). For us, it's essential to get the fit and the length correct, unlike taller girls, who'd look straight out of fashion show- irrespective of the length. *struggles of a short girl-aaaaah!!* So, ensure that the waistline hits high, and the hemline cuts mid-calf, or preferably a few inches below your knees. Anything longer will probably cut your length, and make you appear shorter than you actually are.
Moving ahead, once you find your dream pair (or pairs- who said you gotta stop at just one! :D ) I do believe that Culottes are easily one of the most multi-functional items in our closet. Whether you're headed to a business meeting, or to a Party- this modest pair of breezy clothing will never let you down, Here, I'm sharing 8 looks for easy-peasy style statements, which would make you look chic without looking like you put in a lot of effort.
Meetings & more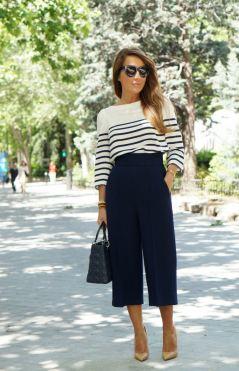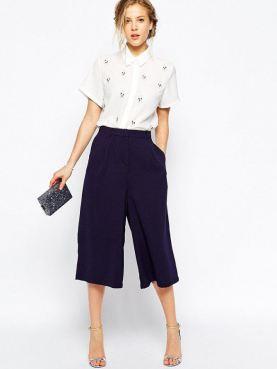 I strongly believe that the usual super-formal office-wear can get such a drastic makeover with Culottes! You can team them with striped tops, or go a little blingy, without looking over the top. Plus, the silhouette is so much more comfortable than the usual trousers or pencil skirts. These basic styles should definitely become your wardrobe staple; and just like you go to endless length to find your dream pair of jeans, you should start a hunt for Culottes. Right now! :P
Going for a Party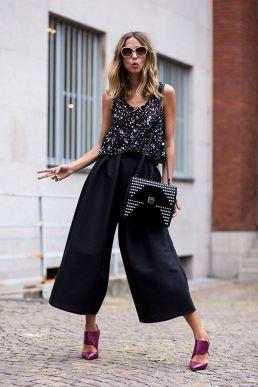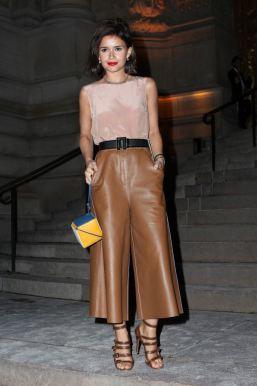 Depending on your personal style, there's no reason why you cannot transform these Culottes into the coolest party outfir ever seen in the history of mankind. :cool: Haha, ohk, jokes apart, isn't this the easiest way to go from work to party? Just swap your simple blouse for this sequin one and you'd be good to go! And if you've got more time to rush home, definitely change into these faux leather ones. The party would only start, once you enter it this ensemble. <3
Date-Night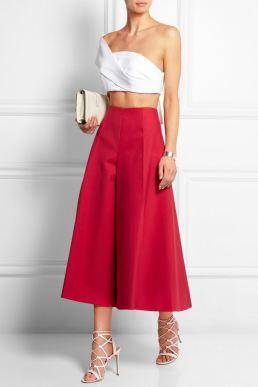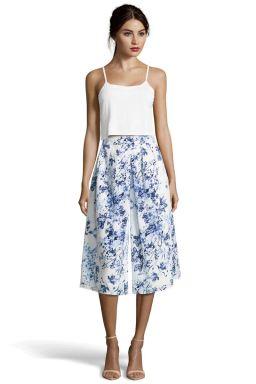 Oh, I would absolutely love this ensemble- especially if you know that he's taking you to a fancy-schmancy restaurant. Or else, teaming a silk cami with floral culottes will definitely make him go weak in his knees. Plus, who doesn't love florals in summer; remember the runways going crazy over it for S/S 2015? :D
Matching separates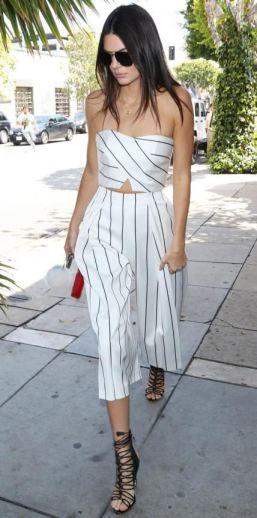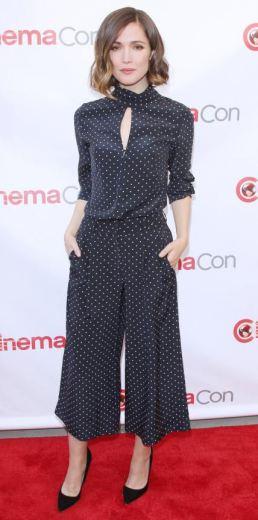 This isn't exactly cut-out for any specific occasion, but I'm totally loving matching separates with culottes. (Especially with all these Celebs showing us how to work 'em ;) ). Kendall Jenner looks flawless in her striped separates, which would be great teamed separately with other items as well. And how adorable does Rose Byrne look in her polka-dotted pick! :)
So, date-night, or business meeting- where would you rock these?
On a side-note, thanks for applauding the constant updates from Indian Couture Week on my Instagram. I was ecstatic that Christian Louboutin is pairing with Sabyasachi & loved other Collections as well. I had so much of fun bringing the latest updates to all of you, and I'm so inspired to continue doing so with future events, with the lovely response. Thanks a ton for all the <3 !
Until next time,
Love,
Surabhi :*
[Picture Courtesy: Pinterest.com]