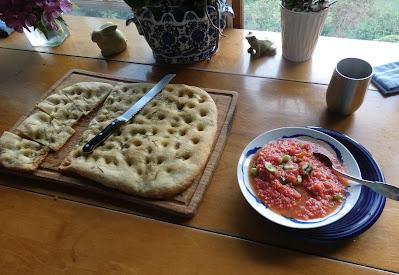 When the weather is warm and good tomatoes are available, my thoughts turn to gazpacho. This a quick and easy recipe that can be made in the morning and sit chilling in the refrigerator till evening--the soup in one container and the chopped veggie toppings in another.
GAZPACHO 2-4 servings
2 thick slices onion
2 lb. tomatoes
3-4 big cloves garlic 
2 TB olive oil
2 TB wine vinegar (I used white balsamic)
1 tsp sweet paprika
some hot pepper flakes to taste
salt and pepper to taste
Whir up in food processor or blender. Put in refrigerator till very cold. (Make in morning for the evening meal.)
Garnish
Chop cucumber, tomato, green pepper, and parsley or basil and toss together with salt, pepper, and a little olive oil. Put in a bowl and in the refrigerator.
To serve, put soup in bowl, add garnish.  This recipe made a meal for me and John. It could serve four as a cup of soup before a meal.
If you don't want to make the focaccia, garlicky croutons are a nice addition. Maybe a little sour cream too.

The focaccia, unlike the soup, needs to be hot from the oven to be at its best. But it too is really easy. 
Prep time-75 minutes (this is mostly dough rising). Cook time-20 minutes
Focaccia
1 1/3 c. warm water
2 tsp sugar or honey
1 pkg active dry yeast
3 1/2 c all purpose flour
1/4 c olive oil (plus more for topping)
2 tsp coarse sea salt (plus more for topping)
2 or 3 sprigs fresh rosemary
Put the warm water and sugar in a large bowl. Sprinkle yeast on top and stir. Let sit 5-10 minutes till foamy.
Gradually stir in the flour, olive oil, and salt till dough pulls from side of bowl. If too sticky, add a little more flour. Knead very briefly right there in the bowl and shape it into a ball. Transfer to another bowl that has been greased with olive oil. Cover and let rise in a warm place 45-60 minutes till it has nearly doubled in size.
Put parchment paper on a rimmed cookie sheet. Put a dollop of olive oil in the center and turn the dough onto it. Use your hands to push and pat the dough into a large rectangle around 1/2 inch thick. Cover and let rise again for 20 minutes.
Preheat oven to 400 F. Use your fingers to make deep dents all over the surface of the dough rectangle. Drizzle olive oil over the surface and sprinkle evenly with rosemary and sea salt.
Bake 20 minutes or until golden. 
Best hot but still tasty the next day.