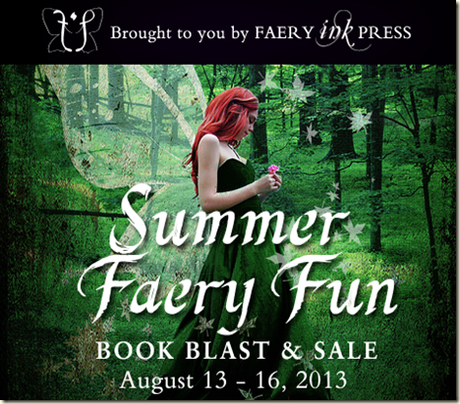 Happy Birthday to Author Clare C. Marshall!
As part of the Summer Faery Fun Book Blast and Sale, Clare C. Marshall's novels will be 30% off from August 13 to August 16!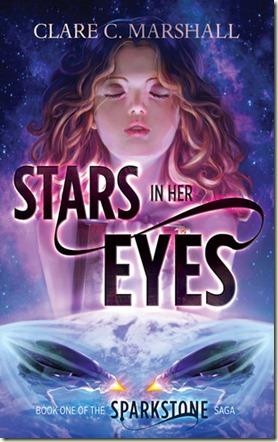 Stars In Her Eyes (Sparkstone #1)

  by Clare C. Marshall   Summary: Burn hot and cold.
Read minds.
Disappear at will.
Dream your own death.
Welcome to Sparkstone University, where some students are more gifted than others.
When Ingrid learns she's been accepted at the hyper-secretive Sparkstone University, she is sceptical. It's an honor to attend, apparently, and yet barely anyone has ever heard of the place.
And everyone seems a little too happy that she's there: especially when she meets Sunni and her group of friends. They seem to already know Ingrid. As if she was expected. Expected to save Earth from an imminent alien invasion. Like she has superpowers or something.
As if magic and mutations exist. As if aliens are really planning to attack.
That just sounds ridiculous. There's no such thing.
…right?
Wrong.

Genre: YA science fiction/adventure
Release Date: May 13, 2013
Length: 167 pages
Regular Price: $0.99 eBook . $13.95 Paperback
SALE PRICE (30% off): $0.69 eBook . $9.76 Paperback
Where to Buy: Use the coupon code SUMMER2013 at faeryinkpress.com to get the 30% off sale price. All eBook formats are available, as well as paperback. **THIS CODE ONLY WORKS ON FAERYINKPRESS.COM**
Grab Your Copy: Stars In Her Eyes at faeryinkpress.com     Read the first 3 chapters FREE: Stars In Her Eyes Sample   Excerpt from Stars In Her Eyes:   ---------------------   "Come," says Ms. Agailya, gesturing to a large, three-storey Edwardian building across the street. "We'll worry about registration and such later. Let me show you to your room."
There's no parking on the other side of the road, so Mum and Dad take what they can carry and lock the door while Ms. Agailya strides across the road without looking—not that there's much traffic anyway. Crisp-white window frames encircle the blemish-free glass, but the brick finishing looks as though it's seen more than its fair share of harsh winters. Tall maple trees protect the historic building with their wide, reaching branches: three on each side, and at least four in the back.
"This is Rogers Hall," Ms. Agailya explains as I run to catch up with her. "The cafeteria is on the main level, and then above that we have a handful of classrooms, studies, and temporary residences for guests and new students. Over there"—she thumbs behind her, where our car is parked—"is the main girls' residence, Rita House, and the other girls' residence, Raylene House, beside it. Across from Raylene House, to the left of Rogers Hall, is Morris House and behind Rogers Hall is Hynes House. Morris House and Hynes House are the male residences. While as an institution we are fairly liberal, we do have rather strict rules governing opposite sex visitors at inappropriate hours of the night."
"That shouldn't be a problem for me." I feel lame admitting this. I only had one boyfriend in high school, and it only lasted a month. Between music lessons, studying for school, being on the student council, learning to play anything remotely nerdy on the piano, and, let's face it, watching Doctor Who and reading Star Wars fan fiction on the Internet, I didn't have a lot of time for a boyfriend. Or rather, guys I knew didn't seem to have a lot of time for me.
Approaching the residence and looking up makes my move to the remote university town of Sparkstone feel so real. I'm growing up. I'm making a fresh start. Maybe, somewhere within these walls are people like me. People who will laugh and nod knowingly at my Star Wars and Doctor Who and Battlestar Galactica references. People who, when they want to know something, actually take the time to look it up and who read for fun instead of stumbling around life blindly relying on the smart kids to push them through difficult situations. I'm not going to be the smart kid anymore. I'm going to be in a sea of them. This both terrifies and excites me. Mostly terrifies. What if I'm not smart enough to even be here? What if my acceptance here is a mistake, and I really, truly have nowhere to go?
I gulp. I guess I'll just have to fake it until I make it.
I walk ahead of Ms. Agailya and reach for the double doors. They're made of reflective steel that, unlike the brick, looks brand new. My fingers clasp the protruding handle and—
OW!
A computerized female voice speaks softly from hidden speakers. "DNA match confirmed. Blood type, O. Welcome to Sparkstone, Ingrid Louise Stanley."
------------------   Add to Goodreads   See My Review of The Stars In Her Eyes   See My Interview with Author Clare C. Marshall   ------------------    

Enter the Summer Faery Fun Book Blast Giveaway

  a Rafflecopter giveaway  


Come back tomorrow for another feature!