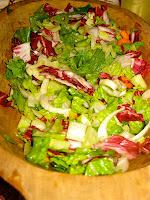 As I've done for the better part of the last decade, I just spent a week with my family on Cape Cod.  Four generations of us, from 6 to 96, spent 7 days together in a large rental home in Brewster right on the beach of the bay. Morning walks to the Brewster General Store for coffee, half mile strolls on the beach at low tide, wave running, dining waterside, shopping in the little Cape towns, playing a lot of card games...that's how we spend the time that creates lasting memories and always slips by way to quickly.
While breakfast is at all different times and lunch is sometimes spent in different places, dinner is the focal point, and we we together cook many meals at home.  My siblings and I all love to cook, but we make (and eat) very different foods, and I am the only vegan.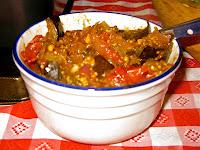 Both my brother and I belong to the same CSA, so when we stocked the fridge upon arrival, we had many of the same items, among them leafy greens, tomato, eggplant, peppers and corn.  My mom had brought some radicchio, endive, fennel and carrot so one night I made a rustic salad in a pretty oval-shaped wooden bowl and dressed it with lemon juice, olive oil and a bit of balsamic.  I had no tofu, TVP (textured vegetable protein) or seitan, so I decided to make a warm eggplant caponata.  I chopped two large eggplants and threw them in a large roasting pan with tomatoes of various sizes, halved or quartered.  I drizzled them with Zoye soybean oil and balsamic and set them to roast, watching them become more tender at every 15 minute check.  Once they were really starting to cook and sizzle I tossed in one diced purple onion, 2 minced cloves of garlic, a half cup of sun dried tomatoes and a third of a cup of pine nuts.  I let that continue to cook until it all broke down and the onions were looking caramelized.  I served it in this simple bowl (how much do you love that tablecloth?) and it was really delicious.  I was a wonderful, hearty side dish, yet light enough for a summer evening, and I even added a tablespoon of hummus to it for a twist. It was a blend of Italian and Mediterranean fare Cape Cod style!