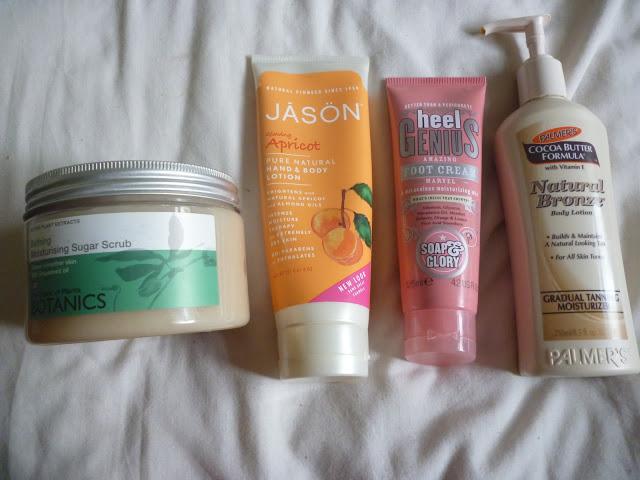 The sun seems to have disappeared again over the last few days but I am still prepping my body ready for when it shines again. I thought I would share with you some of the products that I use to help my skin look good enough for it to be on display.
I start off with giving my body a good scrub with the Botanics moisturising sugar scrub, which gets rid of all the dead skin cells and makes my skin feel smooth an soft. I then follow that up with Jason's Apricot Hand And Body Lotion. Firstly this smells divine, a true apricot fragrance that lingers on the skin. It also leaves your skin feeling hydrated and smooth with a slight sheen.
When it comes to moisturising my feet, the best thing I have found is the Soap & Glory Heel Genius. It contains fruit acids to smooth away any dry skin and leaves your feet flip flop ready after a few applications. I make sure I put this on every night to keep my feet in shape.
Lastly I use the Palmers Cocoa Butter Natural Bronzer Gradual Tan twice a week to give my skin some color. I have very fair skin which doesn't tan very easily so I would rather fake it than damage my skin by sun bathing. This is an easy to apply tan, that gives you a natural tan after one application. Perfect for those tan newbies.
What are your go too products for the summer?