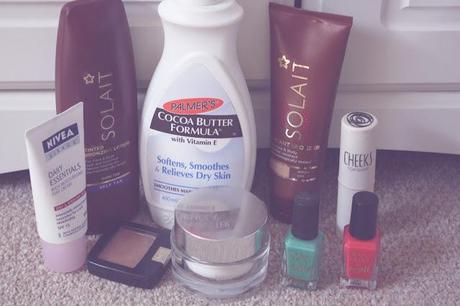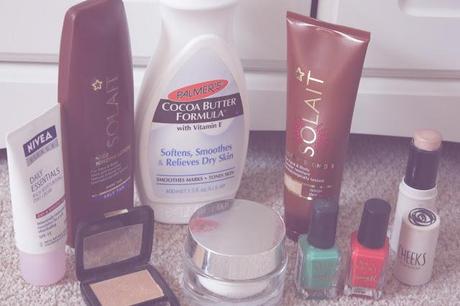 NIVEA Daily Essentials Moisturiser
This is my ultimate facial Moisturiser. I use this every day as it's so refreshing and creamy. It's also incredibly good as a toner too so I put this underneath my Make up every day. It also includes an SPF 15 so can protect you while on holiday or just soaking up the sun. I've repurchased this twice and have yet to find a strong competitor to such a simple but amazing product. 
Solait Tinted Bronzing Lotion
This is my new Fake Tan love. It creates such an even color and because it's a moisturised tan, it lasts a lot longer too! One application will make you look like you've been in the sun for a few days which is what I want to look like at the beginning of the holiday. No one wants to be pale on the first day of your holiday so I'm going to be applying this before I go, so I can pull off the 'tanned bikini's' (the bikini's which look best when tanned, if you didn't guess).. Although this tan smells awful of biscuits when first applied, a quick shower sorts this out, and it also washes away the orange-ness in the morning.. LOVE, LOVE, LOVE this product!
Palmer's Cocoa Butter Formula
This is my favorite body moisturiser! It makes me smell like chocolate, so what could be better?? It's incredibly moisturising so will sustain that tan (faked or baked).. This is a Summer Essential, but also a Winter Essential too because it protects me against dry skin all year round. For this huge bottle, it lasts me a long time too! Even better!
Solait Instant Bronze
I originally purchased this product before the other Solait tanner and it was this one that got me obsessed with the range. This is a matte instant tan which, when applied, looks like Marmite. Although not terribly appealing, it doesn't smell like it but infact has a really summery and non-tan-like smell.. This is a wash-off tan which I use if I need to create some more color when going out and stays on ALL night (and morning sometimes). The only probably with this product is that it does transfer to fabrics pretty easily (so apply carefully) but if you can live with that, this tan is for you. It's natural-looking and applies like a dream if used with a mitt. 
Topshop Cheeks Highlighter
I've put this as part of my Summer Essentials because I don't think there's anything else which can make you look more fresh-faced and summery than highlighter. Topshop's one is one of my favourites because it just glides on so easily and can easily be drawn in a line with, which makes it easier to find your cheek bone. It doesn't wear off throughout the day and looks very natural. I would recommend any color from their range because all the colours suited me, whether I was tanned or pale. 
Golden Eyeshadow
In general, I chose to include this 'colour' in my Summer Essentials because I believe it's a real go-to color. I use Silver Eye Shadow's in the Winter and Gold in the Summer because I believe they mirror the season changes. I've included a No7 Eye Shadow but any brand is suitable. This Eye Shadow is relatively orange so looks amazing on all skin colours and is very sparkly so create for using down the beach but also can be used to go out into town at night!
Miracle Skin Transformer - Triple Active Night Treatment
I received this at the iFabbo Event, I went to last week (a post is to come) and I've used this on the dry areas of my face. I believe this would be AMAZING after a day by the beach and in the sun when your face feels slightly dry. It's incredibly rich and a little bit goes a long way! I noticed my skin looked a lot brighter in the morning and used it as a mask one night, and my skin was just SO soft!
BarryM Nail Varnishes - in Spring Green and Coral
This week I could't decide which color to choose to paint my nails. I wanted something to match the weather of England so painted one hand in one color and the other hand in another. Both colours look so summery and I think I'll be using these on Holiday. The Coral color is definitely more orange than pink and the Spring Green is slightly mint-coloured mixed with a frog-green... (Weird description!)