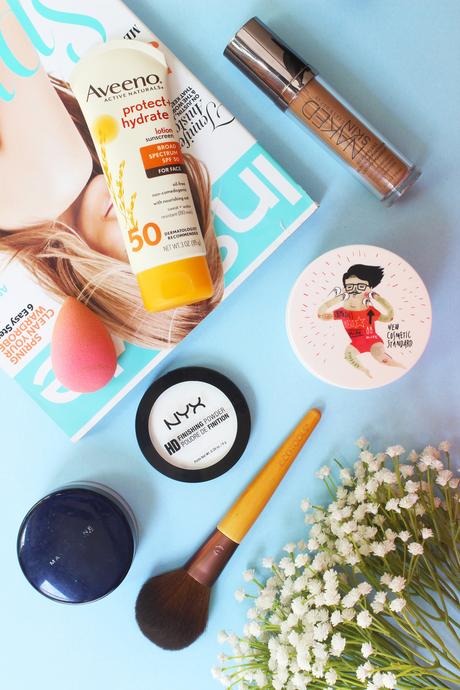 Hello everyone! Today, I wanted to share my current Summer Foundation Routine which has been in full force since Summer began.
I have been using some new things and have been using some old things, so I thought I would share everything I have been doing in a post.
In the morning, after completing my morning skincare routine, my skin gets oily on its own in about 30 minutes! Prior to this summer, I thought skincare in the morning was enough for the skin to be ready for foundation.
However, I thought it was a little gross applying foundation over the sebum my face produced. So, I have been using the COSRX One Step Pimple Clear Pads. I explain I how I used it in my Skincare Haul ().
They are so refreshing, especially in hot weather. They help get rid of any sebum produced prior to me applying foundation.
After that, depending on whether or not I am going outside, I use a sunscreen. I think sunscreen is very important especially if you are going out in the sun. I have been using the Aveeno Protect + Hydrate Lotion Sunscreen. What I like about this sunscreen is that it dries matte, which is fantastic for oily skin.
Note: mixing foundations and moisturizers is tricky because some combinations do not work well together. Many times Foundation will separate and be hard to blend into the skin if the ingredients of both products don't match.
The foundation mixture has a light coverage, so I also go in with the Glossier Stretch Concealer. I literally apply it all over my cheeks and t-zone for a bit more coverage. I am in love with this concealer because it's very light and seamless and not thick.
I think I can able to use this concealer generously because I have the help of the Beauty Blender which is able to blend everything together for a natural finish.
When it comes to setting, which is important for oily skin, I like to use two powder colors to create more dimension on my face especially if I am not using lighter concealers and/or contours.
Then I like to use a fluffy powder brush to dust my Maybelline Shine Free Powder all over the face, which removes any excess translucent powder under my eyes and t-zone.
Then I douse myself in MAC Fix+ and I am ready for the rest of my makeup~
What do your summer base products?