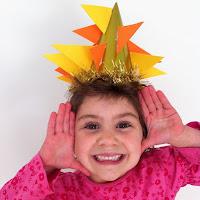 It's no secret that the Summer activity ebook has arrived!  
We're so excited to announce that the 45 page ebook is now available on our website, and it's filled with craft ideas, printable templates, make and take projects, top tips, shopping lists, and much more.
Whether you're thinking of having a Luau Party, thinking of boredom busters for your children for the upcoming Summer holidays, or simply looking for inspiration to get your family in a crafty mood - you're sure to find something to suit your skill level and style.  There are activities for toddlers and preschoolers, right through to preteens, teenagers and parents.
Of course there's also a set of companion printpapers, with
9 decorative printpapers, 10 printable templates (DL invitations, A5 invitation, wall decoration, place setting, food flags, small and big bag-tags, 3 bunting designs) and unlimited applications!
Did we mention how excited we are!?!
Hello sunshine!
(If you're not sure what our ebooks and printpapers are all about - pop over to our website and download the free 'How to Host a Themed Party' Ebook and free 'printpapers' to read and experiment with and surf trough the ebook and shops, take a 'sneak-peeks' inside the ebooks where you can, have a look at the free How-to guides, and free art projects for kids - there really is so much you can do with your family to stay crafty!)