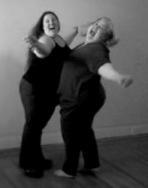 Belly Bump with one of my heroes – Marilyn Wann
I decided to repost this blog based on a few conversations I had and saw in the last few days.  I see people talk a lot about how we need to "do something," and how abusive and exploitative things like The Biggest Loser are justified  because so many people are "suffering from obesity".  I won't presume to speak for everyone but I will say that while I sometimes do suffer because I'm obese, I've never suffered from obesity.
I'm suffering from living in a society where I'm shamed, stigmatized and humiliated because of the way I look. Where I'm oppressed by people who choose to believe that I could be thin if I tried (even though there's no evidence for that), and that I am, in fact, obligated to try to be thin because that's what they want me to do – as if personal responsibility means that I'm personally responsible for doing what they think I should do and looking like they think I should look (though this does not seem to be a two way street as none of these people has ever invited by commentary and suggestions on their life and choices.)
I'm suffering from doctors who have bought into a weight=health paradigm so deeply that they are incapable of giving me appropriate evidence-based healthcare.  I'm not just talking about diagnosing me as fat and giving me a treatment plan of weight loss (which is using a completely unreliable diagnostic and then prescribing a treatment that has the opposite result 95% of the time).  I'm also talking about the two doctors who tried to prescribe me blood pressure medication without taking my blood pressure or looking at my chart to see that it is always 117/70 (which means that taking blood pressure medication would have been dangerous).  I'm talking about a doctor trying to get me to lose weight to treat me for Type 2 Diabetes when I actually had anemia.  I'm talking about a doctor telling me that my strep throat was due to my weight. I'm talking about people who are supposed to be scientists abandoning science and research in a way that strongly resembles the time when the Catholic church told Galileo to sit down and shut up.
I'm suffering from a societal witch hunt where instead of putting me in a river they put me on a scale.  People look at my body and feel comfortable blaming me for everything from global warming to healthcare costs despite a lack of evidence for either. People send me ridiculous hate mail, say nasty things to me at the gym (although making fun of a fat person at the gym is something I will never understand).  People who are drenched in thin privilege try to use that position of privilege to make me feel bad about myself.
I'm suffering from the misinformation campaign that is led by the diet industry, weight loss pharmaceutical industry and surgeons who profit from mutilating people who look like me, none of whom are willing to be honest about the risks or horrible success rates of their interventions long term, and some of whom just don't seem to care.
I am suffering from living in a society that tells me that the cure for social stigma, shame, humiliation and incompetent healthcare is for me to lose weight, when the truth is that the cure for social stigma is ending social stigma.
What has lessened my suffering is that I now realize that this isn't my fault – although it becomes my problem. One of the reasons that I choose to pursue a life of social justice work is that nothing makes me feel better than knowing that I am doing what I can to fight this and making some kind of difference – whether it's in the lives of individuals or in society, or just in my own life.  I deserve better and so does everyone else and I and lots of others are fighting for it and we're going to win.  But to be clear, we shouldn't have to.  Nobody should have to fight to be treated with basic human respect.   And that's what I find so sad – all of this suffering of fat people could end right this second and nobody needs to lose a pound – society just needs to stop trying to shame, stigmatize, humiliate and hate people healthy.  We can work on access to healthy foods, we can work on access to safe movement options that people enjoy, we can work on making sure that people have access to appropriate, evidence-based healthcare.  If we give up being a horribly failed example for making people thin, we could be a successful example for giving people options for health.
Like my blog?  Here's more of my stuff!

The Book:  Fat: The Owner's Manual  The E-Book is Name Your Own Price! Click here for details
Become a member: For just ten bucks a month you can keep this blog ad-free, support the activism work I do, and get deals from cool businesses Click here for details
Interviews with Amazing Activists!!  Help Activists tell our movement's history in their own words.  Support In Our Own Words:  A Fat Activist History Project!
Dance Classes:  Buy the Dance Class DVDs or download individual classes – Every Body Dance Now! Click here for details 
If my selling things on the blog makes you uncomfortable, you might want to check out this post.  Thanks for reading! ~Ragen