Hey Guys..I am sure we are way too busy working whole day and do some other work in the night and we are so busy that we do not have time to talk to our neighbors or watch tv. But on 15th Feb 2015, everything was changed. I myself got ready by completing all the weekend tasks early and sat before the TV along with my family and neighbors. Can you guess why? It's because the 2015 Cricket World Cup has begun and that day the match was between India vs Pakistan. We Indians get excited for Bollywood and Cricket the most! We have our very own Captain, Next comes the Angry young man, The list can not be finished without mentioning
What if I compare and analyze both by taking the style standards from Bollywood to the Stylefile of our very own Cricketers? I know..I know..we have known them for so long but you see, we can still check them all over again.
Previously,we have known Bollywood was more about style. Be it dressing, hairstyle etc while Cricket is more about the game.
Gone are the days when style factor was only limited to new Jersey design. Now the time's has been changed.
The players are equally more concerned about Fashion/Style.
To start off with the hairstyles..
We have seen his anger and passion for the game in the ground but off the field he is like the style icon for our youngsters. Obviously he occupied the headlines of the newspaper with his new and unique style. He not only tried many hairstyles but undoubtedly one of the very well dressed cricketers ever. I have always admired his dressing. We usually see him in Jeans and spiked hair.
MS Dhoni who dashingly troubled the opponents with his long tarzan hair. No wonder people called him Tarzan that time. Then he chopped off his hair to look more manly and matured. For Worldcup 2011 he has shown us a different avatar with a short crop. Later he surprised us by shaving head completely. Again for the IPL, we saw him sporting a Mohawk. Then came a crew cut, the Jarhead look.
Virat Kohli Sachin Tendulkar, who tried his luck in changing the hairstyle from his very famous curls to straight hair. I am glad he didn't maintain it for long. Of course, we have Ravindra Jadeja, who inscribed the letters CSK when he played for Chennai Super Kings.Now he is following the steps of Shikar Dhawan by growing his beard and moustache. Well, I think this style suited him and I find it manly. What do you think?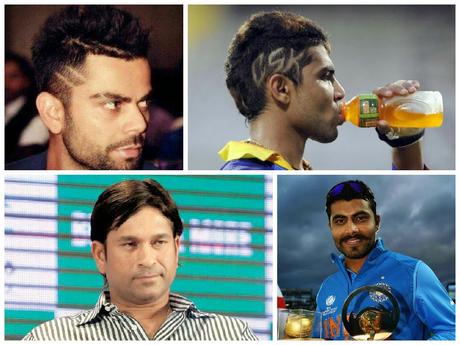 The one who tops my list is none other than Who can ignore his Samurai Tattoo on his left arm? Other crickets who got inked were Tattoos:
Tattoos were always there in Indian culture but in recent times, they have become more popular. Coming to our cricketers, they never disappointed us with the new tattoos.
Shikar Dhawan. He is gutsy and bold. Atleast his moustache and hairstyle say that. Also he is a tattoo freak. His tattoos include a slogan called Carpe Diem, A tribal Tattoo,his wife name and many more.
Virat Kohli Again
Yuvaraj Singh (XII symbol ), Harbajan Singh(Faith) and the list goes on..
Goggles:
When we get to talk about an outdoor game, how can we miss discussing about Sun Glasses. Our cricketers never missed an opportunity to show off their amazing collection of sun glasses in recent times. Aviators and Wayfarers were always there in the fashion trend but our cricketers chose Wrap-Around Sunglasses while they played the match. Those sunglasses were never black and boring but they are of different shapes, colors and sizes.
Enough said, the fashion sense has been totally improved and style is being given priority by our cricket players. During Kapil Dev time, there was not much attention given to the personal style choices but the things have changed. The gameplay has been changed too. Well, it's for good. We love seeing our players in different avatars and we love them anyway. Kudos to the team and All the very Best for the Worldcup 2015..
**This post was written for Blogger Dream Team