If you know me, then you will know I envy Lana unbelievable amounts. Not only for her singing, but also for her sense of style. She just seems to look amazing in everything she wears. Long figure hugging red dresses, which you really need to have the confidence to wear. Here are some of my favorite Lana fashion moments...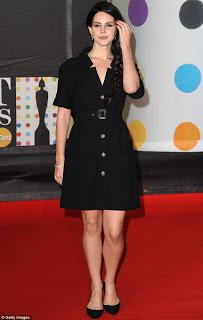 This is a fairly recent one ans it was at the Brits 2013. Put this outfit on anyone else and it has the potential to be a disaster. The dress is by Chanel, and it is a shirt dress. I have to say, I thought it was more suited for daytime wear, but as it's Lana, she can pull it off as a glamorous evening dress. She wore her hair in a long plait, which doesn't look too 'ott' against the dress. In my opinion, she looked amazing at the Brits, and I don't care what any of the gossips sites say (go girl power!!!!)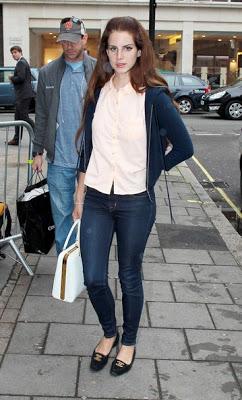 In this photo, Lana struts her stuff (what?..... -.-) In a toned down shirt and jeans combo. The white shirt, added with the navy hoody, creates a really smart but casual look. She adds a pair of blue denim jeans and a white, brief case style bag and Chanel flats, which instantly gives it the wow factor for me. She wears her hair pulled bag at the forehead area, and has her hair quite natural and wavy, not to flashy for a quick trip to the shops. This outfit, with the right jewellery and accessories, could be dressed up with a lovely fitted jacket, for a meal out with friends, or just if you're not the kind of person to wear a hoody!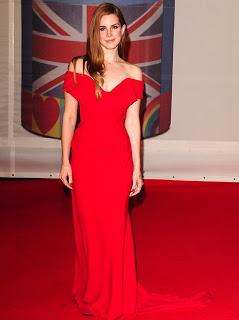 The last outfit is another Brit awards outfit, from 2012. Like I said at the beginning of the post, she really flaunts her figure in red dressed that you need the confidence to wear. The Vivienne Westwood, floor length red dress, certainly complimented her toned down make-up, and there was definitely no need for any jewelry. Hats off to you Lana. (I'm being too cringey now, OK I'll stop.)
I hope you enjoyed this post! I want to make these posts a regular thing, so the frist day of every month, I will post something like this. I really enjoyed writing this and I can't wait for Aprils' instalment now!
Rebecca x