Selena Gomez is one of the most stylish young women out there. She always looks gorgeous in her outfits, especially  the Dolce & Gabbana number she wore for the 2012 Vanity Fair Oscar party, that dress is to die for. I was goggling her latest do and came across an outfit I like quite a bit.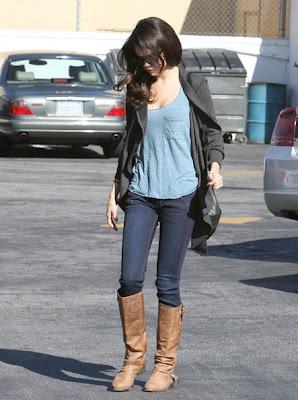 Not only does she still look gorgeous and stylish, it's such a casual comfy outfit that I just love to live in. Instead of the usual items I found, I've decided to do a higher price range version and a cheaper version. I know, you're probably all thinking, "Why do this look when it's coming up to summer?" I totally agree, however being that I live in the UK, I tend to not really get a summer and this is what I usually end up wearing anyway.

Boo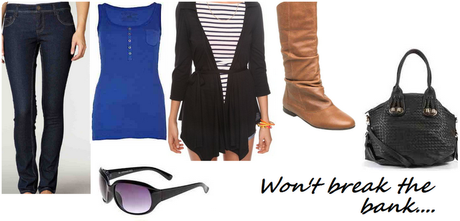 Jeans - Dorothy Perkins £15.00
Blue top - River Island £8.00
Black cardigan (worn untied) - Forever 21 £14.75
Tan slouch boots - Dune via Debenhams £85.00
Black bag - New Look £34.99
Sunglasses - New Look £2.99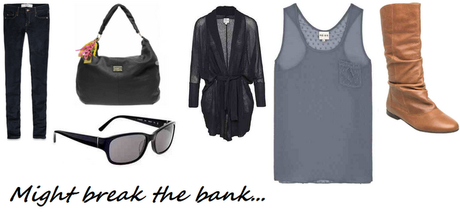 Jeans/jeggings - Abercrombie & Fitch £68.00
Black bag (taking off the colours tassel) Paul's Boutique via ASOS £56.00 (was £70.00)
Black cardigan (worn untied) - Firetrap £67.50
Blue top - Reiss £69.00
Tan slouch boots - Dune via Debenhams £85.00
Sunglasses - Calvin Klein via Next £90.00
I prefer the more expensive items, but realistically, I would go for the cheaper version. I spent ages trying to find items that were a close match. The boots are in both looks as I couldn't find any others anywhere! 
I hope you like this kind of post. Let me know what you think and if there's anyone's style you want me to do next.
Would you wear this look?