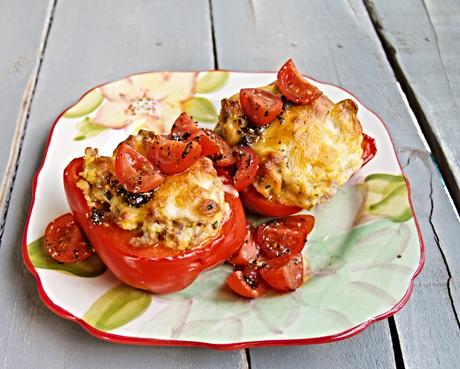 How are y'all doing? Has it cooled off where you live? It sure has here! I actually wore a light jacket the other night in between all the rain and windiness. This stuffed peppers with sausage and grits is a bit labor intensive but oh-so-worth-it! Sweet bell peppers of all colors are in abundance right now and I encourage you to get a color besides green. My favorite is red - so sweet and delicious! Late summer cherry tomatoes have amazingly tantalizing flavor and when you mix it up with fresh Italian sausage and homemade grits - you just can't beat it! This recipe came to me by way of one of mother's friends who ha some old Southern Living magazines, saw the recipe and asked me to make it for her. I did and both of us were hooked!
Southern Living Magazine, June 2017, Page 124.
Ingredients:
3 large red bell peppers about 20 oz. each (I used yellow, red, orange)
1 Tbsp. Canola Oil
3 Hot Italian Pork sausage links casings removed or fresh hot breakfast sausage.
1 Cup chopped onion
½ Cup coarse Cornmeal
1 ½ Cups Chicken Broth
1 Cup whole milk
1 tsp. kosher salt
¼ cup chopped fresh parsley
3 oz. mozzarella cheese, shredded (about 1 cup) divided
3 Tsp. extra-virgin olive oil
2 Tsp. red wine vinegar
2 tsp. black pepper
2 Cups heirloom grape tomatoes halved
½ cup basil leaves
Directions:
Pre-heat oven to 350.
Microwave bell peppers on high for 2 minutes to soften slightly. Cut peppers in half through the stem. Remove seeds and white membranes leaving stem intact.
Heat canola oil in a large skillet over medium-high heat. Add sausage to skillet. Cook 4 minutes, stirring to break it up. Add onion, stirring occasionally, until sausage is cooked and onion is tender - about 3 minutes.
Take up the sausage and onions and add in the cornmeal to skillet. Cook 1 minute stirring constantly. Add broth, milk and ¾ teaspoon of the salt to skillet: bring to a boil.
Cover, reduce heat to medium and cook stirring occasionally until liquid is absorbed - about 20 minutes.
Stir in parsley, sausage mixture and half of the cheese.
Divide mixture evenly among bell pepper halves.
Place side by side on the baking sheet. Sprinkle remaining cheese on top.
Bake until cheese is browned and peppers are tender - about 30 minutes.
Whisk together olive oil, vinegar, pepper, salt , basil and tomato halves.
Serve tomatoes over peppers.
I hope you take the time to make this - serving with salad and rolls worked for us - because you will be heartily rewarded for your efforts!