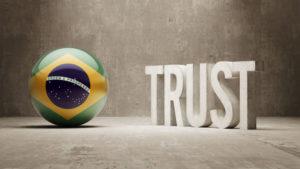 It is hard to be a Brazilian these days. Last year, the president was impeached in the wake of a series of corruption scandals. Now, the sitting president stands accused of corruption charges of a similar magnitude. And while the rich and powerful have been stuffing their coffers, the economy has taken a serious nose-dive, plunging Brazil into the worst recession in decades.
But it is important to separate the political landscape from the country's citizens. Anyone who has traveled to Brazil for either business or pleasure has no doubt experienced the warmth of the Brazilian people. In fact, Brazil ranked eleventh in the Forbes list of the World's Friendliest Countries for the warm welcome it shows to expats and foreign visitors.
This year, Brazilian newspaper polling institute - Datafolha - conducted a study on Brazilian values. A similar study was also performed in 2010. The categories studied were (1) personal values, (2) values that characterize the country today, and (3) values that they see as ideal for the country. A total of 2,422 people were surveyed from a variety of geographical regions across Brazil. Of a list of 90 values, participants were asked to choose ten values to describe each of the three categories.
For personal values, Brazilians overwhelmingly selected characteristics such as friendship, honesty, respect, trust, and patience. This contrasts sharply with the values they selected to describe the country's current culture: corruption, violence, aggressiveness, and racial discrimination.
Since 2010, some categories have shown sharp increases. For example, in 2010, 51 percent of Brazilians expressed concern over the country's problems in general while this year the concern jumped to 61 percent.
The largest jump, however, centered on corruption. In 2010, 54 percent of participants listed corruption as a problem whereas this year corruption was listed as a problem by 72 percent of participants.
Many Brazilians also listed education as an important value. Along with its economy, Brazil's educational system is in dire need of attention. It ranks 60 th out of 75 countries in an OECD (Organization for Economic Co-operation and Development) report in 2015. That puts Brazil in the lowest category with countries like Peru, Botswana, Saudi Arabia, and South Africa.
If Brazil's democracy can evolve to reflect the values of its citizens, then it could become that ideal country that its people deserve.