I never thought I would ever say this, but I miss studying. If you'd have asked me a year and a half ago, I would have given anything to have been "free" from it. But now, after a year out and a year in the real world, I miss it a lot!
Thankfully I'm starting a degree in October (yippee) and I cannot wait! So aside from the hours sat typing, writing notes, researching, penning ideas, fighting with post-it notes, looking forward to a fresh page, highlighting everything possible and the satisfaction of handing in a finished piece; something I look forward to is the organisation malarkey!
Lovely new books, pens, notepads, folders, stationary, pots, shelves, cupboards and EVERYTHING in between, I'm having a right ball. Aside from the fact that I have to spend a good few bob on a new laptop, its the little things that are most exciting.
I love having new work related things that I can stash away in an orderly fashion, label everything and lay it all out aesthetically perfect on my desk.
Sooo seeing as it's University time for everybody soon, or back to school for others, I've put together a couple of my favorite back to study pieces that I could find online, enjoy!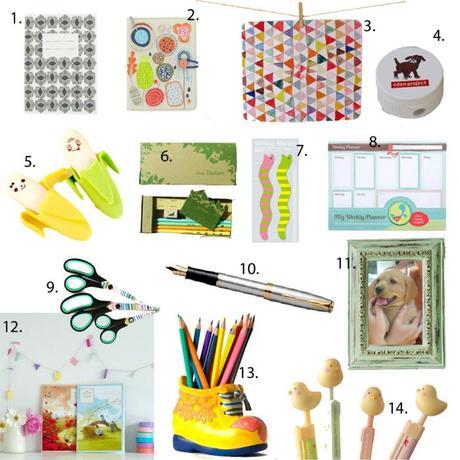 1. Exercise Book  |  2. Planner/Organiser  |  3. Mouse-mat  |  4. Eco Sharpener  |  5. Banana Erasers  |  6. Eco Stationary Set  |  7. Snake Page Markers  |  8. Wall Organiser  |  9. Patterned Scissors  |  10. Fountain Pen  |  11. Desk Photo Frame  |  12. Notebook  |  13. Pen Pot  |  14.  Pens
There are some lovely things from Midori, they are Japanese things and are very kitsch! I have ordered a new laptop and cannot wait to have a fresh start and be overly organised.
I will post some pictures of my workspace when it all comes together, has anybody else had a bit of an organisation overhaul, or a lovely new workspace?