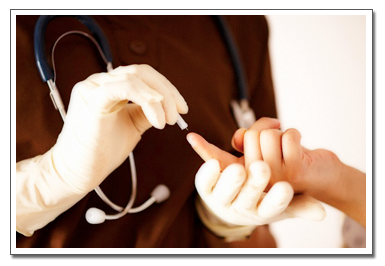 A Case Study:  Chiropractic and Diabetes
A recent case study shows how chiropractic adjustments dramatically improved a 4 year old child's ability to manage diabetes, a condition that affects nearly 26 million Americans.
The case study was published in the November 2011 edition of the Journal of Pediatric, Maternal, & Family Health documents a case of a four-year-old child who had terrific results stabilizing her blood sugar through chiropractic care. The child's mother describes the child as being a very healthy baby, who was not vaccinated and was breastfed for a full 12 months. She was officially diagnosed with type I diabetes at 2 years of age. The family ate a healthy, whole food based diet and avoided processed foods and other environmental toxins.
The patient was diagnosed with spinal subluxation in the upper cervical region. She began chiropractic care and was seen for a total of 24 times over a two-month period. During this two-month period, she experienced a decrease in hemoglobin A1C from 7.2 percent to 6.5 percent. She was also able to decrease the amount of insulin used from 15 units to 11 units per day.
What makes these results even more remarkable is that medical literature state that intensive medical treatment of type I diabetes often does not succeed in lowering A1C levels under 7.0%. This study further illustrates how chiropractic care optimizes the neural connections throughout the body.
The Link Between Chiropractic and Diabetes
The typical person might not understand how chiropractic and diabetes are linked. How can the back affect blood sugar levels? The nerves are like the wires of the body sending signals to all cells and organs of the body interrupt the flow of the nerves and the body suffers. Just like the electricity in your house or better yet computer circuit board hinder the flow through the wires and the devices or regions of the home no-longer function normally or could even catch fire.
When the nerve supply from brain to the pancreas then pancreatic function suffers. The pancreas makes enzymes to digest fats, proteins and carbohydrates (sugar). The nerves to the pancreas come from the upper neck and middle back and if these are interfered upon the function of the panaceas is affected this includes insulin generation. In this case blood sugar levels and digestion become unbalanced, leading to both diabetes or hypoglycemia.
Finding a Chiropractor in Augusta GA
As experienced chiropractors in Augusta GA, Georgia Clinic of Chiropractic have great success in treating a range of conditions by addressing each patient's unique concerns and tailoring treatment based on each patient.  While no guarantees can be made or promised, chiropractic care has been proven through studies to be a safer alternative than prescription medications, which often come with a litany of unwanted side effects.  If you would like to find out how a chiropractor in Augusta GA specializing in customized treatments may be beneficial for you, call our friendly office at (706) 814-5053 today.
---
The Georgia Clinic of Chiropractic Blog is written by Dr. Mark Huntsman.
 Augusta GA Chiropractors Georgia Clinic of Chiropractic provides customized chiropractic care to the Augusta GA, Martinez GA, and Evans GA communities. Visit our main website at www.georgia-clinic.com for customized chiropractic in Augusta GA.
Choose several options to schedule your appointment: call (706) 814-5053, use our online voicemail, or use our online form.