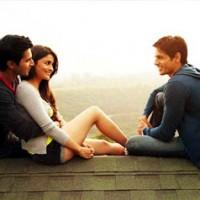 Surkh wala soze waala faiz waalaa love
Hota hai jo love se zyaada
Waisey waala love

Totally in love with this number. 8 on 10 for the music. Vishal and Shekhar have also done a great job remixing all the old numbers. Couldn't get hold of the Gulabi Ankhein track. Coming to the film, its a fun watch though nothing new to look forward to, as expected. It took me back to so many films I've seen but only looked fresh coz of the three new faces.
Great start for newcomers Varun Dhawan (Rohan Nanda) and Siddharth Malhotra (Abhimanyu). You can't tell its Varun's first time on screen. The opening number introducing Siddharth felt quite funny as if I were back to the Kuch Kuch Hota Hai/Rehna Hai Tere Dil Mein days but watch out for him as the film moves on. He's packet of surprises that unravels bit by bit. He wins you over with his sincere, restrained act. His lovesick puppy dog chemistry with Alia Bhatt (Shanaya) is perfect. I won't be surprised to hear if they're actually seeing each other. Alia doesn't have much to offer besides her Jimmy Choos and Louis Vuittons but she's adorable whatever little we see of her.
Varun and Siddharth make the best buddies. Their timings couldn't have gotten better. @KJo you've got to reconsider your Dostana 2 cast or how about Dostana 3? Their camaraderie aside, they screamed sexy every time they had their shirts off

And it looked even better on the big screen

The good news is, Siddharth has already got 2 more films. Looking forward!