Strellson Fall/Winter 2011 is designed with the self-confident, jet-set male in mind.  Jackets and trousers are made with tightly wound pure woolen yarn and high-quality craftsmanship ensuring minimal creasing even after a long-haul flight.  Shirts are constructed with a special fabric structure that are wrinkle-resistant and easy to iron.  The T-shirts are breathable, the ties stain-resistant, and weekend leather bags spacious enough for important documents and essential garments.  Mr. Tomasi was kind enough to take me through Strellson's Premium and Sportswear Collections in greater detail.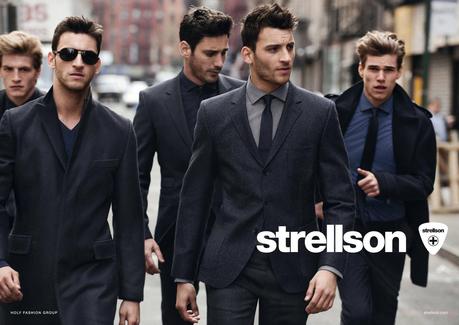 Midsummer, 7:30 a.m. You put on your shirt and knot your tie. In a hurry, you pack breakfast into your bag and run to the car. You have half an hour to get to work, all the time you need - or so you think. After 5 minutes, you hit the first traffic jam. You lose 10 minutes. At the next junction you find yourself in the same situation.  What a day, you think… I will never make it on time…
   Many people who live in the city have the same problem .  If it is not a traffic jam , it is a late bus or train. Every day, the same old story. Why not go by bike? No, you think; after all, I have to wear a suit. Before  I get to work my suit will be crumpled and dirty. But wait a minute!  Here we come to the point.
Where can I find a suit which is appropriate for cycling? Here's the answer.  From Strellson. 
   Strellson, the international fashion and lifestyle company from Switzerland, in partnership with Bianchi- professional cycling company, has created a clothing line which allows you to take your bike wherever you go, and still arrive in style.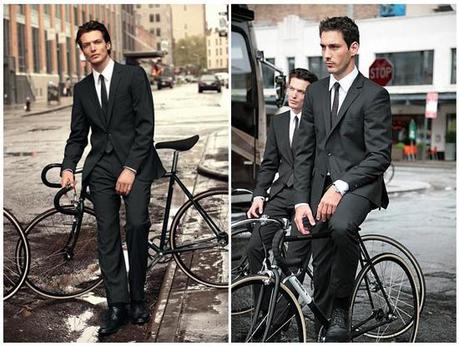 The Strellson Sportswear Collection combines traditional and workmanlike design with contemporary style.  English work wear, Norwegian and Canadian Inuit touches are interspersed with urban rock elements from the 1980s.  Mr. Tomasi stressed the beauty created by mixing opposites such as organic relaxed fits with sexy close-fitting outlines, matte with gloss, clean with destroyed, natural with techno, ethno with punk, etc.   The colours are urban neutrals with a touch of grey, masculine dark winter block colours, and strong coloured accents.  The geometric workwear and military details complement one another borrowing elements such as patch pockets, square flaps, studs, eyelets, zips, decorative quilting, and fur appliqués.  The leather treatments which include oiled, waxed, washed/stone-washed, and vintage effects makes their outerwear very interesting.  Must-haves include that beautiful bold cadmium red puffy bomber jacket, the blue and white Nordic turtleneck, the gray authentic Harris Tweed sports jacket.  You have to really love that indigo camo military jacket as well.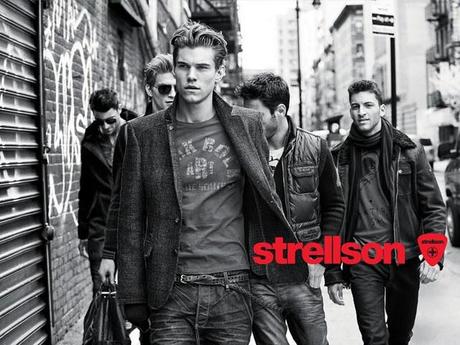 The Strellson Premium Collection fuses traditional tailoring with modern design.  They've combined clear shapes, materials, and volumes in independent and rebellious ways.  The look is soft but masculine, reflecting an urban attitude.  The silhouette is slim and close-fitting and influences from indigo denim, military prints and design, and biker wear find their way into many of the pieces.  Rich moulinés, tricotine, velvets, corduroy, flannels, soft tweeds, bouclés, jerseys, lana cotta, canvas, and nylons – they're all in there.  Some of my favorite patterns are incorporated in many of the pieces including herringbone, broken twill, microchecks, and glenplaid.  Colours are classic blacks, greys, with warm shades of navy, olive, stone, dark brown, and camel.  Some of my favorite pieces include a beautiful gray biker jacket with storm patch (second last photo above), an indigo jersey sports jacket, and of course the signature Strellson two-button suits.  Their bags, boots, and stylish eyewear are also worth taking a closer look at.