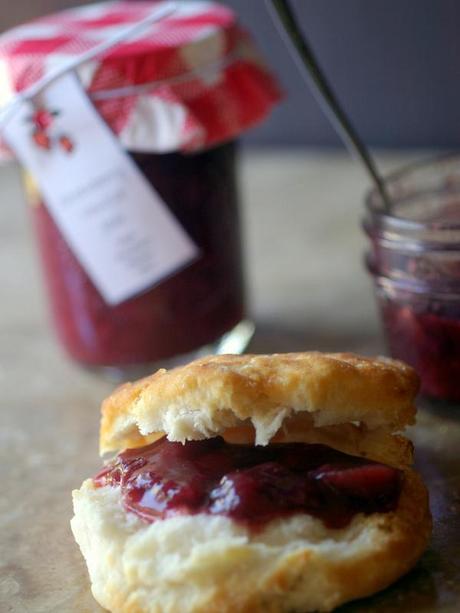 I am gearing up for my canning. I plan to give all canned goods for Christmas presents.
Sounds great doesn't it?
The only problem is that all I have canned is pickles. I had a bumper crop of cucumbers and made both dill and sweet pickles.
I fully intended on making this jam in the spring, but I just didn't have the time. I bought a bunch of strawberries very cheap, while they were in season. I then froze them to make jam. That is what I did this past weekend.
I had some extra cherries, so I added it to the mix also.  I  had a vanilla bean sitting around, and decided to put that in the mix too. It sounds like a great combination doesnt it?
When I was done taking the pictures, I ate every bit of the jam in that jar,  spoon after spoon. I blinked and it was all gone.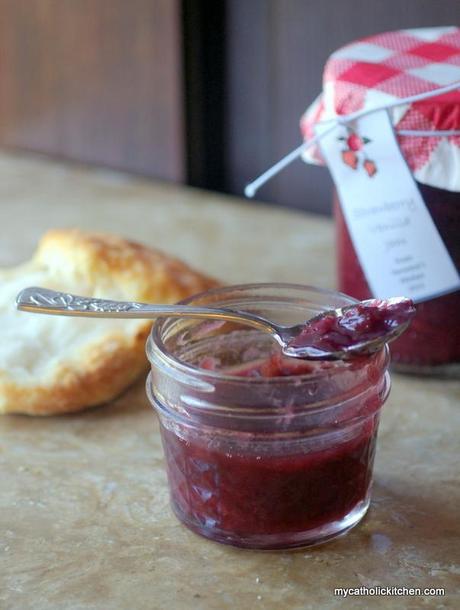 I found some gingham napkins and cut them round and used them to cover the jars.
They look like fabric don't they?
I also made those cute tags from my computer.  I used white card stock and punched a whole at the top. I used some white string to tie everything together and there you go.
My first batch of gifts for the Christmas season, and it is only the beginning of October.
I hope they last until Christmas. I cant guarantee anything.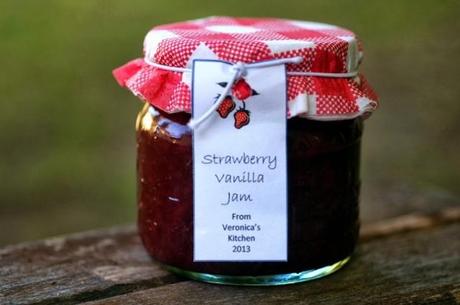 Print Recipe
Strawberry Vanilla Jam
Ingredients:
10 cups strawberries washed and chopped
2 cups chopped and pitted cherries
7 cups white sugar
1 vanilla bean split and scrapped
1 medium lemon zested
4 tablespoons lemon juice
Directions:
Add strawberries, cherries and sugar to a large pot. Mix to combine. Allow to sit for an hour to macerate. Add vanilla, lemon zest and juice to the pot. Bring the strawberries to a simmer over medium high heat. Reduce heat to medium low and allow to cook for about an hour. Stir regularly and skim off the foam as you stir. The strawberries should reach about 220 on a candy thermometer.
While your strawberries are cooking sterilize your jars and lids. Fish out the vanilla bean and discard. When the jam is ready ladle into prepared jars. Keep about 1/4 inch head space. Wipe the rims and threads before adding the lids. Place the jars in a water bath canner, the water should be an inch or two above the jars. When the water begins to boil, process for 10 minutes. Remove the jars and allow them to cool on the counter for a day. Check the seals and place any jars that the seals have failed in the refrigerator and eaten within a couple of weeks.
Peace be with you,
Veronica