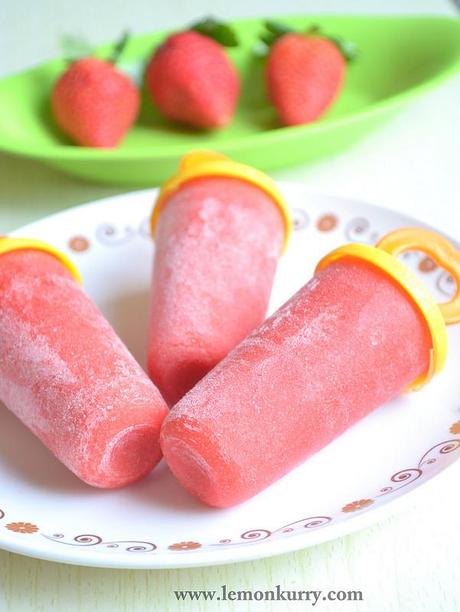 strawberry lemonade popsicle or strawberry popsicle recipe - easy popsicle recipe made with fresh strawberry extract with a light touch of lemon there.
all are posting valentine's day recipes and i see some recipes here and there and here comes the simple yet colorful treat and you can prepare it and freeze anytime and serve.I love to take strawberry in the form of lemonade and lemonade is best detox and refreshing drink and i want to prepare once the spring/summer starts to make me refresh throughout the day and this one is my favorite now and i tried this one when strawberry season starts here in Pune.This one is really refreshing and the berries available here are little sweet not much sour,so i planned more summer recipes with the berries here.Will share one by one here and lets move on making it.,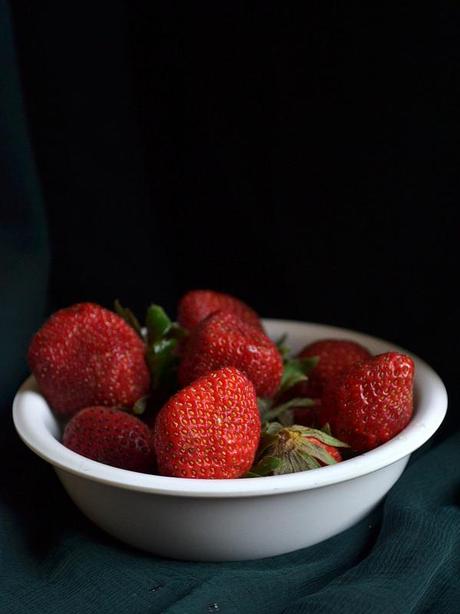 After getting berries,i want to take a snap of it after getting inspired from some of my friend's snaps in facebook and i tried upto my level and also i want to improve my level best in that too.And also here sunlight supports me after the severe winter here and now getting enormous amount of light ,yeah summer starts here.But you cant say summer because its heavy chill in night and so sunny full day,so its kinda spring season here.Enjoying and this time i am listening to the changing in season a lot and its a new experience for me and am waiting for summer and am much loving the summer season a lot than any other ones.It is good for weight loss regime and you can actively able to do your work throughout the day and no laziness which we experience during winter and also able to enjoy some frozen desserts too.So am waiting summer.,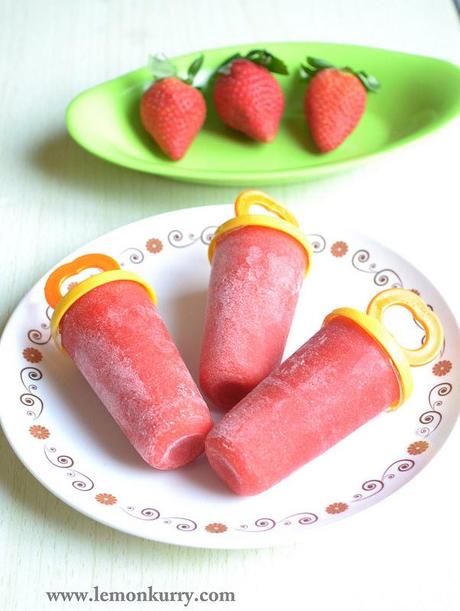 strawberry lemonade popsicles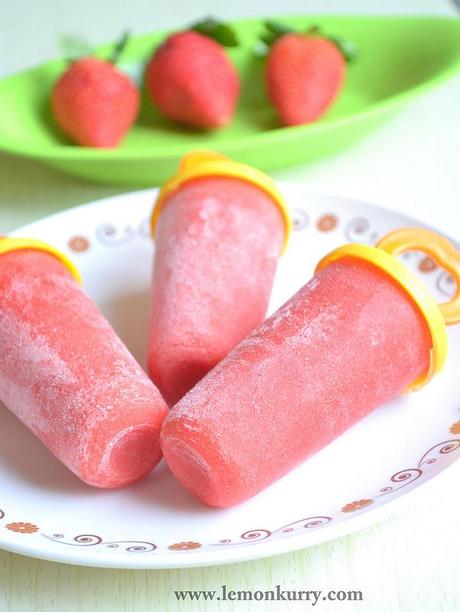 lemonade popsicles with strawberry

Ingredients
strawberry - 200 grams
lemon juice - 2 teaspoons
sugar - to taste
Instructions
wash the berries well and remove the stems.Chop the berries into fine pieces and took the chopped ones in blender.

Add lemon juice and enough sugar and make a fresh pulp.Dont add water to it while grinding.
Dilute with little water if required and drain the pulp if you wish.I did drain the pulp as i want the fresh pulpy one.
To the popsicle mould,pour it till the neck part and seal it with the lid or aluminium foil.If you are using aluminium foil,first insert stick and then add then cover it with foil.
Freeze the mould overnight or for atleast 6 hours.After that take the mould out and show it in tap water which makes the popsicles to relax a bit and you can able to release the pospicles out easily.
Now slowly remove the popsicles out of the mould and be patience while demoulding.
Serve immediately.