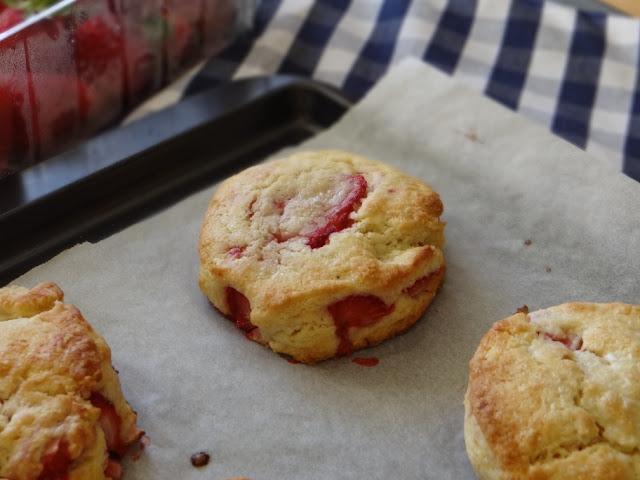 I went to Orange last weekend on a road trip which, while woefully lacking the presence of real oranges, did have plenty of beautiful fall colored trees in various shades of orange, brown and red. It's known as the 'color city' and you can see why.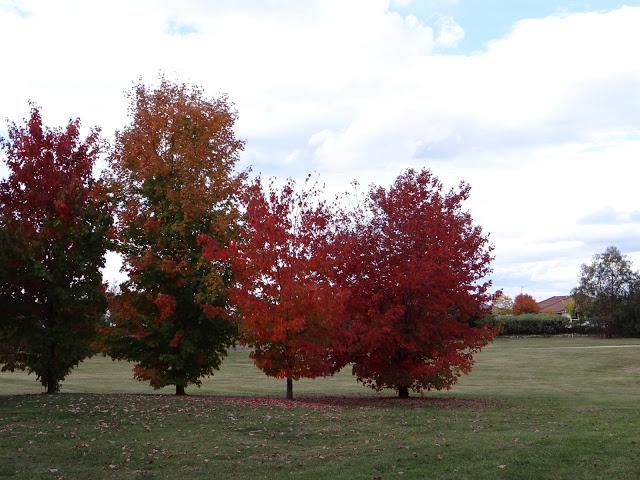 Orange is packed full of natural produce. There is an abundance of farms, vineyards and orchards, and so the natural thing for a foodie like me to do was to go pick some fresh fruit. We ended up going both strawberry and apple picking, which seems to defy all logic in terms of types of in-season fruit (aren't strawberries a summer produce?) but hey, I wasn't about to complain.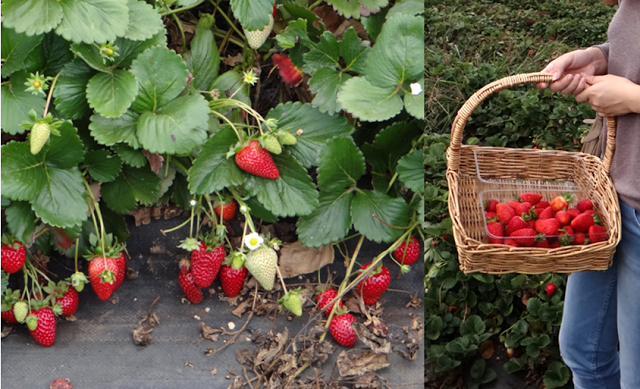 We ended up bringing home a kilo of strawberries and two kilos of apples. I honestly toyed with the idea of making a strawberry apple pie, but laziness won out. I wanted to bake something fast and I couldn't quite be bothered with a pie crust, so I took a shortcut and threw it all together in a biscuit instead.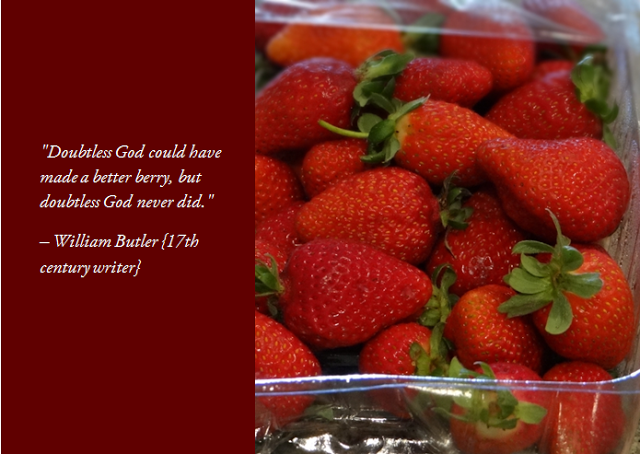 What drew me to this recipe was the name. You can't tell me you hear someone say strawberry and cream biscuits and not immediately want a piece. While they're usually served separately, this recipe combines them both into a scone-like biscuit that oozes puddles of red juices as it bakes.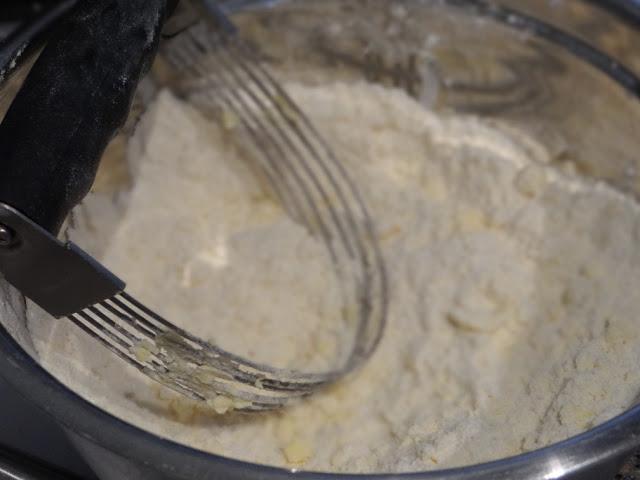 It's a pretty classic scone/biscuit dough (seriously, can someone tell me the difference between a scone and a biscuit in this context?  Are they the same thing?) and the important thing is that you don't overwork it. The dough should be shaggy and not too dry.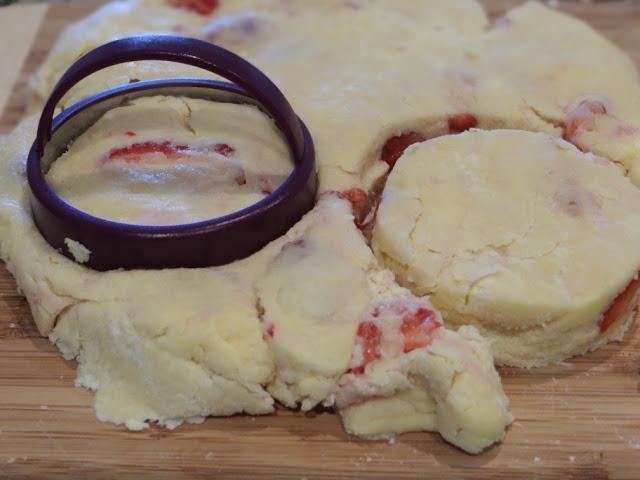 They aren't the prettiest of biscuits - they come out looking pretty messy, but they do taste fantastic. It's a mouthful of strawberries and cream in biscuit form after all, how can it not? Don't think that just because they don't rise all that much in the oven, the biscuit becomes dense - it actually bakes up light and flaky.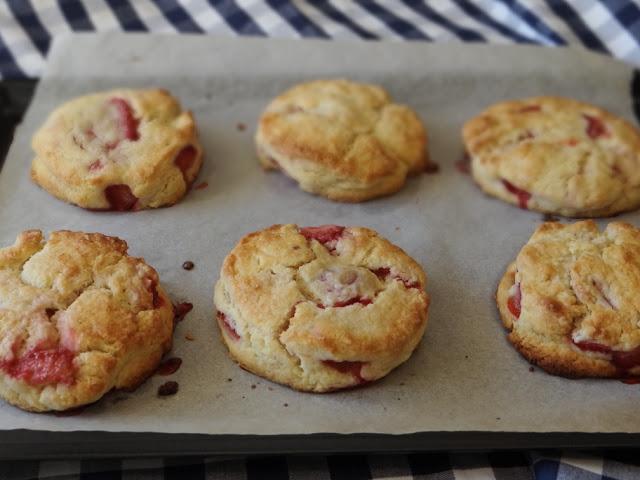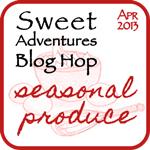 I'm joining in this month's SABH blog hop again with the theme 'seasonal produce' - I feel like I'm cheating slightly because technically strawberries aren't meant to be in season anymore down here. However, I did pick these berries fresh! Hope that qualifies it.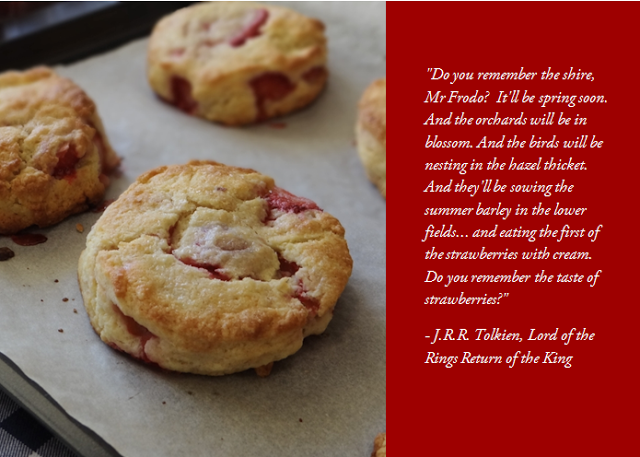 If you can get strawberries where you are, I definitely think you should try these biscuits. They are easy and fast with minimal effort, which is my type of baking. Shall I just repeat the name for you? Strawberry. And. Cream. Biscuits. And...go.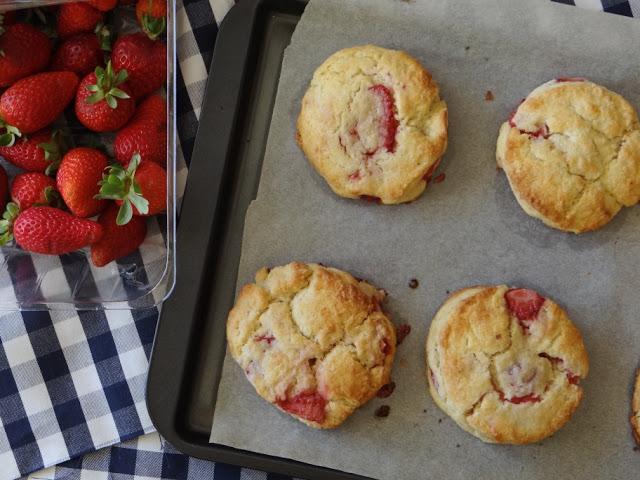 Strawberry and Cream Biscuits
Adapted from Smitten Kitchen
Makes 7-8 biscuits

2 1/4 cup plain flour
1 tbsp baking powder
1/4 cup caster sugar (add a little more if your fruit isn't very sweet)
1/2 tsp salt
6 tbsp (85g) unsalted butter, cold and cubed
1 cup roughly chopped fresh strawberries
1 cup pure cream (plus a little extra for glazing)
Preheat oven to 425F/218C.  Line a baking sheet with baking paper.
In a large bowl, whisk together flour, baking powder, sugar and salt. Add the butter and cut it into the flour mixture with a pastry blender or rub in using your fingertips, until the mixture resembles coarse breadcrumbs. Add the strawberries and toss them well into the mixture. Finally, add the cream and stir until it just comes together - don't overmix.
Dust a surface with flour and transfer the dough onto the surface, patting it gently to 3/4- to 1- inch thick. Using a round biscuit cutter, cut out rounds and place on a baking tray (make sure to cut straight down and don't twist the cutter for a better result). You can gather up the dough again and cut out more rounds until you run out. Brush each biscuit lightly with a bit of cream and bake for 12-15 minutes, or until the tops are golden brown and strawberries are pooling.
Take out of the oven and let cool just a few minutes. Serve warm.