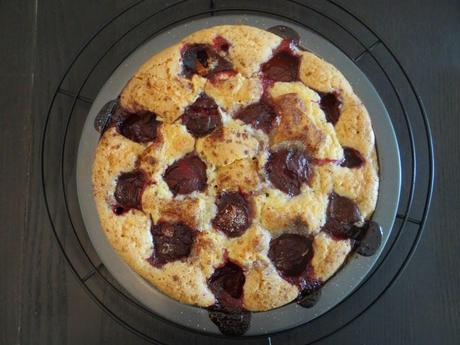 This post marks the return of my picture-taking, food-writing habits. I'm sorry I've been away so long, but England rather sucked me in and wouldn't let me continue my blogging ways. My European extravaganza has been extremely successful and though I've left England almost a month ago, I've continued my pattern of being on the road - or rather, in the air - since then. However for the last couple of weeks I have settled once more in Hong Kong.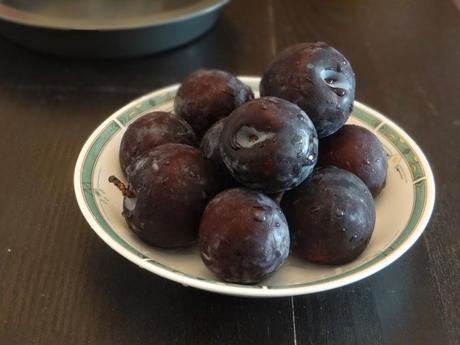 Hong Kong has been a nest of hot humidity in the last couple of weeks, and last weekend it was finally broken by a torrential downpour that has only started to break up a day ago. By the time I left the city it was sunny again, but the rain had done its job of cooling down what was becoming an unbearable tank of stuffy and sticky heat. 
But as everyone knows (or at least I believe), rain is merely an excuse to bake. I've suffered from a substantial shortage of baking-related activities for the last half a year, so any excuse will do (not that an excuse is necessary, but it goes towards making me feel like I'm not simply wasting away extended periods of time). So a week ago, when the view out the window was completely distorted by rain, I made this cake.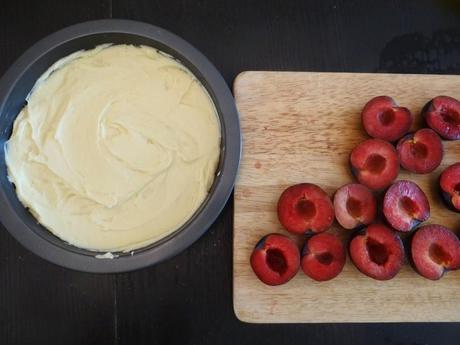 This is the best plum cake I've ever tried.
It might not look like the most remarkable cake, but I assure you it is not. This is Marian Burros' infamous purple plum torte. This cake heaves and rises around fresh plums, cushioning them in a pillow of fluffy batter. The top of the cake becomes a crisp lid of cinnamon and sugar that you crack through like a creme brulee. The plums themselves melt into puddles of purple jam. Against the golden yellow crumbs of the cake, they create the perfect balance of tart and sweet.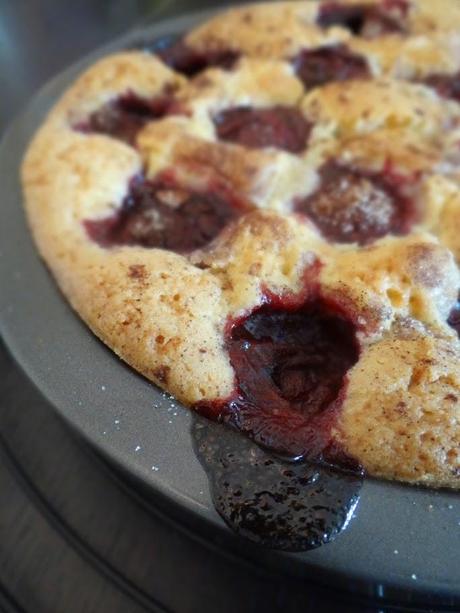 So, having learned from my study abroad, and in true British style - tea and cake, anyone?
Purple Plum Torte
Adapted from SmittenKitchen, originally by Marian Burros
Notes: The only substantial changes I made were to reduce the sugar amount and the number of plums. Try as I might, I couldn't manage to fit 24 plum halves into my 9-inch tin. But my tin was shallow and I was afraid the batter would overflow if I crammed too many in; if you're using a spring-form, as Smitten originally suggested, then try to get all the fruit in if you can. Oh, and I left out the lemon juice because I found out too late I had no lemons in the house - it turned out fine.
125g plain flour
1 tsp baking powder
1/4 tsp salt
170g caster sugar
115g unsalted butter, at room temperature
2 large eggs
12 small plums, halved and pitted (see Note above)
2 tsp lemon juice
1 tsp ground cinnamon
2 extra tablespoons of caster sugar, for sprinkling
Preheat the oven to 180C/350F. Grease an 8-inch round cake tin.
In a bowl, whisk or sift together flour, baking powder and salt. Set aside.
In a larger bowl, cream together butter and sugar. Add eggs one at a time, making sure they are well incorporated. Stir in the flour mixture and mix until just combined.
Scrape the batter into the tin and smooth the top evenly. Gently push each plum half, skin-side up, into the batter, fitting in as many as you can. Sprinkle the top of the cake with lemon juice, cinnamon and sugar.
Bake the cake for 45-50 minutes (mine took a full hour), or until golden and a toothpick inserted comes out clean. Let it cool in the tin, then slice and serve.