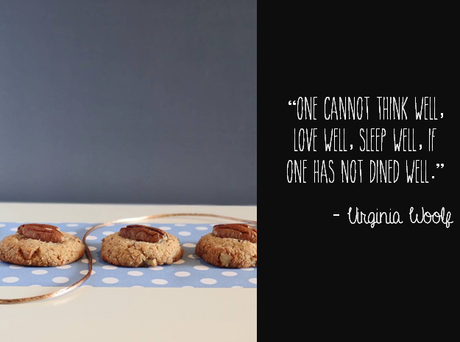 I'm back to cookies! It's been some time. I love making cookies because they make such an easy gift, and since it was a good friend's birthday a few days ago, it seemed like a perfect excuse to eat cookie dough give a heartfelt homemade gift.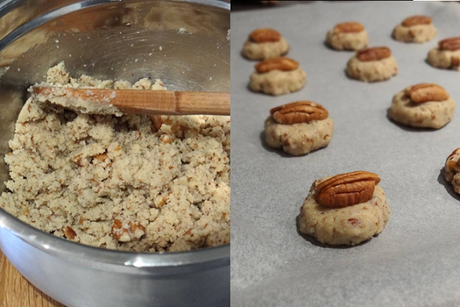 Baking for people with dietary restrictions is a little harder. In this case I was looking for a paleo cookie recipe. But like most things you've never thought about trying, the result was surprising - I came across a multitude of blogs and recipes and after going beyond the abundant paleo chocolate chip cookie, started finding a few more unique recipes. And now I've got a whole new list of recipes to try.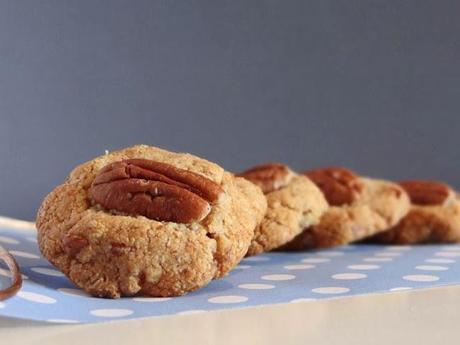 Pecan sandies don't look or sound like anything too special, but I thought I'd tell you about them because everyone I fed these to couldn't stop eating them. The key is, like many other recipes on this blog, their simplicity. Aside from the coconut oil, all the other ingredients are pretty common, and nowadays you can find coconut oil in most supermarkets as well.  There are subtle differences for a cookie made with almond meal instead of flour; the texture of the cookie will never be as crisp as that you could achieve with plain or all purpose flour, and it will also have the tendency to crumble a little more easily. However, you lose nothing as to flavor, and all the things I've mentioned are suited to individual taste - I happen to like soft chewy cookies more than crunchy ones. Plus, there's also the added benefit that these cookies are really quite virtuous - grain-free, dairy-free, gluten-free and refined-sugar-free too.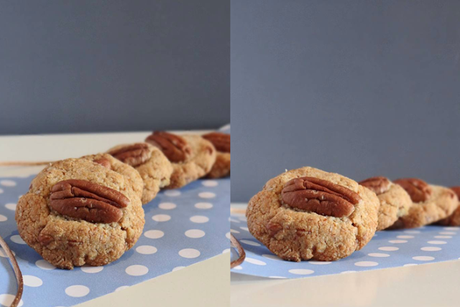 Paleo Pecan Sandies
Adapted from Comfy Belly
Makes about 20 small cookies
Note: the original recipe has a sprinkling of salt, and I think a small dash of flaky sea salt on top of each cookie would definitely add a different dimension of flavor. I left it out because... well, I forgot, OK? Feel free to try it though and let me know! Also, almond meal with skin on or blanched won't make a difference here, I used a mixture of both because it was what I had on hand. If you like your desserts less sweet, I would advise against reducing the honey too much - I probably added a tablespoon less and it worked fine, but the honey is necessary here to bind the dough together as there are no eggs in this dough. So just keep that in mind.

2 cups (200g) almond meal/flour
1/4 tsp salt
1/4 tsp baking soda
1/2 cup (50g) pecans, chopped
4 tbsp coconut oil, melted (if you can't find coconut oil, you could probably use butter instead)
1/4 cup honey/maple syrup (see note above)
1 tsp pure vanilla extract
About 20 extra whole pecans, for topping (optional)
Preheat oven to 150C/300F.
In a large bowl, whisk together almond meal, salt, baking soda and chopped pecans.
In a small bowl, whisk together coconut oil, honey and vanilla. Pour the wet into the dry ingredients and stir together to make a soft dough.
Scoop small balls of dough and place on a baking sheet about 1 inch apart. You'll want to make sure each ball is about the same size. Flatten each dough ball slightly so that they look like fat circular round coins. Press one whole pecan on top of each cookie, making sure it sticks.
Bake the cookies for 15-20 minutes. They will get quite golden, but make sure you don't under-bake them since they will fall apart quite easily if not baked long enough as almond meal makes a less structurally stable cookie. Take out and let cool slightly before transferring to a rack and cooling completely. You can keep the cookies in an air-tight container for about 3-4 days.