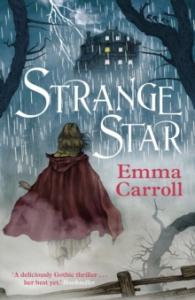 What's it all about?:
They were coming tonight to tell ghost stories. 'A tale to freeze the blood,' was the only rule. Switzerland, 1816. On a stormy summer night, Lord Byron and his guests are gathered round the fire.
Felix, their serving boy, can't wait to hear their creepy tales.
Yet real life is about to take a chilling turn – more chilling than any tale.
Frantic pounding at the front door reveals a stranger, a girl covered in the most unusual scars.
She claims to be looking for her sister, supposedly snatched from England by a woman called Mary Shelley.
Someone else has followed her here too, she says. And the girl is terrified. This breathtaking new book from Emma Carroll, the critically-acclaimed author of Frost Hollow Hall, The Girl Who Walked On Air, In Darkling Wood and The Snow Sister, is a deliciously creepy story inspired by the creation of Frankenstein, and is brought to life by a leading talent in children's literature.
What did I think?:
Regular visitors to my blog might recall my previous gushing reviews for the wonderful middle grade fiction author that is Emma Carroll. I highly recommend all her work including Frost Hollow Hall, The Girl Who Walked On Air, In Darkling Wood and The Snow Sister and now I'm delighted to recommend another one – Strange Star which was so beautifully Gothic in nature and eerily atmospheric that once more, I was left in awe of the author's story-telling abilities. Emma Carroll takes notorious figures from our history, the author Mary Shelley and Lord Byron and writes a fantastic fictional account of where Shelley may have got her inspiration for Frankenstein and it was a story that was so utterly compelling I had no problems in finishing it in just two sittings.
It's a tale at first that is narrated by a young ex-slave called Felix who is working as a servant for Lord Byron and his guests (which include Mary Shelley) at one of their infamous dinner parties where they challenge each other to tell the scariest stories. This evening however, a young girl called Lizzie appears at the door in a terrible state. We end up hearing a whole new and very frightening story from her that involves a tragic event in her past that led to her being blinded by a lightning strike, a scientist who likes to carry out dangerous experiments with electricity and her worries for her younger troublesome sister as they become embroiled in a precarious situation.
This wonderful Victorian story covers so many different themes effortlessly told in Emma Carroll's distinctive style which never fails to impress. We touch on racism with Felix and his past as a slave, feminism with some of our strong, female protagonists and their choice of careers, grief and loss and also some ethical questions regarding experimentation and how far someone would be willing to bend their morality in the name of science. As a scientist myself, I loved how the author took science and gave it a voice, (especially a female one) and I found these portions of the narrative both intriguing and at times, slightly unnerving. However, it's all done in an excellent way considering the target audience of this novel and it never felt too much for a younger reader or, on the other hand, "dumbed down" for the age range. What I love most about Emma Carroll is that her stories can easily be read and enjoyed by both adults and children – her writing is intelligent, insightful and in each novel I've read so far, challenges the way you might look at the world. I loved every moment and I can't wait to read her latest tale, Letters From The Lighthouse, coming soon!
Would I recommend it?:
But of course!
Star rating (out of 5):

Advertisements
&b; &b;