I love mac n' cheese. 
It's cheesy. It's gooey. It's pasta covered in cheesy, gooey goodness.
It's pretty rare to find a mac n' cheese that I don't like. Usually the ones I don't care for come in a box. But I loved those too at one point in my life before I realized how easy it was to make it from scratch. 
With that being said there's probably a million different ways to make mac n' cheese. You can bake it, serve it stove top style, make it creamy or super thick and casserole like. You can use one cheese or 100. Top it with bread crumbs, cracker crumbs, bacon bits...or mix the bacon in..O-m-g have you ever had mac n' cheese with bacon? So yummy!
Anyway I digress, the point is that you can seriously make mac n' cheese anyway your heart desires which is why I think so many people love it. Well, not to mention it's cheesy, gooey goodness.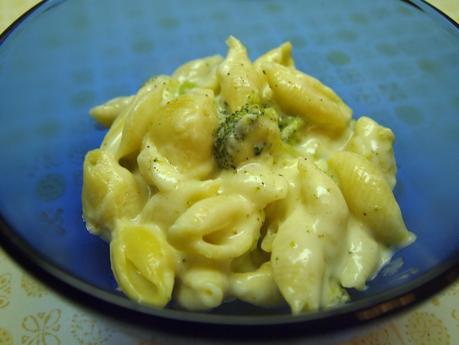 This recipe was loosely inspired by Smells Like Home's "Panera Stove Top Mac and Cheese". I loved that she made a recipe that could be made completely on the stove top. Baked mac n' cheese is great, don't get me wrong, but it changes the texture of the mac n' cheese and it loses some of it's creaminess that I just love about mac n' cheese. 
(How many times do you think I can write mac n' cheese in this blog?)
It took me a couple times of making this recipe to get it just right. I think the most important thing I figured out was it is IMPERATIVE to mix your cheese into your bechamel (cream sauce) in small handfuls and to melt it in completely before adding more cheese. If you add it all at once or too quickly your cheese sauce with turn gritty...trust me I learned the hard way. It will still taste good, so if it happens to you don't fret, it will be tasty just not smooth. 
Stove Top Broccoli Mac n' Cheese
1 Box (16 oz.) Medium Sized Shells
4 cups Frozen Broccoli Bits
6 Tbsp Butter
1/3 cup Flour
4 cups Whole Milk
1 tsp Ground Mustard Powder
1/8 Cayenne Pepper
1 tsp Salt
1/4 tsp Ground Black Pepper
5 slices American Cheese, diced
1 (10 oz) Block Sharp Cheddar Cheese, shredded
4 oz Whole Milk Mozzarella, shredded
1) In a large pasta pot boil enough water to cook the entire box of shells and broccoli. Once the water is at a boil add a good amount of salt to season the water then add pasta. Cook for about 6 minutes then add the broccoli. Continue cooking until the pasta is al dente (has a little bite to it), about 8 - 10 minutes. Drain and set aside in pot.
2) While the pasta is cooking you can start the cheese sauce. In a medium saute pan over medium heat melt the butter. Once the butter is melted whisk in your flour and let cook for about two minutes so that the flour taste cooks out. Then while whisking constantly slowly add the milk to the pan. Keep whisking so that you don't get any lumps. Sprinkle in the mustard and cayenne pepper and keep whisking periodically so that the bottom doesn't burn. Season with salt and pepper. Bring the mixture back up to a simmer so that it's at it's full thickness, that will take about 5-7 minutes. 
3) Once the sauce is at a full simmer, remove from heat and begin to add your cheese. Start with the American cheese and then a little of the cheddar and mozzarella mixed together. I do small handfuls and it usually takes about 5 handfuls to get through all the shredded cheese. Do it at whatever pace works for you though, the goal is a creamy, smooth cheese sauce. 
4) Pour the entire pan of cheese sauce into the pot of pasta and broccoli and stir to combine. It will be saucy and seem like too much, but the pasta will absorb some of the sauce over time. Enjoy!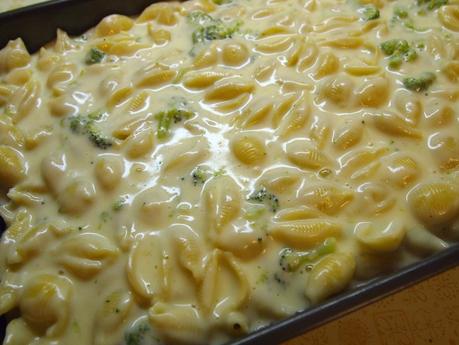 Now seriously how could anyone resist this? It's making me want some right now. Good thing I have some leftover in the fridge. Oh, by the way, the leftovers of this are ridiculously tasty..I might even like them better than the day of mac n' cheese. Sshhh..don't tell anyone!