from Utah Tar Sands Resistance

Last weekend, tar sands resisters new and old gathered in the Book Cliffs of so-called Eastern Utah, at PR Springs, site of the first proposed tar sands mine in the United States. This gathering marked nearly three years of observation, law suits, and direct action against the project, and signaled the beginning of a permanent protest vigil inside the boundaries of public lands leased for strip mining.
Check out our DONATIONS PAGE to make an online donation or check out our gear request list!
U.S. Oil Sands, of Calgary, Alberta, has leased over 32,000 acres of land traditionally inhabited by Ute and Shoshone people. The land is now managed by the Utah School and Institutional Trust Lands Administration (SITLA), and sits just outside the Northern Ute Ouray Reservation. The company has yet to begin full-scale production, and has spent the last year procuring their permits from the Department of Water Quality, wrangling $80 million from fly-by-night investors, and hiring Kellogg Brown & Root LLC (KBR) for project and construction management.
In March, Living Rivers brought U.S. Oil Sands (USOS) and the Department of Water Quality (DWQ) to the Utah Supreme Court, whose ruling we eagerly await, arguing that the permits given to USOS had failed to take into consideration the devastating impacts the strip-mining project would have on the precious groundwater in the region. DWQ stated that there was not enough groundwater to be of concern (though geologists from the University of Utah have found otherwise in their extensive study of the region's groundwater systems) and is not requiring USOS to take any measures in their disposal of waste water used during their highly experimental and unproven new tar sands mining process. US Oil Sands is fond of stating that their project will use very little water, as it is completely dependent on a chemical called d-limonene (an expensive solvent, at $36/gallon), but their permit application itself states that they will still require 116 gallons of water per minute, which they have failed to procured in the five water wells they've drilled that tap into the Mesaverde Aquifer. In an interview published this week, the company stated that they've "hit on the idea of using a dryer" as part of the extraction process, though no data has been released about this, and it remains to be seen if the company has updated their permits to include this new technology.
SONY DSCIn the same interview, Cameron Todd, the CEO of U.S. Oil Sands, stated, "We're fully permitted and we've actually started work in the field already although most of the work won't be done until next summer."
In a May 14th press release, the company stated that they would be completing Phase 1 of their project, at a cost of nearly $60 million, though their current stock price has halved from their $0.24 high to a measly $0.12, and mentions commercial start-up date of 2015.
This proposed time-line remains consistent with the company's history, as they have pushed back full production year after year, having had a difficult time finding investors for a very risky project, and having been fought, both in the courts and in the very mine itself, by groups and individuals who vow that they will see the project stopped.
Last weekend's act of civil disobedience saw protestors walk onto a the company's 10-acre test mine with a huge banner reading "Climate Justice is Survival: Now or Never."
While the land itself, once stolen from the Ute tribe, is destroyed, as carcinogens such as arsenic, mercury and uranium are leeched into the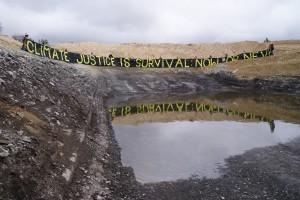 watershed, as tar sands and oil shale strip-mining add to the criminally toxic air quality of the Uintah Basin, and as the tar sands are trucked nearly 200 miles each day to Salt Lake City to be refined in poor and predominantly Latino neighborhoods, the Utah tar sands themselves are but one small piece of the global extraction monster. The fossil fuels our society has made itself dependent on have caused a man-made
climate change
emergency, and it is up to us to take a stand a say, "no more." Tar sands are the bottom of the barrel, one of the dirtiest forms of energy found, and one that required mass amounts of resources to extract while proving very little usable energy. The Utah tar sands must remain in the ground if we have any hope of a livable future, and a coalition of passionate and dedicated people have taken a stand, saying "no tar sands!"
This summer, land defenders stand in vigil and protest, observing the actions and movement of U.S. Oil Sands, as well as several other tar sands and oil shale companies with greedy claims on the region, determining what areas are to be clear-cut or tested, and what infrastructure is built, as they prepare to stop them.
Press Release: 
May 30, 2014 | FOR IMMEDIATE RELEASE
Permanent protest setup at proposed tar sands strip mine
PR SPRINGS, UTAH–Land defenders have established a permanent protest vigil inside the boundaries of a planned tar sands strip mine in the Book Cliffs of Utah. The Canadian company behind the controversial plan intended to begin construction of the mine this summer, but people have vowed to stop it.
U.S. Oil Sands, of Calgary, Alberta, holds leases on 32,000 acres of land traditionally inhabited by Ute people but now controlled by the Utah School and Institutional Trust Lands Administration.
FOR PHOTOS AND EMBED VIDEO/B-ROLL, GO TO:
TarSandsResist.org/storm-brewing
Utah Tar Sands Resistance, Peaceful Uprising and Canyon Country Rising Tide–as well as supporters from throughout the Colorado Plateau–have endorsed the protest vigil.
"These beautiful lands that US Oil Sands plans to destroy have been enjoyed by Utahns for decades and were the home for Ute people for hundreds of generations," said Jessica Lee, on behalf of the land defenders. "This tar sands strip mine would cause swift obliteration of multiple ecosystems and severe contributions to climate-change related disasters."
The company's immediate plans include spending $60 million dollars on preliminary construction.
US Oil Sands' chemical solvent has never been used for tar sands processing anywhere on the planet. Toxins from the mine pose risks to the Colorado River Basin, which provides drinking water for at least 20 million—including the people of Las Vegas, Los Angeles, San Diego and Phoenix—as well as 15 percent of the nation's produce.
Tar sands development in Alberta has poisoned the drinking water for downstream people and wildlife, which indigenous communities there rely upon for food. Tar sands critics have accused the megaproject of continuing genocide against native peoples and spewing more greenhouse-gas emissions than any other project on Earth.
The newly established protest vigil at the Utah tar sands project is the latest in a string of persistent setbacks dogging US Oil Sands' fortunes.
The company has routinely missed construction goals. 
US Oil Sands stock price on the Toronto Stock Exchange had dropped 50 percent from its 2013 peak, representing a $100 million loss in value.
Worse yet, US Oil Sands lacks a refinery contract, so despite big promises, it's unclear how the company intends to bring its product to market. Utah's five oil refineries—including two in Salt Lake City that currently process Alberta tar sands—remain the most likely candidates. 
But that does't mean a deal is likely. In reaction to public protest in 2013, which saw people breech the Salt Lake City refinery's gates, Chevron said it would not process Utah tar sands. The other Utah tar sands refinery—Tesoro–is currently seeking regulatory approval to switch off of Alberta tar sands in favor of Uintah Basin crude.
Direct action has hurt US Oil Sands before. In July 2013, people shut down construction of the PR Springs test mine and construction of nearby Seep Ride Road for a full day, delivering US Oil Sands a 13 percent stock dip.  
The company still lacks a go-ahead from the Utah Supreme Court. Living Rivers' lawsuit against US Oil Sands and the Division of Water Quality was heard by the court in March. Despite several pristine springs and ponds—water routinely pools even in the company's 10-acre test mine—DWQ ruled there was not sufficient water to require the company to monitor water pollutants caused by the mine.
Journalists and supporters are welcome to contact organizers for tours of the remote and beautiful PR Springs. Contact [email protected]
Contact:
Jessica Lee
801-485-2071