Now that the cold weather is either here or coming (depending on where you live), it is a good time to stock up your pantry, your fridge, and your freezer. The holidays can leave us all with very little extra time and cash.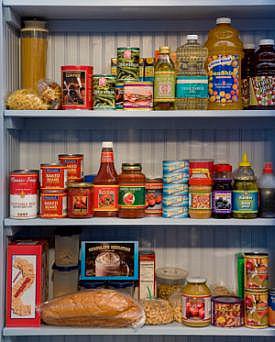 Buy plenty of cereal, oatmeal, honey, pasta, soup, crackers, olive and vegetable oil, tuna, beans, chicken and beef broth, tomatoes, sauce, sugar, flour, potatoes, salt, pepper, rice, onions, garlic, peanut butter, jelly, bread crumbs, baking powder and soda, coffee, tea, cooking spray, cornstarch, crackers, granola bars, dried fruits, nuts, and Dijon mustard to keep in the cabinets.
Buy plain yogurt, milk, eggs, cheese, fruits, vegetables, mayo, cream, sour cream, juice, salad dressing, and butter to keep in your fridge.
Buy extra loaves of bread, frozen veggies,  and bacon to keep in your freezer.
Don't forget the pet food, buy in bulk when you can, and bring your coupons!
What else do you stock up on before the holidays?