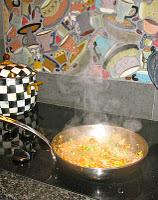 My workplace!
Last night I was looking for a change!  Since the season turned, my CSA has been providing me with more beets, squash, potatoes, tomatoes and onions than my family can possibly consume in a week and I just wanted to mix it up a little without ordering in.  I had forgotten about the bean thread noodles (also known as glass noodles, commonly found in spring rolls) I had purchased at an Asian market and I decided to make a vegan stir-fry ~ something I haven't done in ages.
I had a bottle of sesame oil and some low-sodium teriyaki.  I picked up a small head of Napa cabbage and some seitan (though firm tofu would work too) and then I went to work.  If I do say so myself, I was really pleased with the results!
You will need:
1 serving of bean threads (they are usually wrapped in fist sized bundles), soaked in warm water until clear and soft
2 TBSP sesame oil
1/2 small yellow onion, finely chopped
1/3 small Napa cabbage, finely chopped
1 serving seitan, cut into smaller than bite sized pieces
1/2 cup bean sprouts12 green beans, finely chopped1 large, peeled carrot or 2 baby carrots2 TBSP low sodium teriyaki1 TBSP organic agave nectar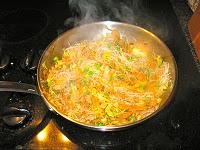 The finished product
In a large pan, heat the sesame oil, keeping an eye on the pan so it doesn't burn.  Once warm, add the onions and begin to saute.
When the onions have started to sweat, add the cabbage, slightly lower the heat and begin to stir.
Next add the chopped seitan and bean sprouts, mixing everything together well.  Once combined, using a peeler, grate 1/4 of a large carrot or 2 small baby carrots into the mixture and top with the diced green beans.
At this point, add 2 TBSP of the teriyaki.  I am usually concerned with too much salt intake so I use it sparingly, but add enough to suit your taste.  (You could also add a bit of grated ginger.)
Continue to stir, until well combined and remove from heat.  Drizzle with the agave nectar, toss again, and serve immediately.