Adventures lurk around the corner. So what if the corner is a narrow road that smells fishy. New mumbaikar here, with a new love for fresh seafood.And when it's so close and crying to berated, it's a shame not to indulge.And a visit to the fish market is an adventure.How many cats live there? I wonder.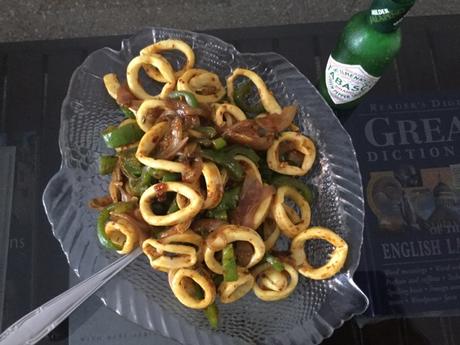 Sasoon Docks is a stones throw from my house, a road that hubby dear avoids because of his allergies to fish. So it's a road I traveled alone.
Ok, with a gym buddy.
Sasoon docks is probably the oldest fish market in South Mumbai and is open from 6am to 8 pm. 
https://en.m.wikipedia.org/wiki/Sassoon_Docks
So for a high protein,low fat breakfast after an intense workout, I tagged along with a friend of Goan origin -who adores seafood btw,andicked up some squid and jumbo prawns for myself.
As I am cooking for myself,the quantities are minimal.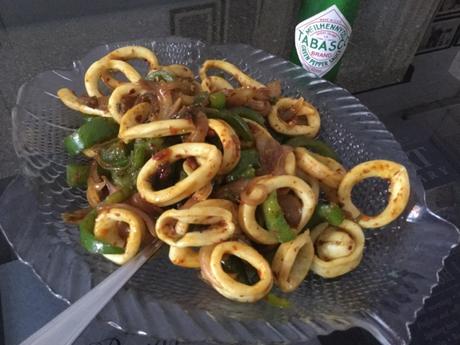 The fish market was noisy, wet and smelly. Something worth photographing,just so that I could show my ex-students in Jalandhar.But unfortunately,in all the excitement,I forgot my phone.So no pics this time.A super quick stir fry, minus the fish sauce and oyster sauce. A little North Indian in taste, something like the taste of Gurda-Kapoora . The  Squid rings we tasted in Penang had Pandian leaves,lemon grass or kaffir lime leaves and liberal amounts of coconut milk. I wanted without.Ok ,this picture is googled. This is what the squid looks like.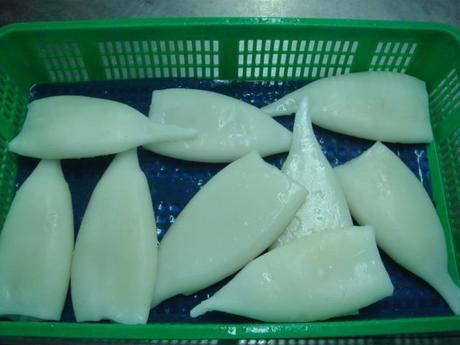 You must cut across to get bands that open into rings.
This then needs to be washed in Luke warm water and then cold water.
It's way more expensive than chicken or mutton, but really tastes nice.
I bought 200gms, and it was a filling breakfast for me. And I was hungry.
For the 
Stir Fried Squid Rings North Indian style 
You need
200 gms squid, cleaned and cut across, into bands,washed
1 medium onion sliced
1 medium capsicum sliced
1/2 tsp garlic sliced
1 tsp celery chopped
2 green chillies slit 
1/2 tsp each vegetable oil and butter
Salt and red chilli fakes to taste
Pinch turmeric 
Juice of half lemon
Wash and place the squid rings in ice water with a couple of pinches of sugar.
Heat your pan and pour the oil and then butter and allow it to sizzle.
Add the celery and then the garlic and allow it to sauté and soften.
Add the onion slices and capsicum slices and slit green chillies.
Toss about opening the onion up and sauté for a minute.
Drain the squid rings and add them in. 
Keeping the flame high, toss together for a minute and add the salt, red chillie flakes and turmeric.
Cover for two minutes on a simmer.
The rings should curl up and become opaque.
You know it's done.
Taste and adjust seasonings,turn off the flame and sprinkle the lemon juice over.
Mix well and dish out.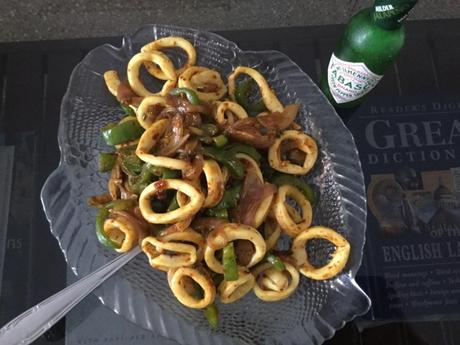 I had mine without any bread. Just a shake of the green Tabasco.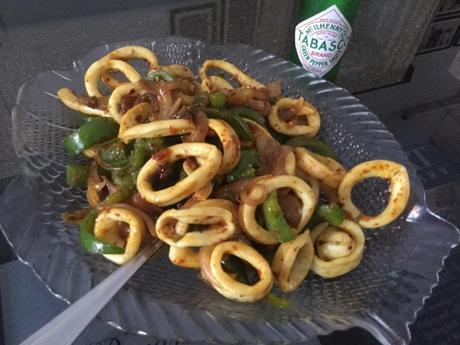 According to my daily help, turmeric is always added. An extra cleanser, she says. So I complied.No difference in the taste.What I liked was that there is absolutely no foul fishy smell, yummy taste and its high protein.
Next on is the jumbo prawns, sitting in my freezer.
Before that, the Salted Caramel Buttercream with beehive chocolate....Coming up.
So what are you baking today???