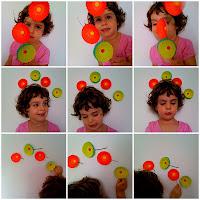 It's no secret that every now and then you stumble across something simple yet breathtaking.  In a wonderful site about art called
Colossal
, was an article about the 'Obliteration Room', where a studio in the museum is filled with furniture and everything is painted white.  Visitors to the gallery are given a sheet of sticky dots and are allowed to put them wherever they want.  The results are at first simple, perhaps predictable, but as time goes on, people become more inventive, more imaginative, random, and ingenious.  You see lines appear, initials, flowers, then swirls they would take masses of sheets, such that this truly becomes a group art installation, and the artist (
Yayoi Kusama
) suddenly becomes the curator.
If you have a spare few moments, I highly recommend watching
the video clip
which I've uploaded onto facebook for you.   It shows the fast-forwarded version of the room filling up with coloured dots, with a narration of the artistic ideologies of the project.
Sadly, we don't have a spare room in our house to convert to an art project, but watching the video did remind me of a project that the girls made earlier this year when we were learning about Chinese New Year.  They made 'cherry-blossoms' out of cupcake liners and sticky dots, and then placed them on sticks, and then somehow... the wall... when I look back, I remember that the initial um-ah moment of watching them pull the flowers (held on with temporary-tack) off the sticks and spin to put them on the wall was short lived, because the girls intuitively made shapes and patterns with the flowers.  Little Lotti made a 'halo' of sorts to stand under, then, after accidentally standing on her cherry blossom stick, she snapped it apart further and put the little sticks in behind each flower, again, arranging them in a pattern, where every flower read 'three o'clock'!
Finding the article reminded me about the importance of self-expression; that it is never too early or too late to let people experiment, rearrange, break the rules, reinvent... and that it is through this playful experimentation that the most spectacular things are made... so go on... find some sticky dots and something (other than the wall!) to stick them on; you might just amaze yourself at what you create!