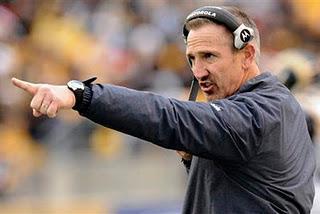 Photo: AP Images, Don Wright
- Troy Ballard
After stumbling to a disappointing (2-14) record and failing to live up to expectations, the St. Louis Rams have decided to cut ties with second-year head coach Steve Spagnuolo.
Going into this season, the Rams were a confident pick to win a weak NFC West, but instead St. Louis flopped and the San Francisco 49ers dominated. Spagnuolo as a whole did the best he could, but the Rams were hit with consistent and untimely injuries, along with a lack of depth, and there was no chance he could save his job.
With a head coaching vacancy, the job-rumors can start like wildfire. And there are always a handful of big-names that are tossed out, and the Rams actually have a realistic shot of landing an A-list coach.
However, the most likely head coaching candidate for St. Louis is ex-Titans coach Jeff Fisher.
After a falling-out with Vince Young and the Tennessee organization, Fisher was axed, and took this season off to re-group and re-energize his batteries. Fisher was formerly the longest tenured head coach in the NFL, and has plenty of experience to build off in St. Louis.
Fisher, although defensive minded, proved in Tennessee that he was flexible and could also manage the offensive side of the ball. The Rams have a young defense that has shown potential, but has lacked serious consistency. Fisher could provide both valuable experience and a solid game plan to the Rams defense and offense.
Like I said before, we are all tired of hearing his name and nothing ever happening, but another potential coaching candidate is Jon Gruden. As content as Gruden seems being part of the
Monday Night Football
 crew, he has shown some interest in coming back into the NFL as a coach. The Rams could be a great re-entry point for the former Super Bowl winning coach.
Gruden is great at pushing teams that are on the brink of greatness directly into the NFL's elite. The joke is that Gruden can turn totally watered down and undervalued players into wine and Pro-Bowlers. To an extent, this fits St. Louis, and Gruden could provide that push to the next level.
The only issue is, the Rams would have to give Gruden a helluva an offer to get him out of his booth and back onto the sideline. And even though he has shown interest, it's possible that Gruden wouldn't be too happy about taking on the small rebuilding project that would come with coaching St. Louis.
In a distant reality, another coaching candidate that St. Louis could pursue is Chip Kelly, Oregon's head coach. Kelly has developed both in maturity and intelligence at Oregon, and his name has been tossed around for NFL coaching gigs for quite a while.
Kelly's offense and style isn't exactly what most critics call, 'NFL Caliber,' but the same was said about Jim Harbaugh before going to the 49ers. The Rams offensive personnel is a big change from Oregon's, but it would be interesting to see what Kelly could do with Sam Bradford and Steven Jackson. Kelly has no NFL experience, and it would be a very high risk-high reward move, and also the most interesting choice of the three.
Regardless of who St. Louis ends up hiring, the Rams are on the up-swing. The entire team may have taken a step back in 2011, but the future is bright, with a good draft pick at number two overall and good coaching, anything is possible next season.
Be sure to follow Beard and Stache on Twitter @BeardAndStache, and also Troy @TroyBallards, Like our Facebook page HERE!