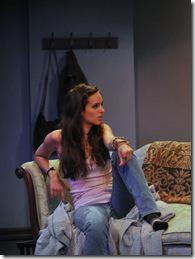 Want
Written by Zayd Dohrn
Directed by Kimberly Senior 
Steppenwolf Garage, 1624 N. Halsted (map)
thru Nov 20  |  tickets: $20   |  more info
Check for half-price tickets 
  
  
   Read entire review
  
---
Stirring up desire, addiction and satisfaction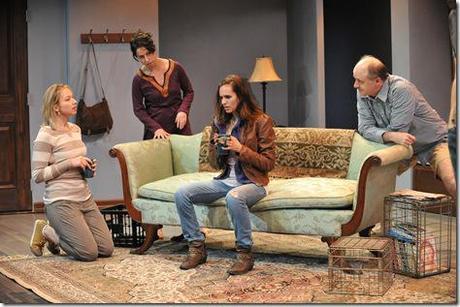 Steppenwolf Theatre presents
Want
Review by Katy Walsh 
Time Out Theatre Editor Kris Vire told me once that he always inserts into his hectic review schedule new companies and new shows.  Despite being in demand on the established theatre season circuit, Kris likes to be in the audience for inaugural productions.  He wants to see the next big thing when it launches… new actor, new play, new writer.  
Steppenwolf Theatre presents the 7th Annual First Look Repertory of New Work.  Three developmental productions of NEW plays are playing in rotation at The Steppenwolf Garage: Man in Love, Oblivion, and Want.  Steppenwolf facilitates the introductory  viewing of the new creation within a controlled environment.  They enlist the local talents of directors and actors to showcase the writing.  They encourage theatre reviewers to critique the play as an experimental endeavor not a finished project.  First Look is a playwright's fantasy.  It's giving birth to a new life within the nurturing walls of world renowned institution.  
This past weekend, I saw Want.  Playwright Zayd Dohrn penned a therapeutic quest for happiness without substance.  A young woman has stumbled into the home of a bunch of recovering addicts.  Marley wants to be fixed.  She heard this group can help.  David explains the premise for residence.  Truth!  The home is governed by blatant truth.  The household is committed to helping each other be happy without booze, drugs, sex and other vices.  It's 'therapy on steriods.'  Marley commits to the unusual commune lifestyle.  As she works to curb her wanting to embrace her being, Marley becomes a confidante to the house of secrets.  Everybody is pretending to be cured of desire.  But are they?  Are they?  
Dohrn drops the audience into therapy-in-session.  The premise immediately intrigues with a what's-going-on-vibe.  Who are these people?  Is it a cult?  What IS the truth?  Dohrn slowly reveals the relationships between housemates.  The concealed dysfunction starts with a candy-coated confidence and ends with a series of undesirable betrayals. Under the masterful direction of Kimberly Senior, the talented ensemble engage in their flawed characters.  The collective group unraveling idea works perfectly.  Individually, more backstory would build an even more intense climax.  Specifically, the characters of Lee, Julia and Henry could be fleshed out more.  I appreciate the story for its simplistic complexities.  I'm just left wanting a little more.  WANT is the key word.  Dohrn created a world that leaves me wanting more.  Want stirs up desire and satisfaction.  
Want continues through November 20th at the Steppenwolf Garage, 1624 N. Halsted (map), with performance dates/times listed below. Tickets are $20, and are available by phone (312-335-1650) or online.  More information at Steppenwolf.org. (Running time: 75 minutes with no intermission)
---
7th Annual First Look Repertory of New Works
all performances at Steppenwolf Garage (1624 W. Halsted, map)
Man in Love
Written by Christina Anderson
Directed by Robert O'Hara
more info
November 6th at 4:30pm
November 10th, 12th, 17th, 19th at 8pm
November 13th and 20th at 1pm
Oblivion
Written by Carly Mensch
Directed by Matt Miller 
more info
November 6th at 1pm
November 9th, 13th, 16th, 20th at 8pm
November 12th and 19th at 4:30pm
Want
Written by Zayd Dohrn
Directed by Kimberly Senior 
more info
November 6th, 11th, 18th at 8pm
November 12th and 19th at 1pm
November 13th and 20th at 4:30pm
---
First Look artists