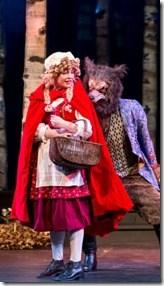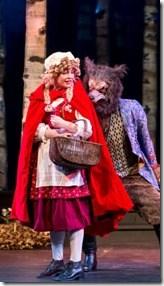 An all-star cast makes this a 'Woods' to remember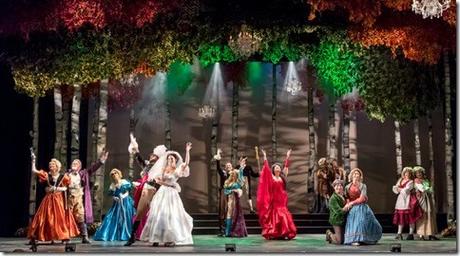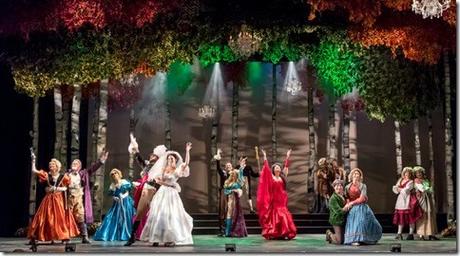 Into the Woods , with its easily summarized and broadly appealing concept (well-known fairy tale characters from different stories converge to make a brand-new fairy tale) has long been one of Stephen Sondheim's most popular musicals. Its all-age-friendly content and large cast have made it a top choice for many a school and community theatre production, but one wonders if the casting demands have made it a daunting choice for professional companies. It's a true ensemble piece, with at least nine roles that need performers of leading actor abilities and several other key supporting roles that require specially skilled performers. So while opportunities to see Into the Woods on stage are not hard to find, chances to see it with a fully-professional cast are rare. Music Theater Works'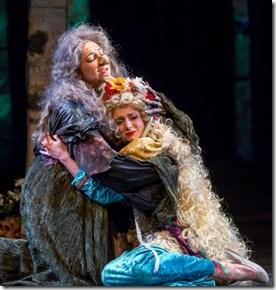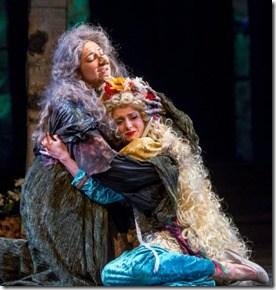 two-weekend, eight-performance run is one of those rare opportunities to see this Sondheim musical performed by a cast that can deliver the goods on both Sondheim's demanding and beautiful score along with the comedy baked into his lyrics and
James Lapine
's script. Director
Rudy Hogenmiller
has assembled an all-star cast of Chicago non-Equity players (alongside two Equity members) to provide a fully-satisfying production of this classic that can hold its own against memories of the original Broadway production (preserved on a PBS-produced video) or the 2014 feature film.
The Equity players are Chicago and Music Theater Works favorites James Harms as the fatherly Narrator and Mysterious Man, and Daniel Tatar as the Baker - a character that along with the "Baker's Wife" is invented for this fractured fairy tale mashup. These roles are central to Lapine's original fairy tale following the misfortunes of a father who made the mistake of stealing magic beans from the "witch next door," and these two Equity performers in them are strong anchors for the storytelling. Harms switches from kindly, neutral Narrator to the comical and eccentric "Mysterious Man" with ease. Tatar's Baker is the show's emotional center. As the young husband who desperately wants to be a father, he establishes the piece's stakes firmly in the second act songs "No More," and "No One is Alone."
To single out these two, though, would be wrong as the whole cast is a delight - from the arguably starring role of The Witch (originated on Broadway by Bernadette Peters) down to the small but importantly comical roles like The Steward and Cinderella's Stepmother. Alexis Armstrong is a warm, wise, winning wife for the Baker - a steady rock in contrast to Tatar's anxious Baker. To this writer's eye and ear, she's as good a Baker's Wife as was Joanna Gleason in her Tony Award-winning performance. Michelle Jasso as the Witch wails beautifully in all her comic witchiness and is always enjoyable to watch. Kelly Britt is an absolutely lovely and touching Cinderella.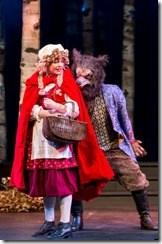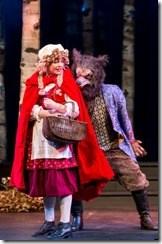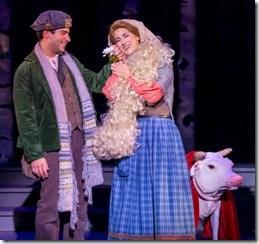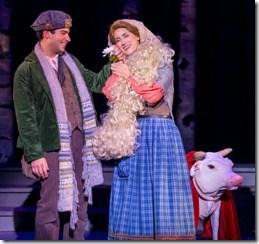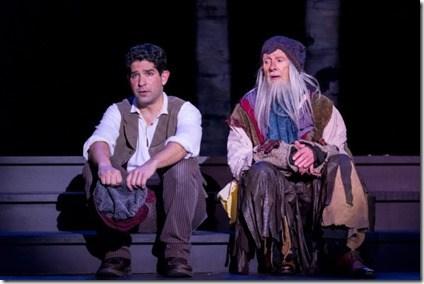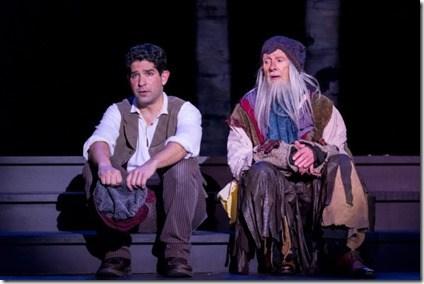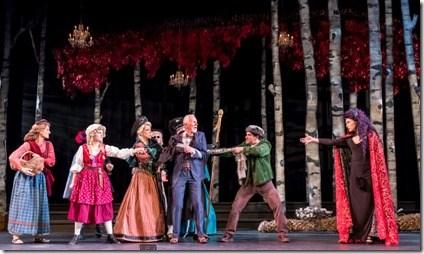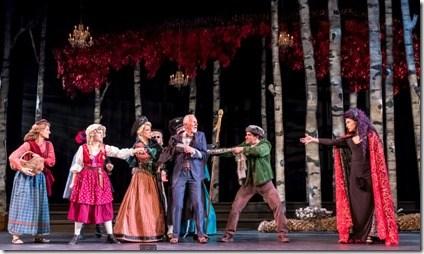 Before continuing, I must disclose that I've served as a press rep for shows featuring some of the performers I'm about to praise, but I'm certain skeptical readers can find other reviews that will confirm my prejudiced opinions. The appropriately boyish Christopher Ratliff gives Jack (of the Beanstalk) just enough naivete and a big voice to sell the beautiful melodies of "Giants in the Sky." Cecilia Iole, who's twice proven her Sondheim chops as Sweeney Todd's Johanna, shows her comic and vocal skills as the spunky Little Red Ridinghood. Projecting just the right amount of egotism as Cinderella's Prince and goofiness as Rapunzel's Prince are Benjamin Sprungerand Maxwell J. DeTogne, two of Chicago's leading non-Equity leading men. Both have the vocal chops and comic skills to sell Sondheim's clever mock-lament "Agony," that song of love-sick men that betrays their shallowness.
Just as telling of the overall strength of this cast are the performances in supporting roles. Anne Marie Lewis and Sarah Wassermanbring rich soprano voices to their vocals as Jack's Mother and Rapunzel. Comic treats are offered by Katherine Condit, Caitlyn Glennonand Evelyn Finne as Cinderella's stepmother and stepsisters Florinda and Lucinda, and a special comic gem is Anthony Whitakeras the officious Steward. This array of performers who each have their moments to shine individually blend perfectly into a singing and dancing ensemble (executing Clayton Cross's smart choreography) in the full cast numbers that open and close each of the two acts,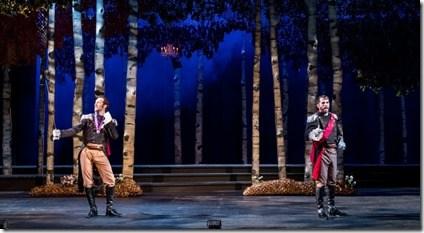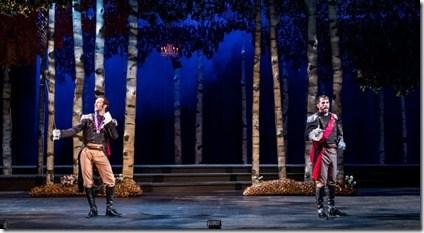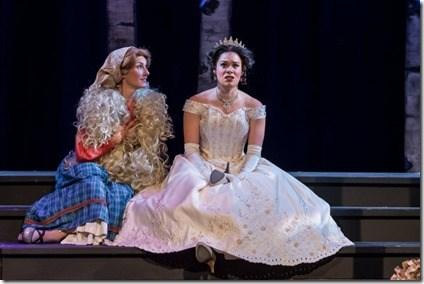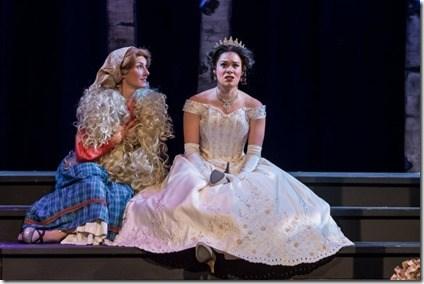 Music Director Roger L. Bingaman conducts a 15-piece orchestra that is, if not-quite Broadway-sized, much larger and fuller than we would normally find in a (mostly) non-Equity production. Sondheim's clever, philosophical, and densely packed lyrics are delivered with clarity thanks to the cast's diction and Aaron Quick's sound design.
Into the Woods is a longer-than-average musical, but Hogenmiller keeps it moving, though never rushed. He knows where all the show's beats are and brings them out respectfully. His action plays out on a deceptively simple set by Christopher Rhoton of sliding rows of trees with multi-colored leaves, beautifully lit by Andrew H. Meyers. The show seems a perfect fit for the Cahn Auditorium, with a stage big enough to hold the entire cast of 20 and a pit for full orchestra, but at 1000 seats, intimate enough to share the intricacies of the Sondheim songs and Lapine's wry book.
The short two-week runs of Music Theater Works, playing in a 1,000-seat theater, are part of a production business model that distinguishes the company from other all or mostly non-Equity companies, allowing them to stage large-scale musicals with a full orchestra. What this Into the Woods suggests, though, is that the company's short runs can make it possible for MTW to continue to attract the very best of Chicago's stellar non-Equity talent pool to come together for all-star productions like this in the future.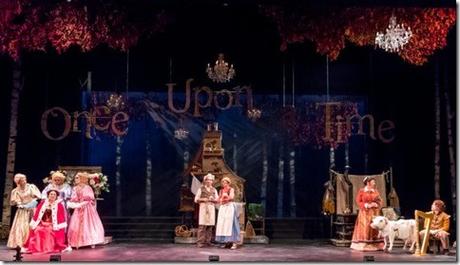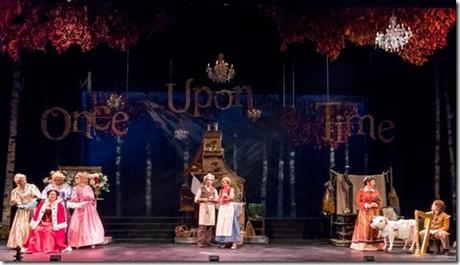 Into the Woods continues through December 31st at Cahn Auditorium, 600 Emerson, Evanston (map). Tickets are $34-$96 (ages 25 and younger: half-price), and are available by phone (847-920-5360) or online through their website (check for availability of ). More information at MusicTheaterWorks.com. (Running time: 2 hours 45 minutes, includes an intermission)
James Harms (Narrator, Mysterious Man), Daniel Tatar (Baker), Alexis Armstrong (Baker's Wife), Michelle Jasso (Witch), Kelly Britt (Cinderella), Cecilia Iole (Little Red Ridinghood), Christopher Ratliff (Jack), Benjamin Sprunger (Wolf, Cinderella's Prince), Maxwell J. DeTogne (Rapunzel's Prince), Anne Marie Lewis (Jack's Mother), Katherine Condit (Cinderella's Stepmother), Caitlyn Glennon (Florinda), Evelyn Finne (Lucinda), Bob Sanders ( Cinderella's Father), Sara Stern (Cinderella's Mother, Granny), Sarah Wasserman (Rapunzel), Anthony Whitaker (Steward), Rebekah Rawhouser (Giant), Rachel Wagner (Snow White), Teaira Burge (Sleeping Beauty).
behind the scenes
Rudy Hogenmiller (director), Clayton Cross (choreographer), Roger L. Bingaman (conductor), Christopher Rhoton (scenic design), Jane DeBondt, Jesus Perez (costume design), Andrew H. Meyers (lighting design), Aaron Quick (sound design), Alice Salazar (hair and make-up design), Jamie Daras (properties design), Mary Zanger (stage manager), Jim Davis (production manager), Brett Beiner (photos)
Tags: 18-1227, Aaron Quick, Alexis Armstrong, Alice Salazar, Andrew H. Meyers, Anne Marie Lewis, Anthony Whitaker, Benjamin Sprunger, Bob Sanders, Brett Beiner, Cahn Auditorium, Caitlyn Glennon, Cecilia Iole, Chicago musical theater, Chicago Theater, Christopher Ratliff, Christopher Rhoton, Clayton Cross, Daniel Tatar, Evelyn Finne, James Harms, James Lapine, Jamie Daras, Jane DeBondt, Jesus Perez, Jim Davis, John Olson, Katherine Condit, Kelly Britt, Mary Zanger, Maxwell J. DeTogne, Michelle Jasso, Music Theater Works, post, Rachel Wagner, Rebekah Rawhouser, Roger L. Bingaman, Rudy Hogenmiller, Sara Stern, Sarah Wasserman, Stephen Sondheim, Teaira Burge
Category: 2018 Reviews, Cahn Auditorium, John Olson, Music Theater Works, Musical, Stephen Sondheim