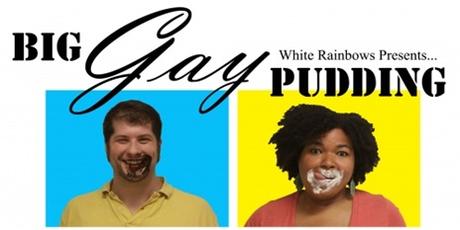 Reviewed by Paige Listerud
I'm unfamiliar with White Rainbows' previous comedy reviews White Rainbows (2009) and In Gaga We Trust (2010), but their material for Big Gay Pudding , now playing at The Call, shows a young and inexperienced company still in need of training, finesse and daring. Never mind that they are up against a fierce comedy town like this-their sketches alone revealed comics familiar and coy in playful exchanges among each other, but not so sure of just what they were selling the audience. The Call's terrible club acoustics alone dampened projection and made the performances seem flat and timid.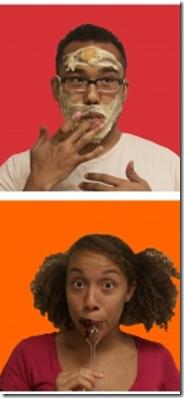 At least their openers, Chelsea Devantezand
Emily Walker
as
Ding!
, know how to belt it. Much of Ding!'s comedy material is just as coy and queer-centered as White Rainbows' - but they show greater confidence and control in styling with songs like "Nothing is Worse Than a Man in a Stylish Hat" and "I Will Be Your Fag Hag." Ding! doesn't do so well with improvising song responses to questions about their sex lives, mostly because the answers come so pat, short and predictable, without any foray into wordplay. They do far better with prepared songs that celebrate the bygone days of laser tag or saucily promise "Boy, I'm Gonna Rape You Tonight."
What to do with the White Rainbows? For one, their central sketch about the pudding has to go. In it, the concoction of different, supposedly outlandish (but not really) fruit puddings is supposed to symbolize transgressive queerness. But the sketch itself never goes far enough into daring, new, bold, or funny territory. It comes across more like an in-joke between friends that later falls flat when presented to a wider audience. Likewise, queers throughout history, gay men boasting like straight guys about sexual exploits, and the miraculous powers of straight-acting gays rely all on the in-jokes of tired gay stereotypes, which makes the sketches go from zero to tired in 2.8 seconds.
Far better are the recurring cameo appearances of Winnie the Pooh, played by various cast members dressed in a Pooh costume. The player who came up with this device deserves the gold star. Who cares if it's a device as old as Monty Python- Kevin Reader 's subtly funny farewell to Pooh in adolescence, followed by reclaiming Pooh as a lover at a gay dating service later, is inspired.
Other sketches wander into familiar territory, but still retain comic heft. Michael Barin and Stanley A. Chonginteract well as a gay couple separated only by one partner's fascination with his new cell phone. Arianna Wheat really sells her role as the bored housewife singing, "I want to be where the strippers are . . ." to the Disney tune "Part of Your World" from The Little Mermaid . A quiz show called "Name That Vampire Drama," emceed by a vampire, brings home the point of how little originality we demand from entertainment serving up sexy bloodsuckers.
We'll need to demand more originality and daring from White Rainbows, however. Their strength may be to joke more coyly about queer experience than to be in your face and there's certainly no need to change that. But have they got the nerve and conviction to take their audience to unexpected places? Or are we still hanging out at the same old pudding party?

Ensemble
Michael Barin is originally from Chicago, and has been studying/performing improv since 2006. He has completed the improv training programs at iO and the Annoyance Theatre, and is also a member of the independent improv group Legitimate Beef. He is very excited to be a part of White Rainbows.
Stanley Chong is originally from Texas where he learned to act in the church and through various Jesus camps. He was also involved with the puppet ministry and eventually started making puppets do inappropriate things, which lead to his excommunication from the church. He is a graduate of the University of Texas at Austin and afterwards moved to New York to pursue his Broadway dreams. Stanley studied at the American Academy of Dramatic Arts in New York and with the Upright Citizens Brigade before moving to Chicago for the Second City Conservatory. His favorite pastimes are fried chicken, BBQ, white rice, chopsticks and laundry. He is also a mathematics major at a local University. Stanley is very excited to be a part of the White Rainbows ensemble and looks forward to many more shows.
Heather Dean is an improviser, entertainer and dance enthusiast. She has taken improv and sketch writing classes at Second City, and a recent graduate of the iO Training Program. She is a member of The Vagabonds, an incubator team at The Playground Theater. She just completed a two month run of Realitease, an improvised reality TV show. She played "Jaya Nicols: the drunken bisexual." Heather is a cast member of NightLight, an interactive and highly themed comedy show. She is also 50% of the show "HD & EM in the AM/PM"- a morning talk show styled improv show. Heather and Ever Mainard (EM) had great success embodying Tina Turner for their previous run of HD & EM. She is excited to work with The White Rainbows crew.
Armand Fields is stupidly excited about this show and this cast! Shout outs to Jesus, my mom, Kelly Beeman, Matt Utter, GayCo.,Ling Ling, and Second City for all believing in me. "Without You I'm Nothing"-The Great Sara Bernhard (WINK-SMILEY-FACE)
Becca Levine grew up in the Colorado wilderness. She has performed throughout Denver and Chicago. She has been trained, so don't worry. Many thanks to a dreamboat of a cast, and to supportive family and friends. She's happy you're here.
Kevin Reader currently studies improv at iO. He can be seen around town performing sketch comedy with World's Best Dad and The Other Other guys. Kevin also has a Master's degree in Theatre History. He's not gay. Someone just got inned! Take that Kevin!
Matt Utter is a Detroit native, like Madonna and Tim Allen. He devotes his adulthood to deconstructing his conservative Catholic upbringing. Matt graduated from Loyola University Chicago with a degree in Creative Writing. He has studied comedy writing at Second City and improv at iO. Matt would like to thank the White Rainbows crew for being the best people to create with. He would also like to thank Connie for always listening, his siblings for putting up with him, Charlie for being Charlie, and his parents for buying him My Little Ponies when he was a kid (and for everything else, too).
Arianna Wheat hails from Los Angeles. More specifically, she comes from the Valley, the suburbs of Los Angeles. This is the part almost never shown in movies, because it lacks the glamor of Beverly Hills or the Blockbuster marketability of some crime-ridden areas. While her training is primarily in theatre arts, she is ecstatic about facing the many fears and challenges that come with doing sketch comedy. This is her second show with the White Rainbows crew and she is thankful to be involved, and for the continued opportunity to fulfill her New Year's resolution of living boldly. She is currently saving up money and taking donations so that she can take classes at Second City, iO, Annoyance, or really, anyone who will take her.
Note: ensemble pics and bios courtesy of White Rainbows' website.
Tags: Arianna Wheat, Armand Fields, Becca Levine, Big Gay Puddying, Chelsea Devantez, Ding!, Emily Walker, Heather Dean, In Gaga We Trust, Matt Utter, Michael Barin, Paige Listerud, Stanley Chong, The Call Chicago, White Rainbows