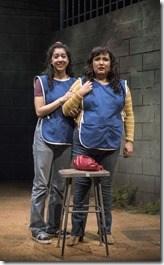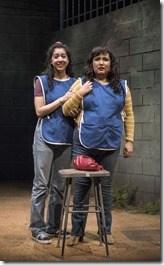 Heartwrenching world premiere both devastating and glorious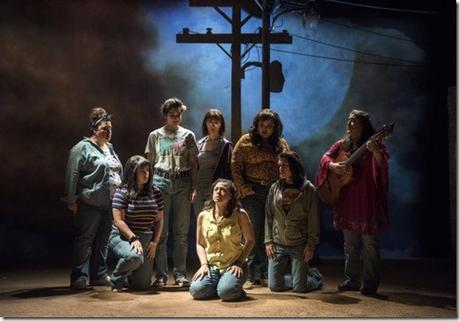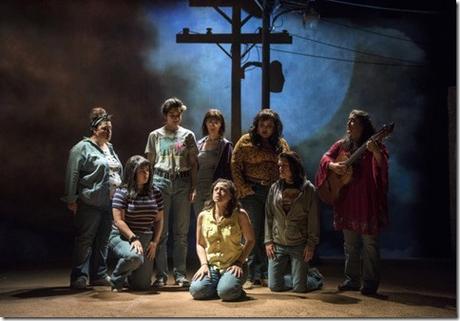 Review by Lauren Emily Whalen
Missing White Woman Syndrome is real.
The aforementioned is a cultural phenomenon in which certain abduction victims - those who are young, white and often wealthy - receive more media attention than those who are, well, not. (Think Elizabeth Smart, Laci Peterson and Jaycee Dugard, among others.) In the meantime, Mexican women just south of the border disappear with alarming frequency. Some are sold into sex trafficking, others vanish as if into thin air, leaving devastated, powerless family and friends behind.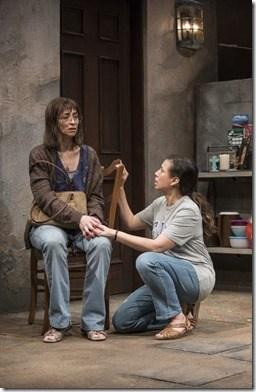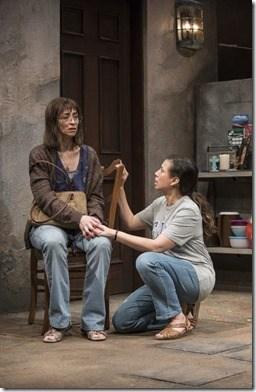 In 2016, playwright
Isaac Gomez
premiered
his solo performance piece,
the way she spoke
, at Greenhouse Theater Center, about the women of Ciudad, Juarez through the eyes of one gum-chomping wannabe actress whose eyes are opened over the course of 70 heart-wrenching minutes. This piece will receive its off-Broadway premiere in spring 2019, but not before Gomez's full-length play
La Ruta
has its stunning world premiere at Steppenwolf Theatre Company. Directed by ensemble member
Sandra Marquez
and featuring a powerhouse female ensemble,
La Ruta
is both devastating and glorious in a way that's difficult to convey in words.
is also the name of the bus taken by female workers at U.S.-owned factories in Juarez. Every morning and night, they board the bus, ready for their shifts - only some won't ever make it home. In the summer of 1998, teenaged Brenda (Cher Alvarez) disappears without a trace, leaving her mother Yoli (Sandra Delgado) scared and confused, but convinced that someday, somehow, her daughter will make it back. Meanwhile, Yoli's best friend Marisela (Charin Alvarez) has lost her own daughter in the same way and feels a call to action. What really happened to Brenda, and to the women who vanish almost-daily? And does Brenda and Yoli's friend Ivonne (Karen Rodriguez) know more than she is saying?
Gomez's script jumps around in time: the days, weeks and years before and after Brenda vanishes. The effect is appropriately jarring: one moment Yoli has a typical teenage daughter, who may work full-time for low wages but still giggles about boys and anguishes over what top to wear, and the next moment, she's all alone with only her thoughts and the mother of another missing girl. Where, exactly, do the mothers go from here? What about the women who've made it home safely another night, with another bullet dodged? And most importantly, what is it going to take for the disappearances to stop? There are no easy answers, and Gomez deftly illustrates this down to the syllable. At times, takes the feeling of a dark musical, thanks to the presence of chanteuse Desamaya (Laura Crotte), who appears as a one-woman Greek chorus with songs of mourning and uprising.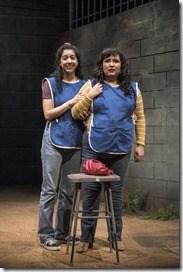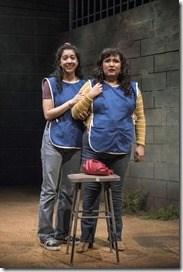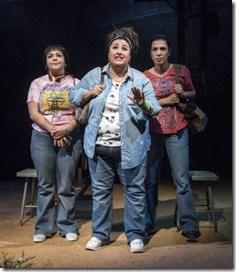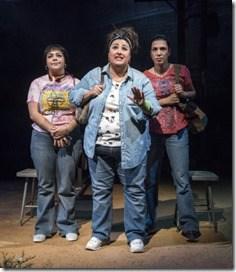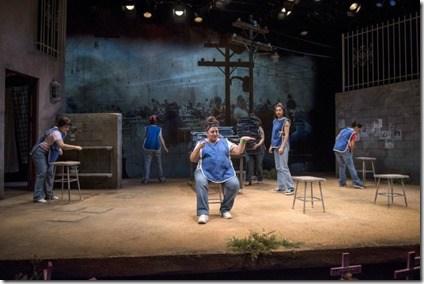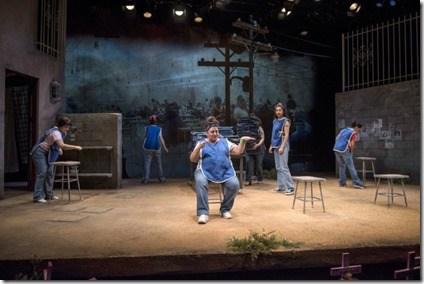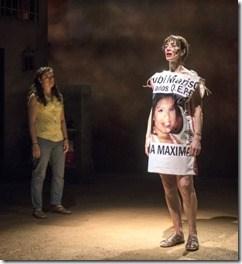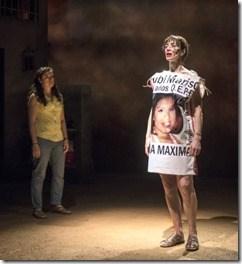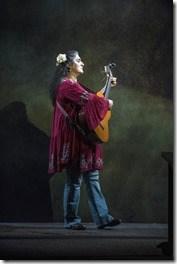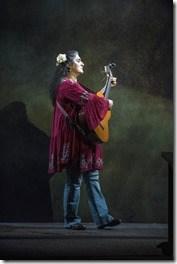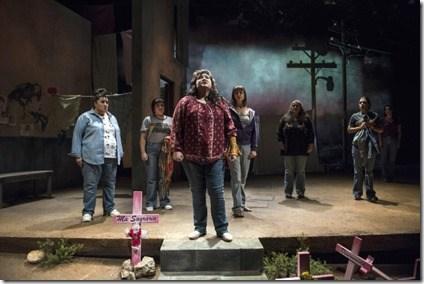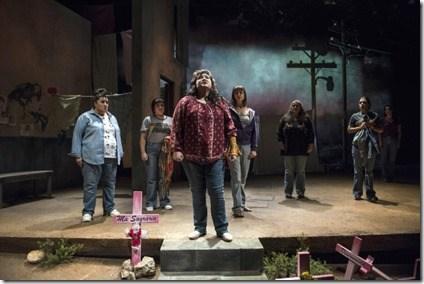 Marquez's flawless direction takes care with the big and small moments in every character's life, from bonding over mascara on bathroom breaks to pleading with passersby to take a flier with a teenage girl's photo on it and report back if they know something. Anything. The women move with choreographed precision in the factories, and fly at each other in fits of devastating passion in front of a makeshift graveyard of pink crosses (props to Gaby Labotkafor her stunning fight direction). Rasean Davonte Johnson's projection design, dominated by real-life photos of missing women, makes for haunting imagery.
Seeing eight Latinx actors onstage together is phenomenal all on its own, but 's cast is particularly gifted, bringing Gomez's words to life with meticulous thought. Delgado proves once again that she can play any character, from a pissed-off girlfriend in The Motherf*cker with the Hatto a glamorous songstress in to 's grieving mother Yoli, with a grace that's almost otherworldly. Alvarez is incredibly believable as gawky teen Brenda, who gleefully drops out of school and dives headfirst into an adult world she just knows she can handle. But Rodriguez is the true star. The original performer of the way she spoke and now a Steppenwolf ensemble member, she gives Ivonne a grave empathy throughout the character's dubious choices and all-out calculation. Her charisma is magnetic, her presence stubborn and unapologetic, and if Steppenwolf decides to cast her in every production from here on out, that would be just fine with me. Overall, is a brutal and difficult but supremely rewarding take on a little-known but incredibly important story. Just make time for self-care after curtain call.
), with performances Tuesdays at 7:30pm, Wednesdays 2pm & 7:30pm, Thursdays-Fridays 7:30pm, Saturdays 3pm & 7:30pm, Sundays 3pm. Tickets are $20-$89, and are available by phone (312-335-1650) or online through ). More information at La Ruta continues through January 27th at Steppenwolf Upstairs Theatre, 1650 N. Halsted ( their website (check for availability of Steppenwolf.org. (Running time: 95 minutes without intermission)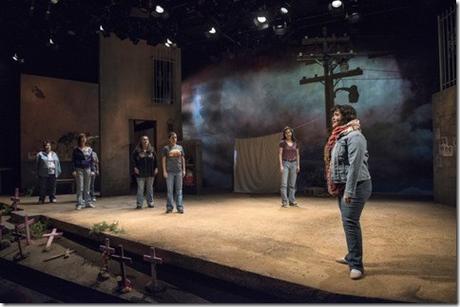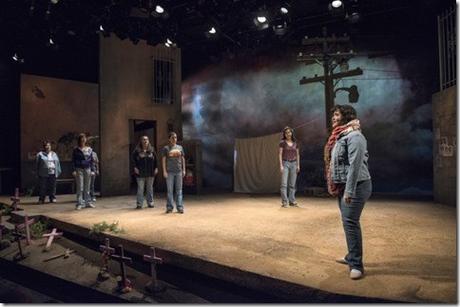 Photos by Michael Brosilow
Karen Rodriguez (Ivonne), Charin Alvarez (Marisela), Cher Alvarez (Brenda), Laura Crotte (Desamaya), Sandra Delgado (Yoli), Mari Marroquin (Zaide), Alice da Cunha (Woman of Juarez), Isabella Gerasole (Woman of Juarez), Alice da Cunha, Gabriella Diaz, Isabella Gerasole, Amanda Raquel Martinez (understudies)
behind the scenes
Sandra Marquez (director), Regina Garcia (scenic design), Christine Pascual (costume design), Mikhail Fiksel (sound design), Rasean Davonte Johnson (projection design), Zacbe Pichardo (musical direction), Andra Velis Simon (musical direction), Polly Hubbard (dramaturg), Gaby Labotka (fight choreographer), Christine Freeburg (stage manager), Amanda Landis (assistant stage manager), JC Clementz (casting director), Greta Honold, Patrick Zakem (artistic producers), Gigi Buffington (company voice and text coach), Michael Brosilow (photos)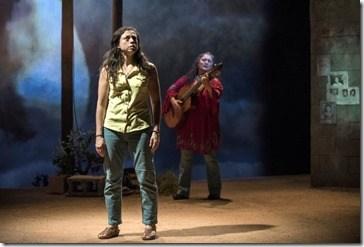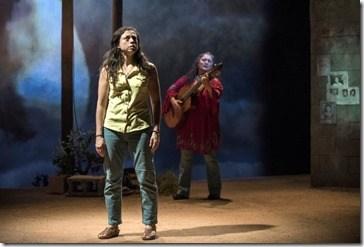 Tags: 18-1225, Alice da Cunha, Amanda Landis, Amanda Raquel Martinez, Andra Velis simon, Charin Alvarez, Cher Alvarez, Chicago Theater, Christine Freeburg, Christine Pascual, Gabriella Diaz, Gaby Labotka, Gigi Buffington, Greta Honold, Isaac Gomez, Isabella Gerasole, JC Clementz, Karen Rodriguez, Laura Crotte, Lauren Emily Whalen, Mari Marroquin, Michael Brosilow, Mikhail Fiksel, Patrick Zakem, Polly Hubbard, post, Rasean Davonte Johnson, Regina Garcia, Sandra Delgado, Sandra Marquez, Steppenwolf Theatre, Zacbe Pichardo