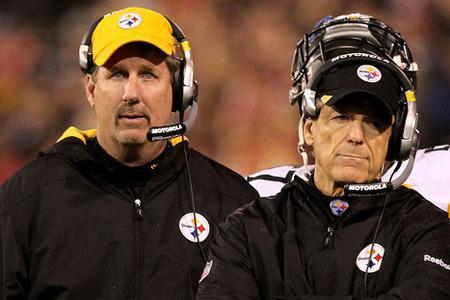 Photo: sbnation.com
- Adam Parker
Indianapolis Colts head coach and former Baltimore Ravens defensive coordinator Chuck Pagano had originally hoped to use the Pittsburgh Steelers' coaching tree as his primary option to fill his two vacant coordinator positions on his Colts staff.
He was successful in luring former Steelers offensive coordinator Bruce Arians to run Indy's offense after the Steelers had said Arians had "retired" from his post, but he later confirmed that the team simply let his contract expire and he was istening to other coaching offers.
However, Keith Butler, the Steelers' linebacker coach - who Pagano's choice to be Indy's defensive coordinator -  reportedly will not be joining the staff as was originally thought.
The Pittsburgh Post-Gazette reported that Butler, Pittsburgh's linebackers coach decided to cancel his Tuesday interview with the Colts after meeting with Steelers president Art Rooney II and coach Mike Tomlin on Monday.
League sources had previously told ESPN's NFL Insider Adam Schefter on Sunday that the Colts intended to give Butler the defensive coordinator gig for their club.
NFL.com reported that Butler agreed to a new contract with Pittsburgh but the terms of the deal were undisclosed.
The Post-Gazette reported that Butler had been told after the 2009 season that he would replace Dick LeBeau as the team's defensive coordinator once the 74-year-old LeBeau decides to call it a career. The newspaper reported that the "handshake agreement" convinced Butler to not become the Miami Dolphins' defensive coordinator that offseason.
LeBeau has already said he will return for the 2012 season.
The Steelers denied Butler the chance to interview for the Arizona Cardinals' defensive coordinator position last season because he was still under contract. However, Butler's contract expired after this season, allowing him to hit the market for coordinator jobs without the Steelers blocking any move.
So what ultimately caused Butler to re-sign another deal to remain in Pittsburgh as the linebackers coach? Well, I think it has to do with two main things.
For one, he has spent a vast amount of his coaching career with the Steelers, and it's always easier to be around familiar people and familiar surroundings. Not having to worry so much about 'making the rounds' as it pertains to dealing with loads of new people and places has to make Butler's job that much easier on him.
Secondly, I get that going to the Colts would allow Butler to continue moving up the coaching ladder with his first ever professional defensive coordinator gig, but would Indy have
really
 been a good fit?
I imagine Butler would want to stick with the 3-4 defense that he knows so well, but the Colts don't have anywhere near the personnel required in their front seven to run the 3-4 successfully at this point in time. Add in the fact that Pittsburgh's defense has been historically better than Indy's across the board, and it seems like a no-brainer that Butler chose to remain with the Black and Gold.
I've always thought this and now it's clear to me that it's a fact. The Steelers organization is family-owned, and as long as it belongs to the Rooneys, all the Steelers players, coaches, and fans will always be considered a part of the Steeler family too.
That's why Butler decided to stick with Pittsburgh. The team has become a part of his family and vice-versa. The Steelers understand that Butler wants to be a defensive coordinator, and in turn has basically made him the DC-in waiting behind LeBeau. Butler appears to be happy knowing that, and to be honest, I would be too.
Be sure to follow Beard And Stache on Twitter 
@BeardAndStache
, 
and also Adam 
@Adam_Parker43
, Like our Facebook page 
HERE
!