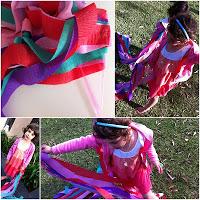 It's no secret that after a party you can be left with plenty to clean up, and inevitably, alot of it ends up in the bin.  As a thoughtful crafter, I'm not sure that landfill is something I'm comfortable making.  That's why I try to upcycle leftovers any which way I can.
After Mimi's 5th birthday last year I pulled down several lengths of crepe paper streamers.  If you drop them carefully, and do your best not to twist or tangle them, they are basically in perfectly good order.  So instead of tossing them, I turned them into 'twirlers' for my preschool daughters.
Here's what you'll need to make your own:
Streamers - cut to the same length, and preferably in an assortment of colours.
Drinking straws.
A stapler.
To make your own streamer twirler:
Simply fold the streamers over the end of the straw and staple in place (being sure you staple through the straw).
That's it!
Yes; the straw does bend, and yes; the twirler isn't going to last forever... but my girls had a great time in the back yard dancing, being ponies, and just generally having a colourful good time.  It cost me nothing, took minutes to make, and helped saved the environment to boot!
Sometimes the best fun happens when you don't try to hard.  So go on, bring some color back into your life and up-cycle some streamers for some twirly fun.
Linda.
PS - you can now vote for my blog - simply click (
here
) or on the button on the right hand side of this blog!  Thank you! x