I was recently sent a DIY kit from the company SteamCream, as most of you probably already know SteamCream is one of the most talked about multi-tasking moisturisers on the market. Infused with natural ingredients such as lavender and oatmeal there really isn't nothing not to like about this product. In the kit we were offered the SteamCream moisturiser, brown sugar and natural oats. This may sound odd a company offering free food but its all part and parcel of getting you to learn about making homemade masks and scrubs. Below i will show you how its done and the benefits from each DIY.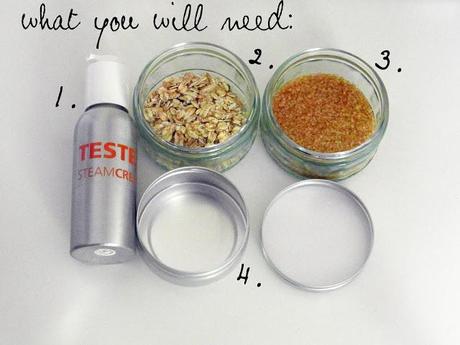 1.SteamCream moisturiser  2.Organic jumbo whole oats  3.Unrefined brown sugar  4.Empty tin/container
Invigorating Sugar Scrub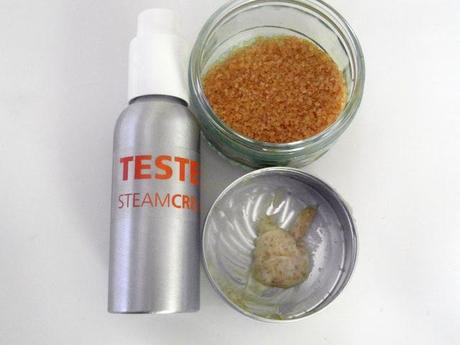 Mix a teaspoon and a half of SC and half a teaspoon of sugar into the empty tin/container. I chose to add another half a teaspoon into the moisturiser but it all depends on your desired consistency.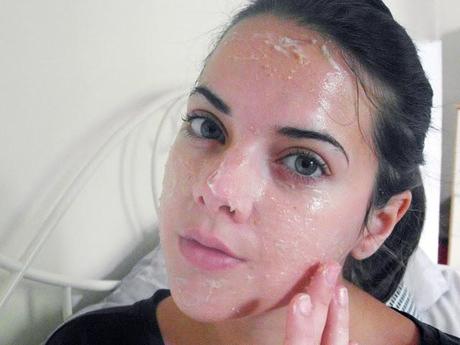 Next dampen your face with warm water, lather the scrub onto your skin focusing mainly on the dry areas and then rinse off with warm water. Once the scrub has been washed off completely my skin felt very smooth, The dry skin i have around my nose and under my eyes was visibly removed. Being such a cheap alternative to scrubs you can buy in drug stores i definitely will be using this method once a week without fail. The SC also kept my skin extremely hydrated whilst removing the dead skin, afterwards my skin felt very youthful and plumped.
Why does this scrub work so well? The neroli oil within SC will soften dry, hard skin and leave it smooth to touch whilst the almond oil, vitamin A and E strengthen and nourish dull skin for a naturally revived complexion. Incorporating sugar will help to naturally remove dead skin cells, leaving it free from imperfections and soft to touch.
Gentle Exfoliating Face Mask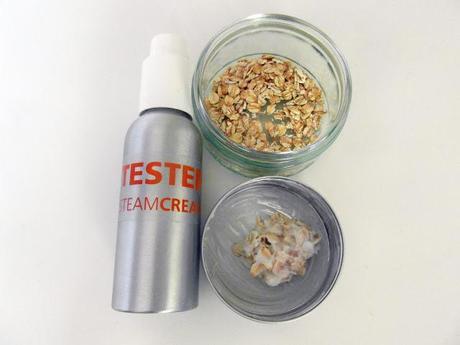 Mix a tablespoon of SC with a teaspoon of oats into the empty tin/container and mix together (Note: rinse out after every mask you make)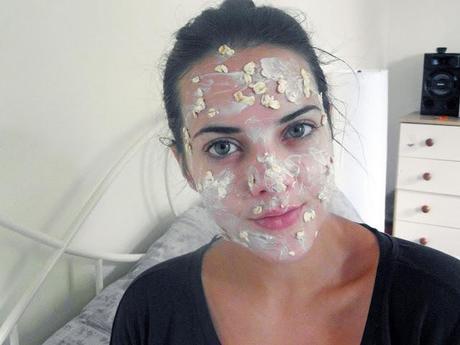 Once mixed, dampen your face and apply the mask generously with your fingertips. (It can get quite messy so do this in the bathroom or kitchen) Leave on for 5 minutes and remove with warm water for an exfoliated, fresh face. I did this mask after i did the scrub so i didn't really feel the benefits of the oats helping to exfoliate my face but it certainly soothed my face after the sugar scrub. My skin was noticeably glowing afterwards, also it seemed to soothe the red blemishes on my face. This is a great mask you can make easily for a girly night in watching a film and as its all natural it suits everyones skin type.
Why does the mask work so well? The oatmeal infusion already present in SC gently soothes sensitive, irritated skin and brightens skin tone whilst the added whole oats work to naturally remove dead skin cells leaving you  with a glowing complexion.
Homemade BB Cream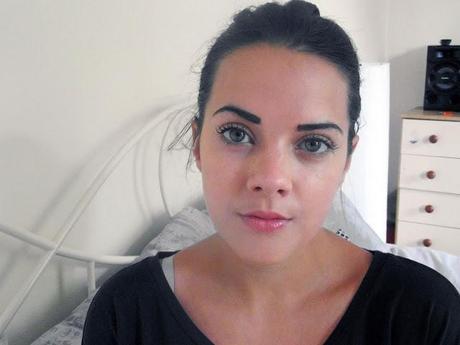 I personally love BB creams, my got to is the No7 Beautiful Skin BB Cream. I tend to use a BB cream in the hot summer months as its lightweight and still gives you great coverage unlike a tinted moisturiser. The other great thing about BB creams is they usually come with SPF and UVA protection already in the product, this also means you can skip the step of adding a SPF protection before applying foundation. 
How to make the homemade BB cream? Mix together one part SC to two parts foundation. As SC doesn't contain an SPF content due to it affecting the absorption of the cream, I chose to use my MAC Pro Longwear SPF 10 Foundation to mix with the moisturiser. When used it gives a really nice dewy finish which is lightweight and also great coverage. I will be using this if i ever run out of my BB cream. 
Check out there amazing array of collectible tins HERE Steamcream £12.95 available from SteamCream Selfridges John Lewis & ASOS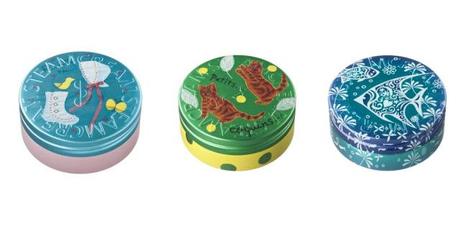 Let me know if you have tried SteamCream or if you have any other home remedies you could tell me about! Have a great day!


TWITTER | FACEBOOK | INSTAGRAM | BLOGLOVIN