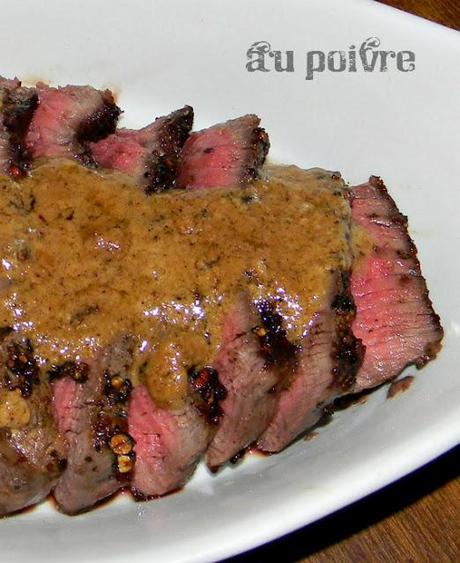 Hmmmmmm, what's a vert?
Traditional bistro au Poivre used black peppercorns, this dish uses green (which by coincidence is what I have in my fridge) hence the vert.
Green peppercorns are unripe black peppercorns that they store in a brine, kind of like capers. They actually look like capers and you do not want to know how many times I grabbed the wrong bottle. Who reads the label?
While ordering my suckling pig for Easter dinner (can't wait to post about that) I bought a cute little Filet Mignon and decided to make something we have never tried before, yes, even my steak loving husband with all his steakhouse meals has never had au Poivre.
A 8-10oz filet is enough meat for the two of us but if you need more steak at a reasonable price, try a nice 12oz boneless strip or a really well marbled top round. It will be sliced with the sauce spooned on top so who will know? I am splurging with garlic mashed potatoes (I offset the potatoes with pureed cauliflower) and this allows me to enjoy a rare scoop (yes, I have snack bags with pureed cauliflower in my freezer, who can eat a whole head in one sitting?).
I just happen to have the last 8 stalks of my bunch of asparagus (I actually take off the rubber bands and count out 4 stalks per serving and yes, you can do that when it's per pound).
This was exceptional and will appear again, soon. It's nice to have just a touch of a sauce that still allows the steak to shine.
Don't go out and buy green peppercorns (there's a good chance you will never use them again), just roughly crack whole black ones and press the steak into them then continue with the recipe.
Steak au Poivre Vert
makes 2 servings
* 10 ounces Filet Mignon or other tender steak
* 2 teaspoons Smart Balance
* 1 teaspoon all-purpose flour
* 1 tablespoon green or black peppercorns
* 2 tablespoons cognac or brandy
* 1/4 cup canned low sodium beef broth
* 2 tablespoons fat-free evaporated milk 
* 1/8 teaspoon each salt & pepper
1. Preheat a cast iron or oven-safe frying pan.
Preheat the oven to 350°. Meanwhile, crack the black peppercorn using a mallet or a heavy pan. Salt each side of the steak liberally and press each side into the peppercorns, using them all. Green peppercorns are added to the sauce.
2. Melt the butter spread in preheated pan and place the steak into the pan and don't touch it for 4 minutes.
After 4 minutes flip the steak over and repeat. After both sides are browned, place the steak and the pan in the oven for 3 minutes or until cooked to your preference.
3. Remove the steak, tent with foil and  place the pan back over medium heat.
4. Add the green peppercorns at this time and the cognac. Simmer until it reduces by half. Add the milk and beef broth and simmer until the mixture thickens, about 5 minutes.
5. Slice the steak and spoon the sauce over.