I've never really been a Tee kinda gal (tea yes, t-shirt, no!)
I get why people like them, they are comfy and easy to chuck on with a pair of jeans etc...but they've never really been...well...me. That has changed a bit recently. As I've lost a little bit of weight and have a new very short pixie crop, I decided to break out of my comfort zone of tights and dresses and invest in some jeans. Skinny jeans to be precise. After a bit of research on the old blogosphere, I decided to try the Topshop Leigh jeans, as there are a lot of rave reviews about how flattering yet soft and comfy they are...a must for me!
I picked up a pair in dark blue and quickly fell in love. I then went back and repurchased a pair in black and gray and am trying very hard not to get any other colours just yet, as I still want to shift a few more lbs!
Anyway, now that I have some suitable jeans, the t-shirt seemed a necessity. Just as well really as they are everywhere, and I mean everywhere this season! The humble Tee has exploded onto the high street for SS14 and everything from subtle prints to vibrant slogans goes. Primark have an amazing, huuuuuuge selection but I had spotted a couple in River Island, which I wanted to get my hands on.
The first is a simple white slogan Tee, featuring the slogan "Tres Vogue Madam." Yes it's a bit of a naff slogan, but I really like it...fashiony without being too in your face. I've already worn this with faux leather joggers and my Leigh skinnies, and a blazer and it looks fab.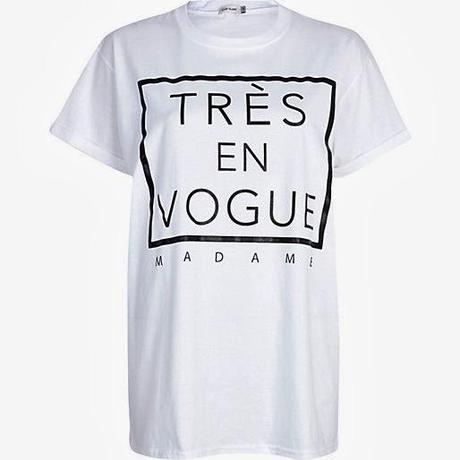 The second is a nice black tee with the slogan "Little Black T shirt." Again, so simple yet so effective. I've been wearing this with my gray skinnies and cut-out boots and in the summer, I'm planning on pairing it with a super girly skirt.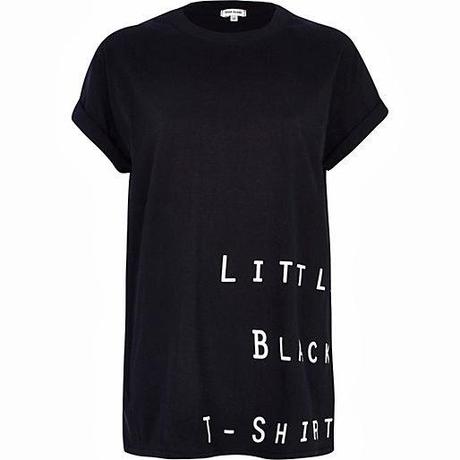 I picked up both tops in a size 14, as I wanted them to be baggy. However, the style is already quite oversized, so a 12 would have been plenty baggy enough! They both have little rolled-up sleeves, which gives them a cool James Dean kind of vibe.
What do you think of this season's must have statement T? Are they your cup of tea?! (sorry, couldn't resist!) Enjoy x