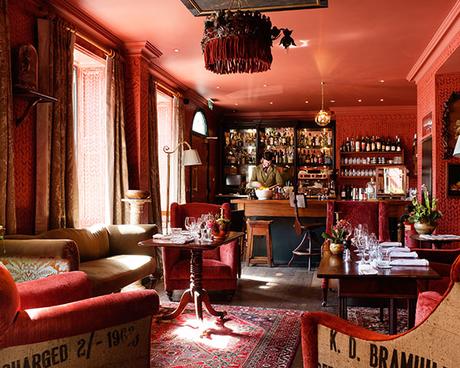 Apologies for the radio silence! Due to having a newborn and a very active toddler, the ol' blogging went on a bit of a hiatus! I promise it will resume very soon...once life calms down a bit! I will introduce you all to my new little one in a blog post very soon.
In the meantime, I wanted to publish this review I wrote of the Zetter Townhouse, which was published in the Jewish News a couple of months ago. I loved it there so much, that I wanted to share it with you too! Enjoy and see you soon.
Claire Belle x
Imagine a boutique hotel in one of London's most exciting and mysterious areas. Imagine a boutique hotel, so quirky, you feel as if you have just stepped into a place created by the wild imagination of Lewis Carrol. Imagine ultimate comfort, bizarre and enchanting décor and food and drink so yummy, you will never want to leave. Top it all off by throwing in delightful staff and a stuffed, threadbare kangaroo wearing boxing gloves and you have the Zetter Townhouse.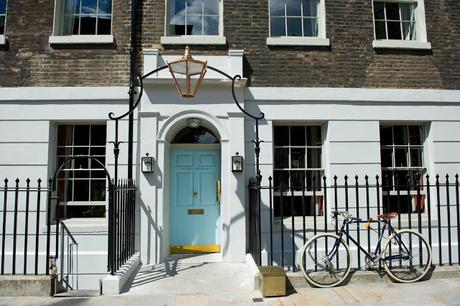 I was invited to the Zetter Townhouse, to check out their rooms, their food and their amazing and eclectic cocktail selection. Now, when I discovered that the Townhouse was smack dab in the middle of London's Clerkenwell, I immediately jumped at the offer – and that was before I even checked out the hotel's website.

After looking at the Zetter Townhouse's website, it took me about a quarter of a second to book the grandparents in to babysit my little one, so my hubby and I could experience just what this stunning hotel had to offer. We arrived on a Friday afternoon and found the Townhouse very easily from Farringdon tube station. We were told it was directly opposite its sister hotel, the Zetter and we spotted the cornflower blue door of the Townhouse, with its subtle signage, which upon opening, we stepped into Wonderland.


The Zetter Townhouse welcomes you straight into a cosy and intriguing cocktail lounge – the incredible menu of which is something to be discovered all on its own. The absence of a reception area actually makes the hotel seem far more homely. We checked in and were completely smitten with the friendliness and relaxed nature of the team running the Townhouse. While we waited for our check in to go through, we had a little mooch around the lounge area. The Townhouse is described as the "eccentric aunt" of the Zetter Hotel, and when looking around, you can certainly understand why they say that! The whole hotel has the feel of Miss Havisham from Great Expectations meeting Wallpaper and iD magazine. Ultimate comfort meets The Old Curiosity Shop, where something intriguing waits around every corner.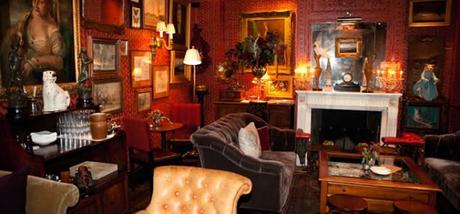 The furniture is a beautiful mish-mash of contrasting pieces, which somehow, work together beautifully. Creepy portraits hang on the wall next to elegant landscapes and curious still lives. Glass cabinets filled with hundred year old medical equipment, old postcards, and trinket boxes and rabbits feet. Elaborate vases displayed next to a stuffed cat wearing a rather gorgeous Victorian blue dress…and that's just on first glance! As you settle into the lounge, your eye will take in dozens of exciting eccentricities, all begging to be discovered!
The lovely Manager Adam took us up to our bedroom, where even more fun was waiting to be discovered. The stairway is one option to visit the 13 bedrooms the Townhouse has to offer, and is certainly a more enjoyable option than the lift (although that is something to see too!) The walls of the stairway are decorated with thousands of pages from original newspapers and magazines. Some dating back well over a hundred years ago. It makes the trip up the winding staircase actually a fun one, as you stop and read the pages, which catch your eye (and believe me, there are a lot!)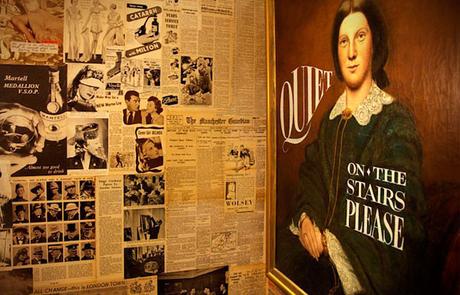 We were fortunate to be staying in the Townhouse Deluxe room. A room, which encapsulated the essence of what we had seen of the hotel so far, but in an intimate setting. A stunning huge bed, finished off with a head board made from an 18thCentury Parisian carousel, a decadent purple armchair, gorgeous fireplace, an incredibly well stocked mini bar (including pre-mixed house cocktails) and tea caddy, a quaint desk stuffed with a stationary, an old fashioned telephone and reconditioned retro radio, a spacious bathroom with a "Raindance" shower, fluffy bathrobes and towels, a hot water bottle with a hand-knitted cover, free Wifi, a flat screen digital TV, miniature REN goodies for the bath and shower…and to top it all off, the most exquisite bath I have ever had the pleasure of seeing (or using), which, instead of being wasted in the bathroom, is positioned in the bedroom, fenced by two posters (from an antique four poster bed) and surrounded by a glittering gold mosaic wall and porthole mirror. Comfort, charm and character are just three words I would use to describe the room…but they are not enough!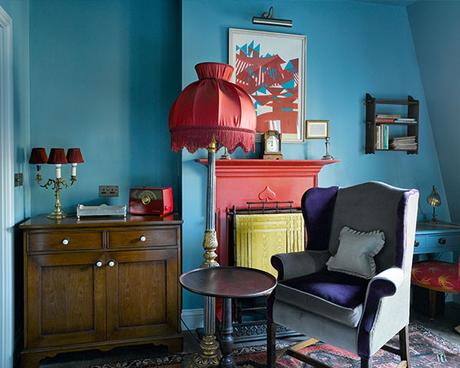 At over 6 months pregnant, I welcomed all of these delightful comforts, as well as the subtle luxuries, which the Townhouse had to offer.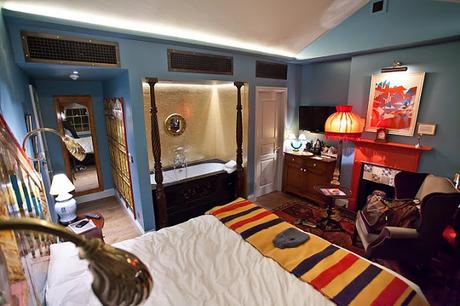 After an incredible night's sleep, in a bed, which felt like I was kipping in a giant marshmallow (complete with 200 thread count linen) I was extremely reluctant to leave the joy of our little quirky haven to have breakfast…but my husband's stomach had other plans, so after (another) bath, we ventured downstairs to the lounge area, where a delicious continental breakfast awaited. The wonderful staff looked fabulous in fitted shirts, bowties and braces, and we were greeted with a table laden with fresh breads, the most amazing yogurts I have ever eaten (creamy fudge and pear anyone?!) cereals, fruit and pastries, all displayed on eclectic and mismatched china – which again, worked beautifully together. Over a pot of tea, fresh grapefruit juice and a (generous) selection from the breakfast bar, Darren and I relaxed into the comfy armchairs and sofas, and enjoyed the amazing surroundings the Townhouse had to offer.
I honestly cannot fault this remarkable little marvel of a hotel. I would recommend it to couples looking for a romantic break in London, to business folk who need a place to eat, sleep and meet and to families who are looking for somewhere unique to stay, away from the hustle and bustle of Central London. The cocktail lounge, understandably, gets very busy in the evenings, but that just adds to the fun of the hotel. The amount of places to eat and visit around the Zetter Townhouse is amazing – we found it difficult narrowing down our choice, and the staff at the hotel make you feel welcome and at home. If you are looking for a captivating place to stay, eat or simply drink with some pals, then please make sure the Zetter Townhouse is first on your list!
For more information, including room rates and hotel amenities, please visit
:
http://www.thezettertownhouse.com/