It's been a while since i made cupcakes, so i thought why not?
I havent really found a vanilla cupcake recipe that i really really would fall back upon, but if my memory served me right, the Magnolia Bakery's one wasnt too bad.
So using that as the cupcake, i have topped one with some homemade caramel and walnuts,
I havent really mastered the arts of caramel making, so i wont be posting the recipe.
This recipe seemed pretty runny when i frosted, but then again, it was also still warm. It did kinda thicken up after some time.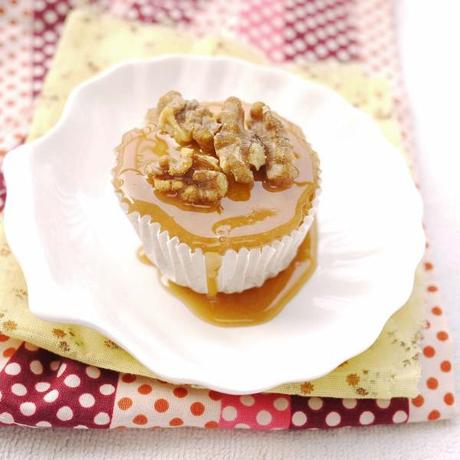 As for the walnuts, they were just toasted for a bit in the oven. I wanted to make candied walnuts, but got too lazy to go about doing it.
This next cupcake is for the little niece,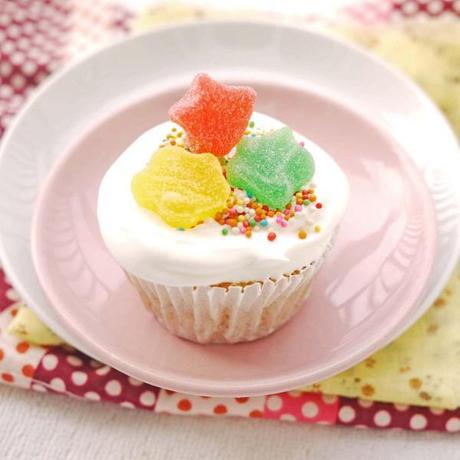 A star studded cupcake for the little star.
She wiped out the star gummies on this cupcake. And the frosting. 
The cupcake was pinched, crumbled and squeezed. I dont think she ate any of it. LOL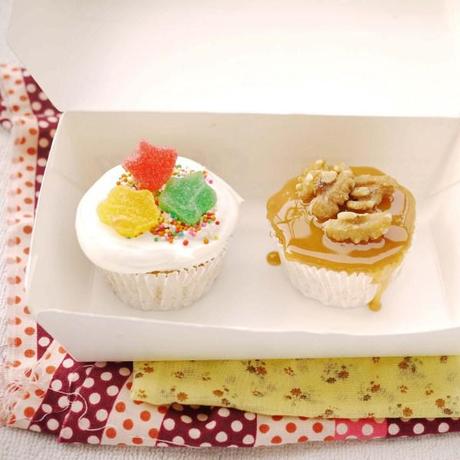 All packed up and ready to go !
Magnolia"s Vanilla Cupcake
Taken from foodnetwork.com
Ingredients
Cupcakes:
1 1/2 cups self-rising flour
1 1/4 cups all-purpose flour
1 cup (2 sticks) unsalted butter, softened
2 cups sugar
4 large eggs, at room temperature
1 cup milk
1 teaspoon vanilla extract
Icing:
Vanilla Buttercream, recipe follows
Directions
Preheat oven to 350 degrees F.
Line 2 (1/2 cup-12 capacity) muffin tins with cupcake papers.
In a small bowl, combine the flours. Set aside.
In a large bowl, on the medium speed of an electric mixer, cream the butter until smooth. Add the sugar gradually and beat until fluffy, about 3 minutes. Add the eggs, 1 at a time, beating well after each addition. Add the dry ingredients in 3 parts, alternating with the milk and vanilla. With each addition, beat until the ingredients are incorporated but do not over beat. Using a rubber spatula, scrape down the batter in the bowl to make sure the ingredients are well blended. Carefully spoon the batter into the cupcake liners, filling them about 3/4 full. Bake for 20 to 25 minutes, or until a cake tester inserted into the center of the cupcake comes out clean.
Cool the cupcakes in tins for 15 minutes. Remove from the tins and cool completely on a wire rack before icing.