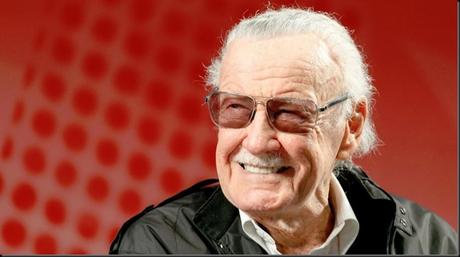 The creator of Marvel Comics, Spiderman, The Fantastic Four, The Incredible Hulk, X-Men and other fantastic superheroes has passed away in Los Angeles - he was 95 years old. A writer, designer and comic creator, he was the father of the fantastic superhero films and adventures that millions around the world enjoy today. In that sense he had no equal.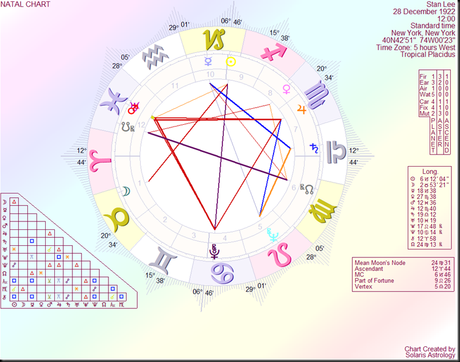 Stan was born on 28th December 2018 in New York (no birth time known) and wow, what a chart he had!!! A Sun Capricorn, his chart was dominated by a Grand Water trine embodying everything you would want to see in a prospective superhero. A dynamic Mars Uranus conjunction in imaginative flexible Pisces made trines to Jupiter, the planet of the higher law in deep dark secretive powerful Scorpio, the sign of life and death, of good and evil. Jupiter in this sign is a placement of experiencing everything in in the most intense manner, and it was trine to Pluto in Cancer, the sign of security and the homeland. Every superhero saves the world or the city for the people, providing power, control and security for them, defending their rights and their lives from brutal foes. Here we have speed, agility, unpredictability, brutality, risk-taking, super powers, secrets and violence all encapsulated together.
There are two outlets from this grand trine, one through a square from Jupiter, the planet of publishing and international fame to Neptune, the planet of imagination, fantasy and films. The second is an opposition from Pluto to his Capricorn Sun. I wonder if Stan's father was the inspiration for him in some regard? I also wonder if Stan secretly wanted to to have all those powers, and yet because he was born into a poor Jewish immigrant family in the Bronx he lived his visions and deepest held urges out through what he created and wrote?
Mercury is the planet of the mind and communication, and his organised Mercury in Capricorn squared the planet of worldly ambition Saturn. Here was the motivation to turn his thoughts into something tangible. That Saturn made a sextile to Neptune, a sign that he would be able to turn his thoughts and dreams into reality. Saturn and Neptune in aspect signify a relationship between order and chaos, and in each of the stories he published his superheroes had to created order out of a chaotic situation.
I notice just two planet star contacts on his chart. Venus, the planet of colour and creation was sitting on the star Toliman in the constellation of Centaurus. This star is one of teaching and learning, and I have a feeling that Stan was through his work wasn't just wanting to entertain but also he was trying to educate people that crime does not pay, that justice will win out in the end, and that good behaviour would always end up defeating dishonest actions. The second connection saw the star Facies, in Sagittarius conjunct to Stan's natal Sun. This is a very focused link, and it gives one a laser like intensity to achieve ones goals. Here was passion, desire and utter determination, and the way that Stan kept working and promoting his work into his latter years was amazing. You couldn't keep him out of the limelight too, and he delighted in making cameo appearances in all of his films!!
He was and is what he created, a real superhero to all his readers and followers, and his influence on generation after generation of readers and latterly filmgoers will continue long after his passing...
If you appreciate my work, please share it so others can learn something new... Thank you...